By Paul Rudoff on Mar. 7, 2019 at 7:43 PM in Home Video, Horror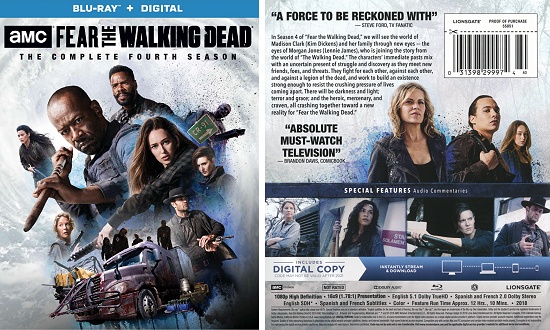 Fear The Walking Dead: Season 4
is the latest installment in the successful
The Walking Dead franchise
. How does it compare to previous seasons? Read on to find out...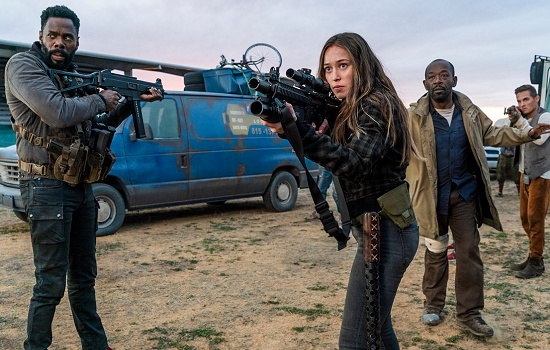 I watched
Fear The Walking Dead
when it premiered on AMC back in 2015, and while it was a decent show, I found it to be a bit of a chore to watch. Although set in the same universe as
The Walking Dead
, it featured none of the characters from the parent series (quite unique for a "spin-off") and was set years earlier at the start of the Zombie Apocalypse. As such, the characters that we were given behaved quite stupidly because they were slow to pick up on what was happening, and I did not find any of the characters to be likable in the least. Still, I stuck with the show and gave it a chance. About midway through Season 2, I finally gave up, and never watched the show again until Season 4.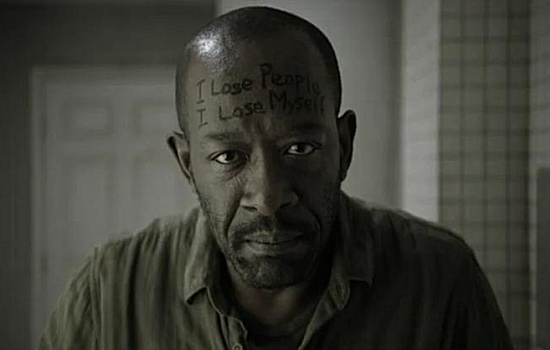 The big hook of Season 4 is that the character of Morgan Jones (Lennie James), a fan favorite from
The Walking Dead
, is taking his walking stick and moseying along to Fear. This brought my interest back, and I was curious to see how Morgan would fare amongst the Fear crew, as well as to see if the show improved. I was quite pleased to see that all of the unpleasant characters that drove me away have since been killed off, with the remaining meeting their ends this season. A few of the original gang still remain, but they have since become characters that I actually care about now. That's a big improvement over the first season and a half.
Since Season 4 starts off vastly different from where I left the show, I decided to go back and watch the latter half of Season 2 and the entirety of Season 3. Honestly, that part of the show is MUCH better than the first part that I drudged through originally. That said, Season 4 is a soft reboot for the series. It does not pick up where Season 3 left off, and in fact creates its own Season 3B backstory to (kinda, sorta, not really) fill in the gap between the two seasons.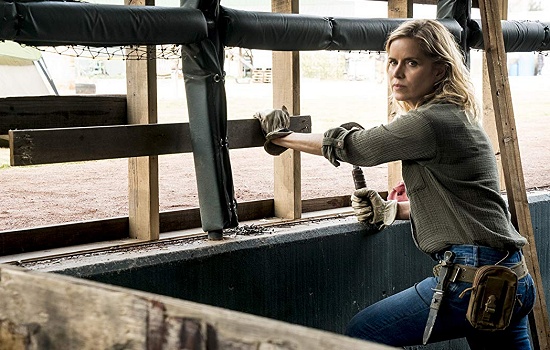 We learn that between the events of Seasons 3 and 4, Madison Clark (Kim Dickens) and her family have taken residence at an old ballpark with a group of other people. As you would expect from
The Walking Dead
, they meet up with some "undesirables", there's conflict, and people die. I'm being vague to avoid spoiling anything (more than I already have), but this backstory is only relevant to the first half of Season 4 anyway. It's intercut with "present day" scenes - a "present day" that, thanks to Morgan, is now in the same timeframe as the parent series - that is presented in a drab nearly black-and-white color scheme. I get why the filmmakers did it - it makes it easy to differentiate what's taking place in the past and present - but that doesn't mean that I like it. I did buy a color TV for a reason :-)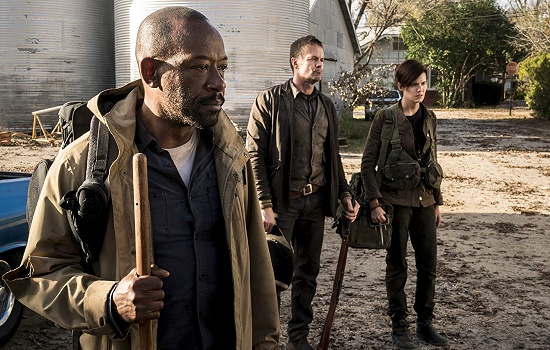 In the present day, Morgan walks into the lives of new characters, John Dorie (Garret Dillahunt) and Althea (Maggie Grace); the latter being a videographer documenting the lives of the survivors she comes across. The remnants of the original crew soon come into the picture, with daughter Alicia Clark (Alycia Debnam-Carey) really stepping up in a big way. The character of Alicia is the one that has been though the biggest change since the series' first season, and is responsible for the best episode of the season - "Close Your Eyes" - which finds Alicia alone in a farmhouse with a little girl named Charlie (Alexa Nisenson), who is also a new addition to the show. The episode focuses solely on these two ladies and their struggles with each other, and against the raging storm and undead outside. Both actresses should be applauded for their performances.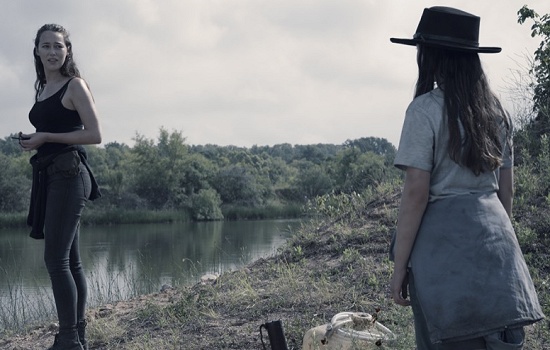 Eventually, the new gang meets up with another new character, Laura/June (Jenna Elfman), with whom John strikes up a romance in the season's other best episode, "Laura". With all backstory and main character introductions concluded, the second half of the season focuses on what's happening in the present, namely Martha (Tonya Pinkins), a dirty, miserable woman terrorizing our new motley crew because she sees them as "weak" for helping others. "Others" such as Sarah (Mo Collins) and Wendell (Daryl Mitchell), a pair of truckers helping to bring goods to those in need. Being confined to a wheelchair, I'm not sure Wendell would fare as well in the Zombie Apocalypse as is depicted here, but I've always liked Daryl "Chill" Mitchell since before his accident (check him out in the Steve Martin
Sgt. Bilko remake
from 1996), so it's nice to see him part of the show. And, YAY!, for diversity.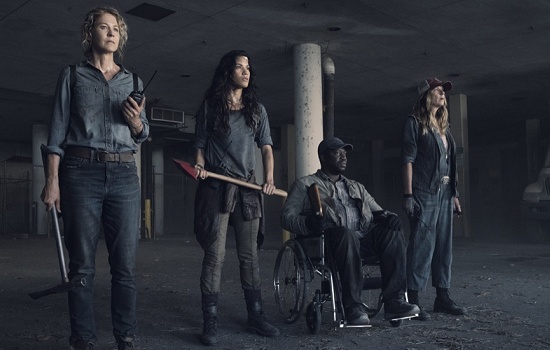 All in all, Season 4 is a HUGE improvement over the previous seasons. With the way that it's structured, you don't even need to have seen the show before to jump on board. In fact, it may be for the best if you just simply start your
Fear The Walking Dead
experience here and ignore everything that came before it. The season presents two of the best episodes in the entire
The Walking Dead
universe, "Close Your Eyes" and "Laura", and in my opinion, is shaping up to overtake
The Walking Dead
as the better series.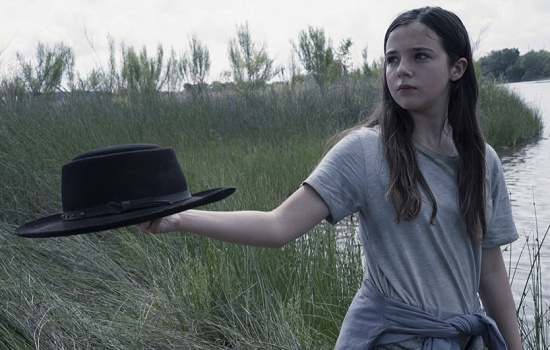 The four-disc set includes all 16 episodes of the season that aired on the AMC channel from April 15th through September 30th, 2018. Four episodes are included per disc.
Ep. 01 - What's Your Story? (49:06)
Ep. 02 - Another Day in the Diamond (43:42)
Ep. 03 - Good Out Here (45:11)
Ep. 04 - Buried (46:27)
Ep. 05 - Laura (46:03)
Ep. 06 - Just in Case (44:25)
Ep. 07 - The Wrong Side of Where You Are Now (42:21)
Ep. 08 - No One's Gone (45:55)
Ep. 09 - People Like Us (44:06)
Ep. 10 - Close Your Eyes (46:42)
Ep. 11 - The Code (46:15)
Ep. 12 - Weak (43:23)
Ep. 13 - Blackjack (44:37)
Ep. 14 - MM 54 (43:37)
Ep. 15 - I Lose People... (44:40)
Ep. 16 - ...I Lose Myself (53:49)
Fear The Walking Dead: Season 4
is presented in its original 1.78:1 (16:9) aspect ratio. On the audio side, there's English 5.1 Dolby TrueHD, Spanish 2.0 Dolby Stereo, and French 2.0 Dolby Stereo tracks. Subtitles are available in English SDH, Spanish, and French. The first print run includes a slipsleeve.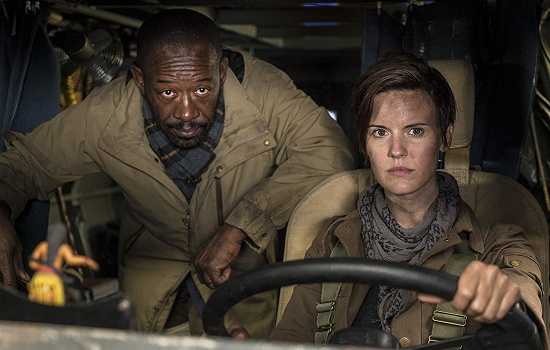 Audio commentaries are the only bonus features that can be found in the set, though they are added to the four best episodes of the season.
Audio Commentary on Episode 01 - "What's Your Story" with executive producer Scott Gimple and showrunners Andrew Chambliss and Ian Goldberg.
Audio Commentary on Episode 05 - "Laura" with director Michael Satrazemis and actors Jenna Elfman and Garret Dillahunt.
Audio Commentary on Episode 10 - "Close Your Eyes" with director Michael Satrazemis and actress Alycia Debnam-Carey.
Audio Commentary on Episode 16 - "...I Lose Myself" with showrunners Andrew Chambliss and Ian Goldberg.
A digital copy code voucher is also included in the standard four-disc Blu-ray case, but I could not get it to validate on Movies Anywhere, Vudu, or even Lionsgate's own redemption site.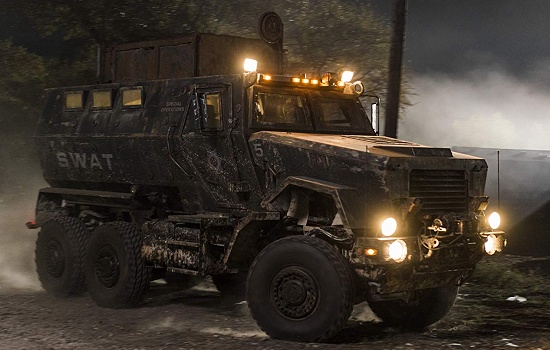 Fear The Walking Dead: Season 4
is available on
Blu-ray
and
DVD
. If you don't own any of the previous seasons, you can
buy them all at Amazon.


Images used come from the
Internet Movie Database gallery
of the show. The Blu-ray has been provided by Lionsgate for review on this site.
No feedback yet
Leave a comment