By Paul Rudoff on Dec. 19, 2019 at 11:45 PM in Home Video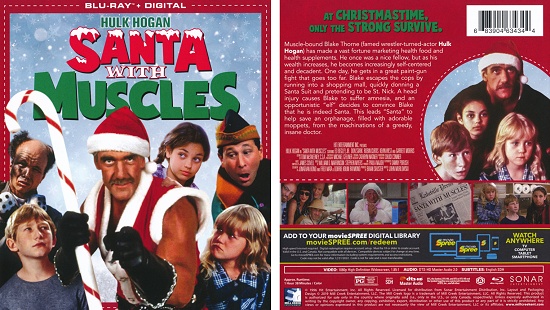 Whether you like it or not, the holidays are upon us. In this lead-up to Christmas (and Hanukkah), I'll be taking a look at several new releases that would make great gifts for your friends and family. If you know someone who loves bad movies, bad movies starring wrestlers,
Wrestlecrap
, Hulk Hogan, and/or Mila Kunis, Mill Creek recently released
Santa With Muscles
on Blu-ray just in time for the holidays. Read on to find out more...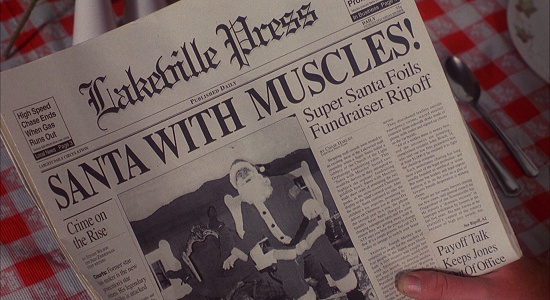 Santa With Muscles
(1996) tells the tale of self-centered millionaire Blake Thorne (Hulk Hogan), who escapes the cops by running into a shopping mall. After donning a Santa suit as a disguise, a head injury gives him amnesia, leading him to believe that he really IS Santa Claus! Now, "Santa" must help save an orphanage, filled with three adorable moppets (Mila Kunis, Aria Curzon, Adam Wylie), from the machinations of greedy germaphobe Ebner Frost (Ed Begley Jr.).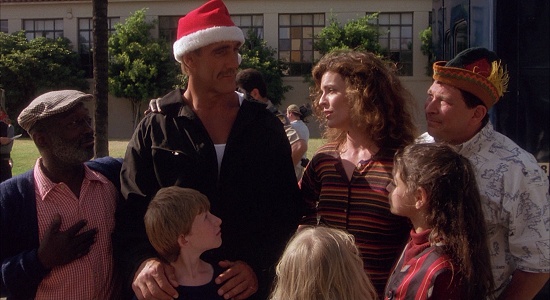 Let me just state this right off the bat: this is a bad movie. That should come as no surprise since it was one of the first Christmas movies inducted into the anals of
Wrestlecrap
, and once sat among the
IMDb Bottom 100
for quite some time (though not currently). That's not to imply that you shouldn't see it.
Santa With Muscles
falls into the category of "so bad, it's good"; and I suspect that your enjoyment of the movie will be BECAUSE of how bad it is.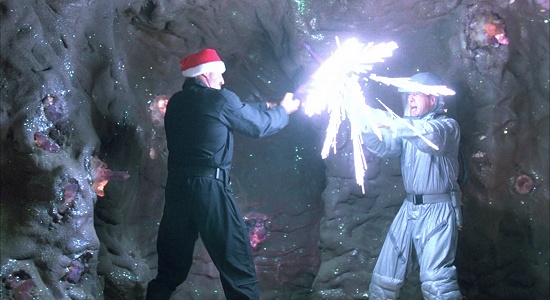 As with most "so bad, it's good" movies, you don't watch them for their story. Trust me,
Santa With Muscles
- which was executive produced by Jordan Belfort, whom Leonardo DiCaprio portrayed in
The Wolf of Wall Street
(2013) - does not contain a script that will ever win any awards; unless the award is for the "worst". How come Blake, the "richest man in 10 states", is not recognized by anyone
except
some garbage men? Why are there big steam pipes strewn across the lawn of Ebner Frost's mansion? Why are the orphanage staff okay with the kids having their "clubhouse" in the ancient catacombs under the church? Why do the police fire a BAZOOKA at Blake? Seems a little excessive, if you ask me. Why is Blake able to steer clear of it even though it was fired at point blank range? Why do the crystals explode when dropped, but later are clanked together in a sword fight with no consequence at all? The plot is so utterly nonsensical and contrived, you'll have the most fun with it if you just shut off your brain and roll along with it.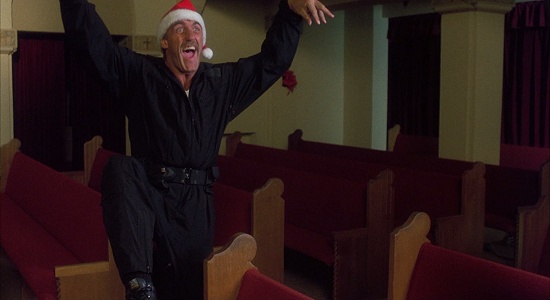 It amazes me how
Santa With Muscles
managed to gather such an eclectic group of character actors, some past their prime, some during their prime, and some yet to achieve a higher level of fame. Star Hulk Hogan had already hit his motion picture highs with
Rocky III
and
Suburban Commando
many years earlier, and his motion picture lows with everything else's he's committed to celluloid and video before, during, and after. Ed Begley Jr. (Ebner Frost) already gained some fame from his role on
St. Elsewhere
, though 20 years later he'd hit a low with
Ghostbusters (2016)
, before coming back to the top as Pam Grier's charming love interest in the TV series
Bless This Mess
.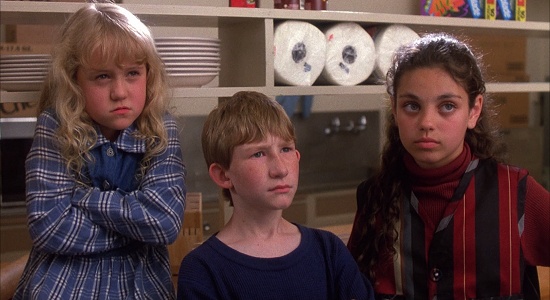 Garrett Morris (of former
Saturday Night Live
fame and future
2 Broke Girls
fame) and Robin Curtis (Saavik in the third and fourth
Star Trek
films) run the world's smallest orphanage. They're put in charge of the three orphans, played by Aria Curzon (the voice of Ducky in many of
The Land Before Time
movies), Adam Wylie, (the little red-haired boy on the 1990s TV series
Picket Fences
, who is currently
a working magician
seen occasionally on
Masters of Illusion
), and a 13-year-old Mila Kunis. Obviously, Mila would go on to MUCH greater success following
Santa With Muscles
. She'd re-team with Don Stark (who plays Lenny) a few years later in
That '70s Show
, before providing the voice of Meg on
Family Guy
, and starring in her own movies, such as 2017's
Bad Mom's Christmas
. Just for fun, go watch
Santa With Muscles
(1996) followed with
Bad Mom's Christmas
(2017), and be amazed as Mila ages 21 years right before your eyes.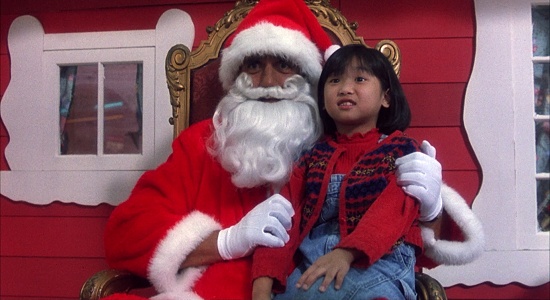 Mila's not the only pre-famous child actor in the film. Eight-year-old Brenda Song makes her first film appearance as Susan, a little Asian girl who sits on Santa's lap and later screams for him when she notices some thieves stealing charity money in the mall. Brenda would gain fame as Lonton Tipton on the Disney Channel series
The Suite Life of Zack and Cody
and
The Suite Life on Deck
(2005-2011), and is currently providing the voice of Anne on the channel's animated series
Amphibia
. Bad movie aficionados will appreciate seeing the
Ice Cream Man
himself, Clint Howard, as a bumbling cop. Steve Valentine plays villain Dr. Blight, not to be confused with that
other villain Dr. Blight
, in his first movie role. He's now a veteran character actor who you have, likely, seen in any number of television and movie roles, possibly as Dr. Nigel Townsend in
Crossing Jordan
(2001-2007) or as Derek Jupiter in the Disney Channel series
I'm In The Band
(2009-2011). He'd also reunite with Garrett Morris when the two would guest star in the
Psych
season 7 episode "100 Clues". Finally, no Hulk Hogan movie would be complete without an appearance from his buddy Ed Leslie, best known to wrestling fans as Brutus Beefcake (and a thousand other ring names). Here, he plays the "Sumo Lab Assistant", which is a white guy playing a stereotypical Asian - a character they could never get away with today. Hell, the only reason they got away with it back then, is because no one ever saw this movie!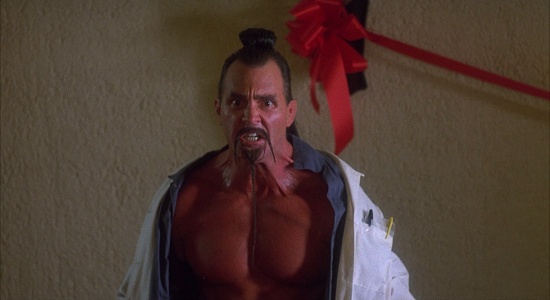 The film was only released for two weeks in cinemas back in 1996, before being relegated to the
VHS dust bin
for over 15 years. It wasn't until October 23, 2012 that
Santa With Muscles
would finally be released on DVD, and even then it was crammed into a
four pack with three forgettable Christmas movies
. I passed on buying that DVD set, and as such, it's been out of print for a few years and is now very expensive. That's why I was totally surprised when Mill Creek announced they were releasing
Santa With Muscles
onto Blu-ray. I've long since wanted to add the movie to my video collection, and having it in high definition for such a low price makes me glad that I never bought that crappy four-pack DVD.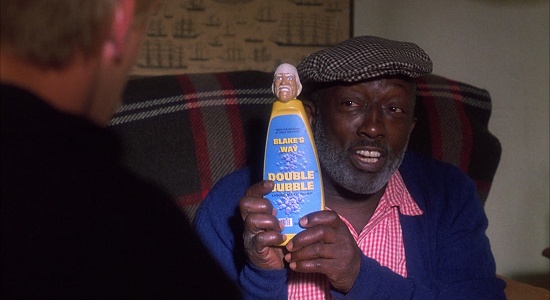 Santa With Muscles
is presented in a 1.85:1 aspect ratio with a runtime of 1:37:40. On the audio side, there is only an English DTS-HD Master Audio 2.0 track. The subtitles, which are available in English only, have a few errors. There are numerious spots where it says "mumbles" because the transcriber couldn't figure out what was being said, even though a few times it's quite obvious what the words are. That said, the subtitles get the job done and I applaud Mill Creek for continuing to have them on their releases (which wasn't always the case). As is the case with most Mill Creek Entertainment releases, there are no bonus features. A digital copy code voucher is also included in the standard one-disc Blu-ray case, which is redeemable on Mill Creek's
MovieSpree website
.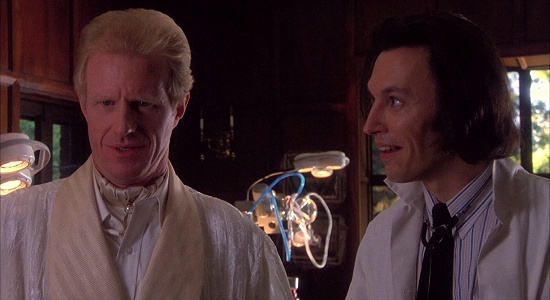 Before I wrap this up, here's a little filming locations fun fact for you. If you ever want to visit the "World Smallest Orphanage", you'll need to go to
461 Central Avenue (corner of First Street)
in
Fillmore, California
.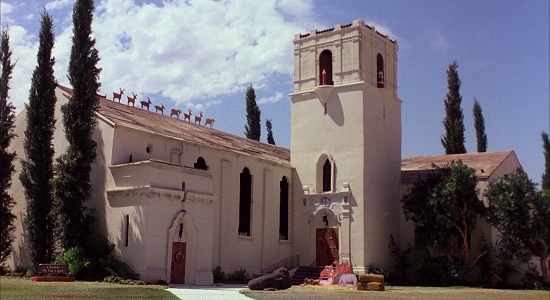 The
Santa With Muscles
Blu-ray is available right now from
Amazon
for less than $10! At that price, you can't go wrong, as long as you know what to expect from the film going it :-)
All images were grabbed by me (Paul Rudoff) from the Blu-ray, though by the time you've read this, I may have uploaded them (and many more) to the
IMDB gallery
of the film. This item has been provided by Mill Creek Entertainment for review on this site.
No feedback yet
Leave a comment