By Paul Rudoff on Dec. 22, 2019 at 8:26 PM in Home Video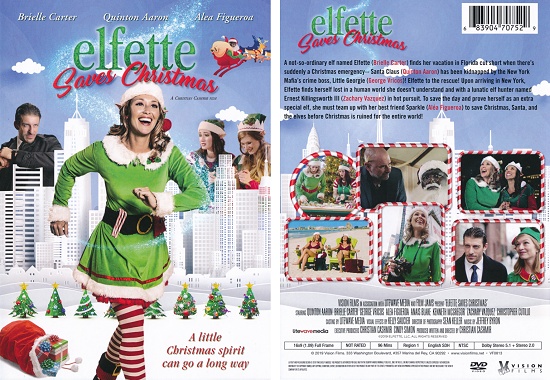 Whether you like it or not, the holidays are upon us. In this lead-up to Christmas (and Hanukkah), I'll be taking a look at several new releases that would make great gifts for your friends and family. If you know someone who loves the Will Ferrell movie
Elf
and wants a female version of it, or tongue-in-cheek Christmas comedies like
Ernest Saves Christmas
, or the cute female-centric Christmas movies that tend to air on the Freeform/ABC Family channel, Mill Creek recently released
Elfette Saves Christmas
on DVD just in time for the holidays. Read on to find out more...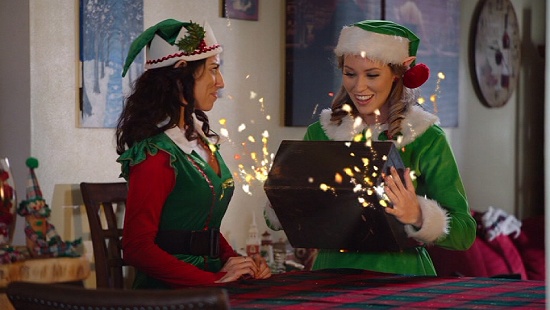 Elfette Saves Christmas
(2019) tells the tale of Elfette (Brielle Carter), an elf worker who longs for more than just designing wrapping paper. Her vacation in Florida is cut short when there's an emergency at the North Pole. Santa Claus (Quinton Aaron) has been kidnapped by mafia crime boss Little Georgie (George Vricos). Elfette must travel from Florida to New York to save Santa, all while navigating a human world she doesn't understand, and with crazed elf hunter Ernest Killingsworth III (Zachary Vasquez) hot on her trail. To save the day and prove herself as an extra special elf, she must team up with her best friend Sparkle (Aléa Figueroa) to save Christmas, Santa, and the elves before Christmas is ruined for the entire world!
Elfette Saves Christmas
is the type of Christmas movie that won't be for everyone. Generally speaking, it's like a female version of the Will Ferrell movie
Elf
, only I don't find Elfette to be annoying like Buddy. Maybe that's because the "childlike naiveté" shtick doesn't comes off as creepy and stupid when it's done by a cute young gal instead of a grown middle-aged man. Yes, the movie plays out like kid's entertainment (it's unrated, but there's nothing here that would warrant more than a "G" rating), and the script isn't exactly very taxing on the brain, and that's actually to the movie's benefit. It's one of those "comfort food movies" you watch knowing full well that it's gonna have a happy ending.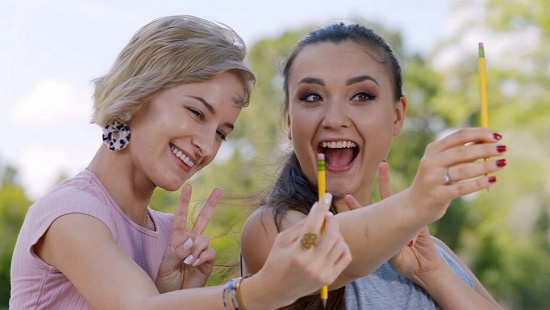 It's a comedy that doesn't take itself seriously, and neither should you. It's tongue is placed firmly in cheek. That's not to say that there isn't some fun to be had. The hot Christmas item in the movie is the "Pencil Phone Z", which is an iPhone-like device that looks exactly like a standard yellow #2 pencil (because, in reality, it is). It's marketed with commercials, one of which is a credit cookie to reward those who stay tuned to the end, which parody those pretentious Apple ads. I gotta admit, that's clever and hilarious. I also enjoyed some of the wordplay. I will now make it my mission to try to work "Holy Glitter Globes!" into as many conversations as I can.
While I have never heard of a single one of these actors before - a rarity for me, as I tend to recognize at least
one
name in almost any movie - Brielle Carter has now become one of my favorites. While some of the performances are definitely better than others, Brielle effortlessly carries the film and will easily win you over as Elfette. Most "North Pole" films will have their elves portrayed by either children or little people. Most of the elves in
Elfette Saves Christmas
, aside from two, are cute 20-something year old women. There's even a scene where Elfette and Sparkle chill on a beach in bikinis. So, while the movie is safe for the kids, there's also some nice eye candy for the parents :-)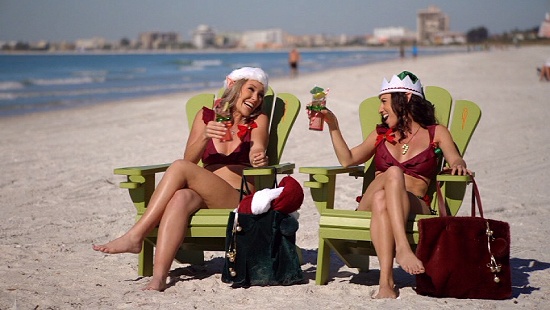 What I found most interesting about the casting is who they chose to play Santa Claus. Most of the time, it's an old white man. If a black actor is cast as Santa, it would be more expected in a movie produced by Tyler Perry or one with a predominantly black cast. Here, Santa is played by the
only
black actor in the entire film! He's played by Quinton Aaron, which is a name you might have known if Sandra Bullock didn't steal the movie he was actually the star of:
The Blind Side (2009)
. He does a decent job, but his performance was one of the few that I actually found to be a bit lacking.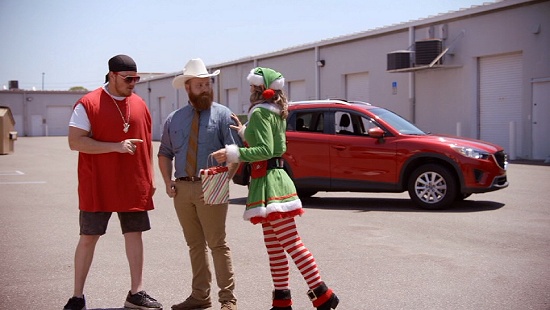 If
Elfette Saves Christmas
has any serious flaws, it's the low budget. This becomes noticeable 15 minutes into the film when Elfette visits a car dealership, which is portrayed as just one car in a warehouse parking lot. I guess the filmmakers couldn't afford to pay a car dealership for even a few minutes of filming. Also, when Elfette gets to New York City (
Ghostbusters
fans will enjoy seeing her visit
the famous library
), because they didn't pay for extras and product placement, you'll see a few blurred faces and billboards. The biggest flaw is a plot hole that comes 1 hour 20 minutes into the film when all of the elves sing "Save Our Santa", a song meant to illustrate the despair everyone is feeling when it looks like Christmas won't be saved. These elves are supposed to be frozen in magical ice, thanks to the freeze ray the bad guy used on them earlier, but here they are all thawed out; only to be unfrozen minutes later when Elfette saves Christmas.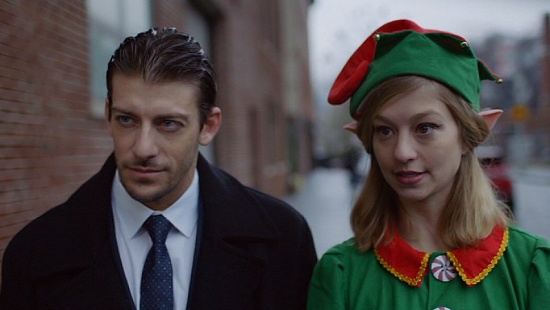 Elfette Saves Christmas
is presented in a 1.78:1 aspect ratio (anamorphic widescreen) with a runtime of 1:36:35. On the audio side, there are English audio tracks in 2.0 Stereo and 5.1 Surround Dolby Digital. I need to mention that there is a slight echo in the stereo track from 1:13:27 to 1:19:50, which doesn't happen in the 5.1 track. Subtitles are available in English only. Below is a list of the bonus features that can be found on the disc.
The disc boots up with trailers for
Christmas Cupcakes (2018)
and
Wish Man (2019)
. Sadly, the latter is not an updated version of
Wish Kid
starring Macaulay Culkin.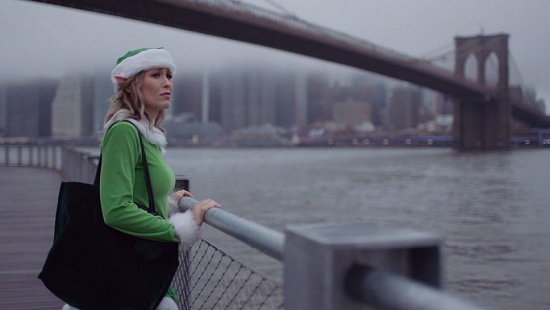 A digital copy code voucher is also included in the standard one-disc DVD case, which is redeemable on Mill Creek's
MovieSpree website
.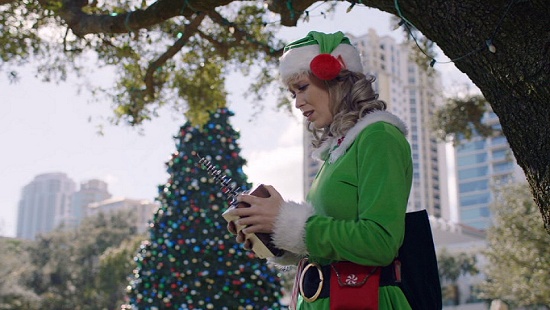 The
Elfette Saves Christmas
DVD is available right now from
Amazon
for less than $10!
All images were grabbed by me (Paul Rudoff) from the DVD, though by the time you've read this, I may have uploaded them (and many more) to the
IMDB gallery
of the film. This item has been provided by Mill Creek Entertainment for review on this site.
No feedback yet
Leave a comment