By Paul Rudoff on Jul. 27, 2020 at 4:36 PM in Home Video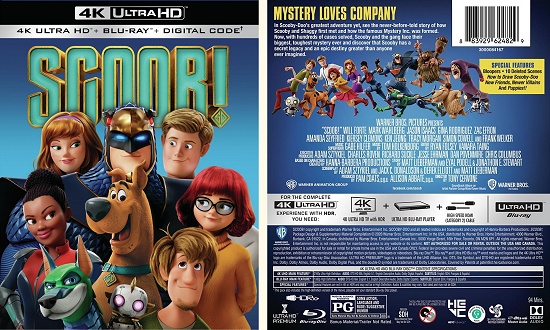 Scoob! (2020)
is the latest release in the 50-year-old Scooby-Doo franchise. Is it a JINKIES or a ZOINKS? Read on to find out...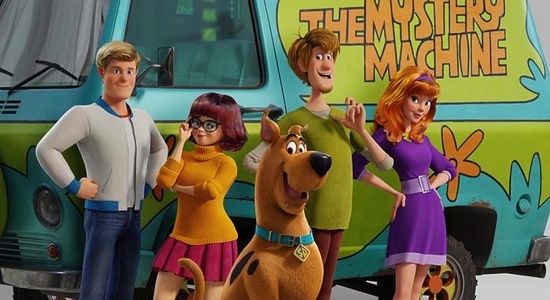 Scoob!
(2020) starts off by showing how life-long friends Scooby-Doo (Frank Welker) and Shaggy (Will Forte) first met, and how they joined forces with young detectives Fred (Zac Efron), Velma (Gina Rodriguez), and Daphne (Amanda Seyfried) to form the famous Mystery Inc. Once those meddling kids become young adults, they team up with Blue Falcon (Mark Wahlberg), Dinomutt (Ken Jeong), and Dee Dee Skyes (Kiersey Clemons) to stop Dick Dastardly (Jason Isaacs) from unleashing the ghost dog Cerberus upon the world. As they race to stop this global "dogpocalypse," the gang discovers that Scooby has a secret legacy and an epic destiny greater than anyone ever imagined.
When I first saw the trailer for
Scoob!
a few months ago, I thought it looked and sounded REALLY bad. Instead of bringing in the real actors, Warner Brothers hired a bunch of not-so-soundalikes. On top of that, the trailer showed off a bunch of already-dated references that made me cringe. Although I did not go into this film with high expectations, I did try to go into it with an open mind. Honestly, the things I didn't like about the movie based on the trailer are the only things I didn't like about the film as a whole.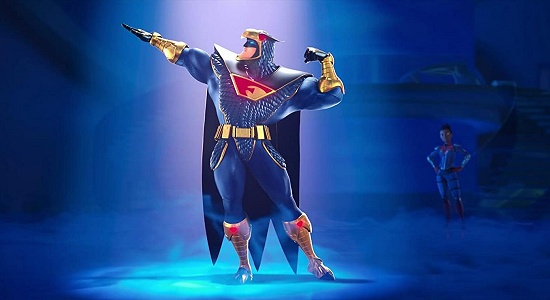 When Warner Brothers made the
Teen Titans Go! To The Movies theatrical movie
two years ago, they used the franchise's regular voice cast. Why didn't they do that here, too? Instead of Frank Welker as Fred & Scooby, Matthew Lillard as Shaggy, Grey Griffin as Daphne, and Kate Micucci as Velma; we're left with a bunch of so-called "stars" doing poor imitations, if even bothering to try to sound like the original voice at all. Sorry, but the whole time I watched the film, I wasn't hearing "Shaggy", I was hearing Will Forte doing a bad Shaggy imitation. It was like listening to a bad episode of
The Last Man on Earth
.
The only cast members who have a solid connection to the franchise are Frank Welker, the original voice of Fred and Scooby (the latter since 2002), who only returns as Scooby; Don Messick, the original voice of Scooby, who provides the sounds of Muttley through the use of archive audio; and Scott Menville, the voice of Red Herring in
A Pup Named Scooby-Doo
, who is one of the loop group (additional voices) members.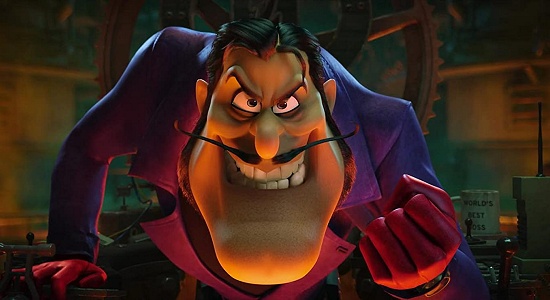 For the second time in the franchise history, Frank is not the voice of Fred. (The first time was in
A Pup Named Scooby-Doo
.) Maybe Zac Efron and Amada Seyfried would do great as a live-action Fred and Daphne, but they bring nothing to the voices of the characters. Velma is voiced by Gina Rodriquez, who's such a "big name" that I had never heard of her before! Meanwhile, I can sit here and type up a list of shows and movies I've seen and heard Kate Micucci in, just off the top of my head. More than anything else, the unnecessary casting of so-called "big names" is what brings
Scoob!
down. I wish I had the money to hire the real voice cast to come and redub this movie for me :-)
Speaking of the cast, for some reason, Simon Cowell is brought in to voice himself, as he wants to invest in Mystery Inc. - or maybe he just wanted to hire them. I don't remember as it's a plot point brought up once at the beginning of the movie and then promptly forgotten. Like most of the things that happen in the film, this comes completely out of left field. Simon Cowell hasn't been relevant in 10 to 15 years. Were there no other celebrities that wanted to appear in this film?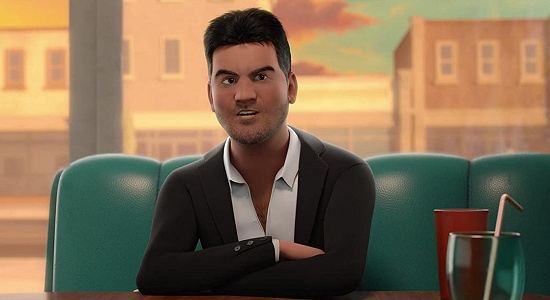 The Scooby-Doo franchise is over 50 years old, and always manages to reinvent itself for modern times, without ever seeming dated. Even the original 1969 series seems pretty fresh, with very little in it that truly feels 50-years-old. Yet,
Scoob!
is filled with modern references that feel dated upon the film's release in 2020. Sure, they may elicit a small chuckle now, but they are also cringe-worthy. Weirdly, for a movie that's trying so hard to be "modern" and "hip", it brings back a lot of obscure Hanna-Barbera characters that today's kids won't know: Blue Falcon (Mark Wahlberg), Dinomutt (Ken Jeong), Dick Dastardly (Jason Isaacs), Muttley (Billy West & Don Messick), Dee Dee Skyes (Kiersey Clemons), and a surprise character voiced by Tracy Morgan.
Scoob!
isn't all bad, though. The movie is bright and colorful, taking FULL advantage of the 4K spectrum. The character designs are a HUGE step up from
Be Cool, Scooby-Doo
, even if Velma looks like a redhead most of the time. The movie is VERY self-aware, and takes jabs at the Scooby-Doo franchise tropes. The Mystery Machine is called an "anachronistic van" (though it's been updated with an Ecto-1-like roof rack of gadgets), and Shaggy is referred to as a "gangly dude that has this habit of using the word 'like' at the start of every sentence, almost as if he was some middle-aged man's idea of how a teenage hippie talks". The plot is fun in a nonsensical cartoony kind of way.
Scoob!
isn't trying to be "real". There's an abundance of classic Hanna-Barbera stock sound effects and cartoon motions that informs the audience not to take any of this too seriously.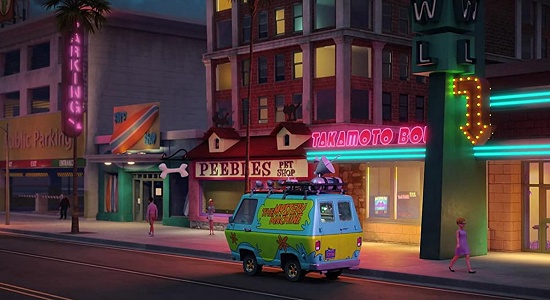 The movie is an Easter Egg Finders dream! There is an abundance of tiny little easter eggs for Scooby-Doo and Hanna-Barbera fans to look for. A lot of them are "blink and you'll miss it" buildings or billboards in the background. Some of my favorites include "Ruby's Subs" shop with "free pickle SPEARS" in the opening scene, a nod to Joe Ruby and Ken Spears, two of the creators of Scooby-Doo. When we first meet Shaggy, he's getting food from "Casey's Creations", a nod to original Shaggy voice actor Casey Kasem. Later, you'll see "Hanna's Barber Shop" next to "Barbera's Pizza". The plot involves locations such as Takamoto Bowl (Iwao Takamoto created Scooby-Doo) and Messick Mountain (Don Messick was the first voice of Scooby-Doo). There are police officers named Jaffe (voiced by Christina Hendricks), Casey, and North; all named after original series actors Nicole Jaffe (Velma), Casey Kasem (Shaggy), and Heather North (Daphne). I think the only person who DOESN'T get a nod is Frank Welker. Also, be on the lookout for a billboard advertising a QuestPad (as in "Johnny Quest") and "Pitstop perfume by Penelope", and one of the plot items is called a "Slaghoople" (Wilma Filntstone's maiden name).
Overall, I didn't hate the movie as much as I thought I would. I hate parts of it (the voices and the dated "modern" references), but I love the goofy cartoony plot (with a positive message of "friendship"), the plethora of Scooby-Doo and Hanna-Barbera references, and that they explained why the dog AND the snacks are both named "Scooby". That said, it does seem like Warner Brothers is trying to quickly create a Hanna-Barbera Cinematic Universe here. If that's the case, PLEASE Warner Brothers, use the REAL voice cast for any future theatrical films with the Scooby-Doo characters in it.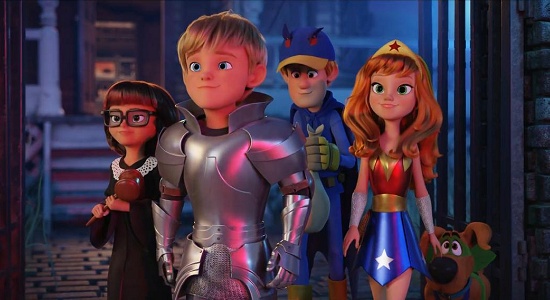 Scoob!
(2020) is presented in the 2.39:1 aspect ratio with a runtime of 1:33:46. Audio languages include English, English Descriptive, and Spanish. The film includes English SDH, Spanish, and French subtitles. The first print run includes a beautiful slipsleeve.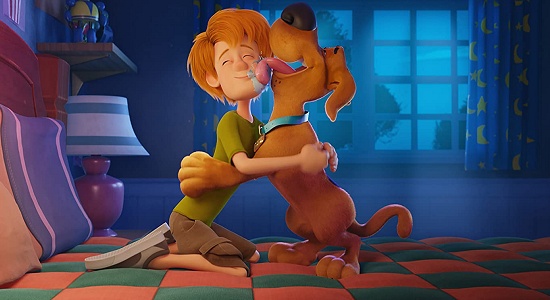 The UHD disc does NOT contain any bonus features. Here's a list of all of the bonus features that can be found on the included Blu-ray disc.
Bloopers (3:58) - The voice cast messing up their lines at the recording sessions. It's always great to see the legendary Frank Welker, but everyone else has no business being there.
Deleted Scenes (19:48) - Ten separate scenes with introductions by director Tony Cervone: "Shaggy and Scooby Meet", "Operation Maximum Candy with Minimum Effort", "Dastardly in Peru", "Chef Shaggy", "Inside Scooby and Shaggy's Minds", "Mischievous Mustache", "Shaggy Gets a New Friend", "Dastardly Kidnaps the Gang", "Escape from Island", and "Night Hounds".
How To Draw Scooby-Doo (10:16) - Director Tony Cervone shows you how to draw the Great Dane.
New Friends, Newer Villains (6:21) - A look at the new characters, some of whom come from other Hanna-Barbera productions.
Puppies!! (1:05) - Will Forte, Amanda Seyfried, Zac Efron, and Gina Rodriguez play with little puppy dogs. Short, and utterly pointless. I thought it was going to be a PSA for pet adoption, but it wasn't for any purpose at all.
Also included is a second standard Blu-ray disc, which contains the movie and ALL of the bonus features listed above. Audio languages include English, English Descriptive, and Spanish. The film includes English SDH, Spanish, and French subtitles.
A digital copy code voucher is also included in the standard two-disc black UHD Blu-ray case.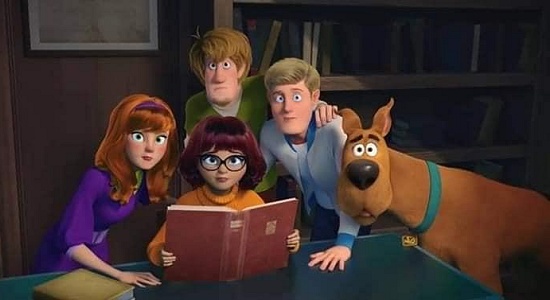 Scoob!
(2020) is available on
4K UHD/Blu-ray Combo Pack
,
Blu-ray
, and
DVD
. I recommend it for fans only, as long as you can put up with the incorrect voices and already-dated references. Also, there is no shortage of
other Scooby-Doo Blu-ray videos to buy
, including the original
Scooby-Doo, Where Are You?
series in a
Complete Series Blu-ray set
, which I highly recommend.
All images were taken from the
IMDB gallery
of the film. The item was provided by Warner Brothers for review on this site.
No feedback yet
Leave a comment