By Paul Rudoff on Jul. 21, 2020 at 7:56 PM in Public Service Articles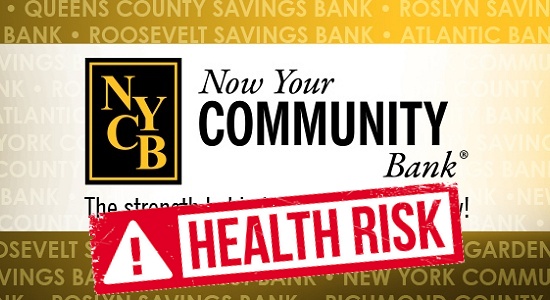 For the past three and a half months, I have had my health and safety put at risk due to
New York Community Bank
(henceforth referred to as NYCB) mishandling their response to COVID-19. I have been a NYCB account holder for over 20 years, going back to 1999 when I frequented the "Roslyn Savings Bank" East Rockaway in-store branch (in the now-defunct Pathmark supermarket). Since December 2012, I've been going to the "Roslyn Savings Bank" stand-alone branch located at
75 N. Central Avenue in Valley Stream, New York
. Since I do not have a car, I walk the 0.8 miles from my home to the bank, which is a 15 minute journey. Of the plethora of banks in central Valley Stream, NYCB/Roslyn just so happens to be the furthest away from my home. Considering that there are other, closer, banking options, and that NYCB does not care about the health and safety of their customers, I have chosen to end my 21-year banking relationship with NYCB. Let me explain why...
APRIL 3RD - VALLEY STREAM
At this point in time, it had already been three weeks since the Novel Coronavirus Disease, COVID-19, was declared a pandemic by the World Health Organization. Many of the businesses that were deemed "essential" and allowed to remain open, had already instituted measures to ensure the safety of their customers and employees. Mostly, it was simple things like plexiglass shields and barriers. For whatever reason, NYCB opted not to do these simple things. Instead, they closed their interior lobby and
FORCED THEIR PEDESTRIAN CUSTOMERS TO STAND AMONG CARS IN THE DRIVE-THRU!
I kid you not. They chose to
PUT THEIR CUSTOMERS SAFETY AT RISK
simply because they didn't want to do what EVERYONE else was doing, by putting up a cheap plexiglass shield at their teller stations.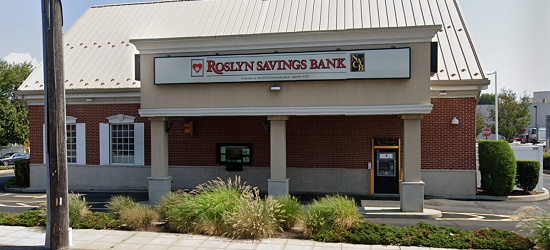 VALLEY STREAM BRANCH - ATM & DRIVE-THRU IN THE REAR
(photo taken August 2018 by Google Maps, click for enlargement)
I waiting 20 minutes just to get to the front of the line, and another 15 minutes for my simple withdrawal and deposit transactions to be taken care of. As I was leaving, and got back to the front of the building (the ATM & Drive-Thru is at the back), I saw an elderly woman with a shopping cart standing between the cars that were lined up around the building. I just shook my head in disgust that NYCB would allow something like this to happen.
Of course, being the consumer advocate that I am, I contacted NYCB to alert them to this problem. My hope was that they would re-open their lobby with proper precautions in place. I received a call back from a woman (I no longer have the call notes with her name) who told me that they are waiting for the sheetrock to arrive, but that they hope to have things better in a week or two. My mind boggled at the mention of sheetrock, as such a thing would not be needed to enclose the teller area.
Meanwhile,
Dime bank
, which my sister uses, had their lobby and drive-through both open. Dime's teller area is enclosed in a plexiglass cell. I expected for NYCB to add plexiglass on their open-air teller area, going from the ceiling to the top of the teller "desk", thus creating an enclosure. That makes sense, right? So, of course, NYCB does things ass-backwards.
MAY 1ST - VALLEY STREAM
I arrived at the bank to find that NYCB actually hired construction workers to knock out a wall and create a new enclosed teller walk-up area in the SMALL ENTRANCE FOYER! Yes, NYCB corporate thought it would be smarter to create
NEW SMALL ENCLOSED SPACES WITH NO WAITING AREA
instead of using the LARGE LOBBY AREAS they already have in (presumably) every one of their stand-alone branches. In Valley Stream, they created a new walk-up TWO-WINDOW teller area in the approx. 20-foot x 10-foot main entrance foyer, instead of using the larger adjacent lobby area.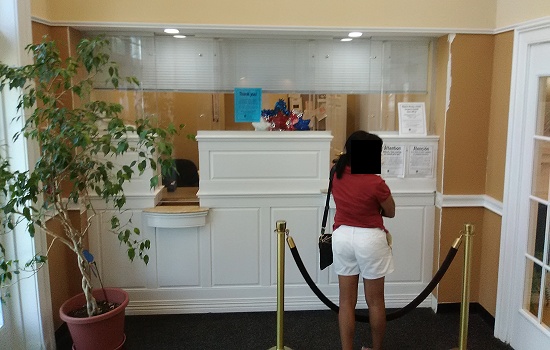 VALLEY STREAM BRANCH - NEW TWO-WINDOW WALK-IN TELLER AREA IN THE FOYER
(photo taken on July 21, 2020 at 1:25 PM by Paul Rudoff, click for enlargement)
For my first time using this new cockamamie banking procedure, I had no problems.
JUNE 3RD - LAWRENCE
Proving that NYCB corporate isn't being smart system-wide, I went to the stand-alone Roslyn Savings Bank at
333 Central Avenue in Lawrence, New York
, while visiting a doctor in the area. Instead of using the SPACIOUS lobby, they redirect walk-in customers to a side entrance, where they created a new tiny one-person walk-up window inside.
This area is even SMALLER than the one in Valley Stream. In a time when everyone is being told to SOCIAL DISTANCE, why would NYCB create SMALLER spaces for their customers to use?!?
JULY 2ND - VALLEY STREAM
This was my first visit to the Valley Stream branch in two months. Obviously, the same two-teller window set-up was in place. One teller was taking care of a customer, so I went to the other one, naturally. The bank employee took my withdrawal slip, but before he left to go into the main bank area to process my transaction - I have no idea why they can't process them right there at the new walk-up teller windows - he told me to wait outside. I politely declined, citing the heat, the fact that I'm an ASTHMATIC, and the fact that their sign clearly says "only one person PER WALK UP WINDOW" and to "maintain a minimum distance of 6 feet from others". With their two-window set-up, and the approx. 20-foot width of the foyer, that allows for two people at the windows, plus two more people standing six feet behind each of them.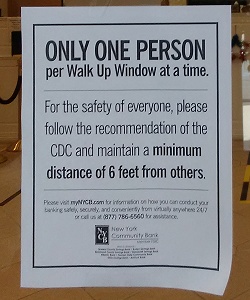 VALLEY STREAM BRANCH - SIGN IN THE FOYER
(photo taken on July 21, 2020 at 1:25 PM by Paul Rudoff, click for enlargement)
I also pointed out to the male employee that NYCB will be libel for anyone who passes out, or dies, due to heat exhaustion or heat stroke from being forced to stand outside in the heat. Does NYCB really want to risk the lawsuits that could come from asking customers to stand outside in inclement weather? Anyway, he didn't argue with me, because he understood that I was correct. The only other customer who was there agreed with me, as she saw that I was standing MORE than 6 feet away from her (as well as wearing a mask); as I was waiting against the opposite wall, which is at least 20 feet away from the side where the teller windows are.
JULY 21ST, 1:25 PM - VALLEY STREAM
I walked 0.8 miles in OVER 90-DEGREE HEAT, so that I could make a simple deposit, with my deposit form already filled out ahead of time, so that I could be in and out.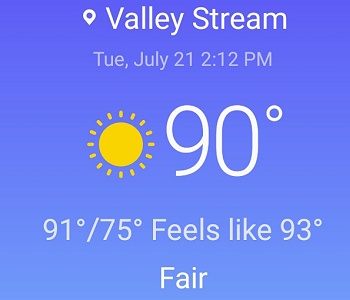 GOOGLE WEATHER REPORT FOR VALLEY STREAM ON JULY 21, 2020
(screenshot taken by Paul Rudoff, click for enlargement)
There was one customer at one of the new walk-up windows, while the other window was unmanned. The employee behind the teller window stopped helping the customer so that she could tell me to wait outside. I politely declined, citing the OVER 90-DEGREE HEAT, the fact that I'm an ASTHMATIC, that I was WEARING A MASK AND STANDING MORE THAN SIX FEET AWAY from the only other customer standing there, and that the sign clearly states "only one person PER WALK UP WINDOW" and to "maintain a minimum distance of 6 feet from others".
After I politely declined waiting outside, the bank employee, whose name I did not get because
I never got close enough to her, or the other customer, to read her name tag,
did not drop the matter and finish taking care of the customer. She continued to hound me to wait outside, which at that point, constituted harassment. Eventually, another employee named Laidy, who has never given me any problems in the 7.5 YEARS that I've been dealing with the Valley Stream branch, came out from the lobby area. She started to harass me, too, but before she could, I told her to take care of my deposit and I'd be on my way. Everyone wanted to waste time harassing me, instead of taking care of my business and letting me be on my merry way. She took my money and in two minutes time, came back with my receipt.
Meanwhile, the customer was being just as much of a jerk, complaining that she didn't want me hearing her speak about her personal information. I told her that I wasn't listening to what she was saying to the teller, as I couldn't care less about her personal business. Does she really think that she's so special that everyone gives a damn about her?!? If she's not doing "teller business" (deposits and withdrawals), she has no business being at the teller window in the first place. That prevents others from using that resource. Eventually, the bank employees walked her into the locked lobby, which is where she should have been in the first place.
I know I've said this before, but it bears repeating with photographic evidence. For several months now, NYCB has spent considerable money doing construction work to create SMALL ENCLOSED SPACES in their branches, instead of using the WIDE OPEN LOBBIES they already have which could be easily prepared with plexiglass for far less cost and a better customer experience. Look at the photo below of the normal teller area in the lobby. I can
easily
see where a large piece of plexiglass could be installed.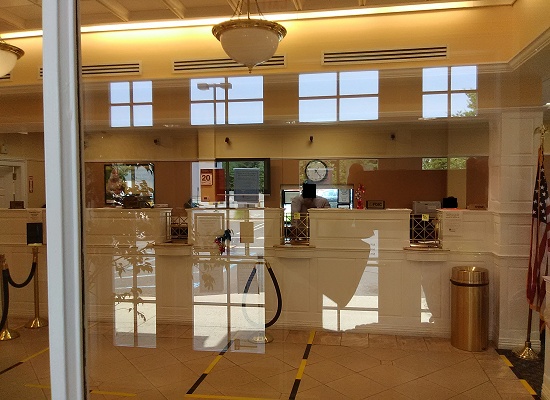 VALLEY STREAM BRANCH - THE LOCKED LOBBY AREA (TELLER AREA)
(photo taken on July 21, 2020 at 1:25 PM by Paul Rudoff, click for enlargement)
If you don't see it, let me highlight it for you in green. Imagine that whole green area covered in plexiglass.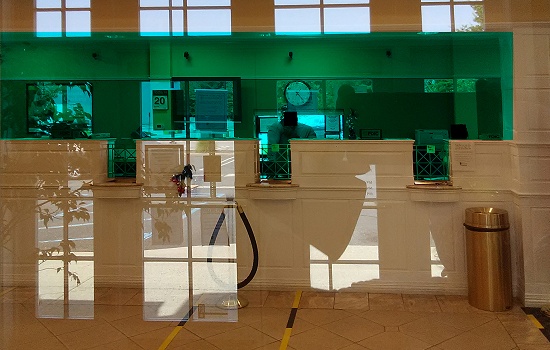 VALLEY STREAM BRANCH - WHERE PLEXIGLASS SHOULD BE IN NORMAL TELLER AREA
(modification by Paul Rudoff, click for enlargement)
You can't tell me that knocking out walls and building new teller structures is cheaper than one HUGE piece of plexiglass added to the existing teller structures. And that's putting aside the fact that using the lobby area allows for proper social distancing without asking customers to stand outside.
Weirdly, for several months now, the Valley Stream branch has had, what appears to be, distancing markers on the floor fashioned out of black-and-yellow caution tape. Why were these markers put on the floor if the bank isn't going to use the lobby for customers?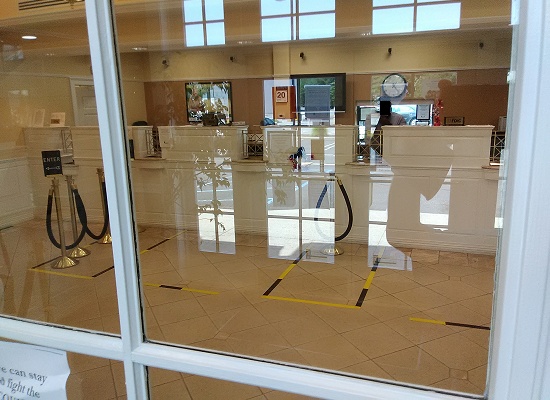 VALLEY STREAM BRANCH - THE LOCKED LOBBY AREA (MARKINGS ON FLOOR)
(photo taken on July 21, 2020 at 1:25 PM by Paul Rudoff, click for enlargement)
As you read this, I have already contacted NYCB about the matter, directing them to this article. I expect that they'll just make excuses for their employees and their mishandling of the COVID-19 situation. Although I've been with NYCB for over 20 years, I have decided to take my business - which includes TWO separate bank accounts - to Dime. They are a lot closer to walk to, have been handing the situation better from the start, and my sister has NEVER been harassed by their employees.
I have to go back to the Valley Stream branch in two weeks. I'm already feeling ANXIETY over having to go back there.
[UPDATE - December 8, 2020]
I pulled nearly all of my money out of both accounts at the beginning of August, leaving only loose change in each account ($0.25 and $0.35, respectively). Essentially, I "abandoned" both accounts, only leaving them open until I ensured that all directly-deposited money has been moved to the new Dime bank account. Since there has been no activity in either account, nor will there ever be, I decided that I would withdraw the change and close out 2020 with my 21-year relationship with NYCB completely ended. I opted to go to the aforementioned Lawrence branch since I was in the area today for a doctor's appointment. I had two withdrawal slips pre-filled out with the EXACT BALANCE AMOUNTS ($0.25 and $0.35) written on them in both numbers and words, along with a note on the bottom stating, "I am CLOSING MY ACCOUNTS, ending my 21-year relationship with NYCB." I gave the slips to the elderly female teller, who saw the note stating that I was closing my accounts. She FORCED me to write out two new withdrawal slips saying "balance" on them, even though - and let me state this again - the original two slips were written for the EXACT REMAINING BALANCE IN EACH ACCOUNT! Those original slips would have withdrew the balances just fine. There was zero reason to force me to write new slips made out to "balance" instead of "$0.25" and "$0.35". On top of that, the teller took FOREVER to process this simple $0.60 transaction, stopping to ask me irrelevant questions and getting mad at me for getting annoyed at her poor customer service, which could have made me late for my doctor's appointment. It seems that NYCB corporate needs to give lessons to their employees on how to properly treat customers. Thank goodness I no longer have to endure this treatment. On the positive side, the Lawrence branch reopened their HUGE lobby and installed plexiglass in front of tellers stations, as I suggested when I wrote this article back in July. I don't know if the Valley Stream branch has done the same thing, and I have no interest in ever stepping foot in a New York Community Bank ever again to find out.
No feedback yet
Leave a comment