By Paul Rudoff on Nov. 24, 2020 at 5:09 PM in Wrestling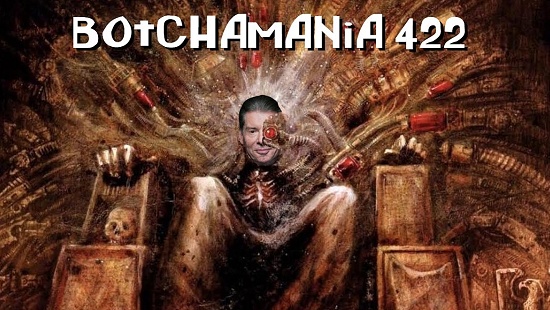 Yes, I've
written about Botchamania before
. I'm writing about it again because in the latest episode,
Botchamania #422
, three botches that I spotted were used. Read on to find out more...
When you get to the 4:35 mark in the episode, you will see a clip from the November 4, 2020 episode of NXT featuring sweet
Shotzi Blackheart
rather-comically (sorry Shotzi) slipping on the top rope; a botch that would be repeated by another wrestler on that same night's AEW Dynamite show. Following that botch, and a clip of Roddy Piper saying "People talk too much" from
Hell Comes To Frogtown
, is another NXT botch I noticed. This one, at the 5:30 mark, is from the Halloween Havoc episode (October 28, 2020). During the Johnny Gargano/Damian Priest match, as they go backstage, you can clearly hear the ref tell them they have "two minutes" until the commercial break. Also, if you look at the very end of the clip, you may notice that the brand names were covered on the retail Halloween decoration boxes seen in the cart backstage. It's as if they *planned* on showing them on camera :-)

The third clip can be found at the 7:05 mark, which is a
twice
unbreakable table in Championship Wrestling From Hollywood's October 31, 2020 episode. The main event is a match between heavenly
Heather Monroe
and
Ruby Raze
, during which both ladies unsuccessfully failed to break the table when each landed on it. I feel for both ladies because without the table giving way, that landing must have been painful as Hell - whether in Frogtown or not. Clips of unbreakable tables is a reoccurring segment of Botchamania called "I Am The Table" (
official t-shirt here
). The full Monroe/Raze match is available on the
Championship Wrestling Youtube page
.

While I'm not credited in the video itself, Maffew gave me credit (by my shortened Facebook username "Paul Ru") on the
Botchamania webpage for Episode #422
, and in the Youtube video description, both linked to The Corner Penthouse.
(Botchamania #422 Webpage, November 15, 2020)
After watching the full episode #422 below, go check out Botchamania on
the web
,
Facebook
(req. login), and
Twitter
.
IMPORTANT:
Since it is very likely that the Botchamania episode embedded in this article will be taken down by Youtube, because WWE doesn't understand Fair Use, be sure to visit the
unofficial video archive
to view this episode and many more, past and present.
No feedback yet
Leave a comment