By Paul Rudoff on Mar. 9, 2021 at 9:21 PM in Home Video, Horror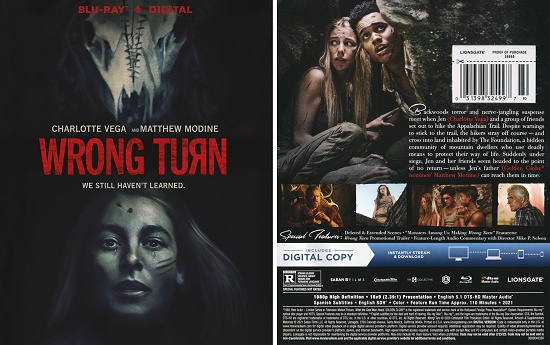 Wrong Turn
(2021), also known as
Wrong Turn: The Foundation
, is the seventh film in the
Wrong Turn
film franchise. Read on to find out more about it...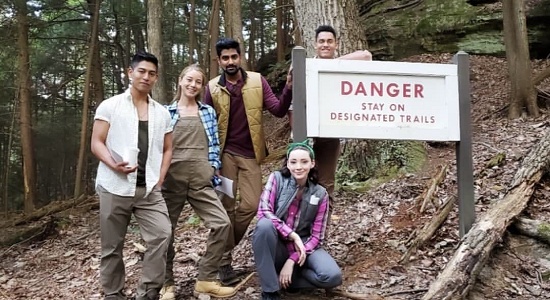 Wrong Turn
(2021) is the tale of backwoods terror and never-jangling suspense when Jen (Charlotte Vega) and a group of friends set out to hike the Appalachian Trail. Despite warnings to stick to the trail, the hikers stray off course -- and cross into land inhabited by The Foundation, a hidden community of mountain dwellers who use deadly means to protect their way of life. Suddenly under siege, Jen and her friends seem headed to the point of no return -- unless Jen's father Scott (Matthew Modine) can reach them in time.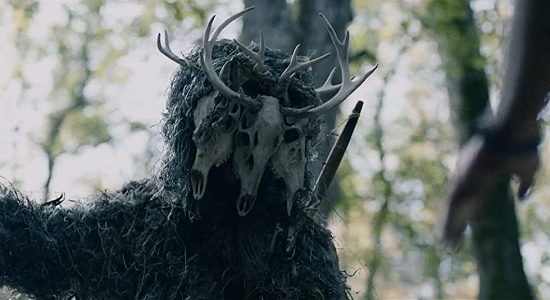 Although written by Alan McElroy, the screenwriter of the original 2003 feature film, this
Wrong Turn
is not connected in any way, shape, or form to the original series other than its backwoods setting. You won't find a single inbred cannibal here, aside from a cute inside joke about renting an "inbred cannibal movie". I'm really not sure why the filmmakers thought to even call this movie
Wrong Turn
. Is the original series of SIX films, five of which are DIRECT-TO-VIDEO, really held in such high regard that they thought they needed to retain the title for "name value" reasons? Calling it
The Foundation
would have made more sense.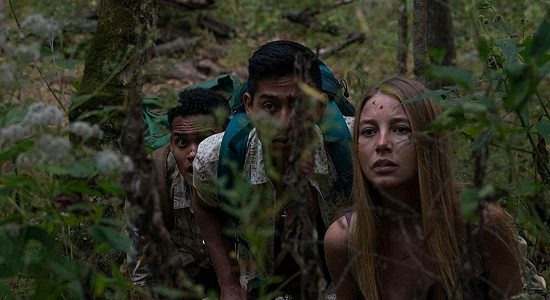 Anyway, what we have in this in-name-only reboot starts off with a father arriving at a small rural town looking for his daughter, which gives us an idea as to the fate of our main characters. Not there was any doubt that a lot of our twenty-something hikers would not make it to the end of the film, especially when they venture off the established trail despite being warned not to. It's a diverse group consisting of interracial straight couple Jen and her black boyfriend Darius (Adain Bradley), the other straight couple Milla (Emma Dumont) and Adam (Dylan McTee), and gay couple Gary (Vardaan Arora) and Luis (Adrian Favela). These kinds of liberal couplings are met with disdain by the more conservative folks in rural Virginia, which adds some tension to the proceedings. In fact, there's a bit of a "liberals vs. conservatives" underpinning to the story, though not as much as in
The Hunt
.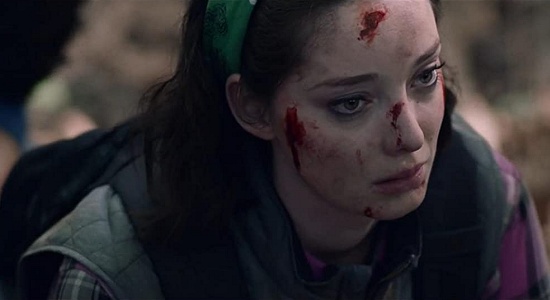 The movie is engaging and tries to put forth the message of "Who are the real monsters?", with McElroy creating a gray area of blame for various happenings, but it falters here and there. For starters, the group gets their first taste of trouble when they encounter a rolling log that threatens to take them all out. Rather than running to the left or right, for some reason, everyone runs down the hill,
remaining
in the path of the log, which mysteriously misses every tree that would stop its momentum. Later, the group meets The Foundation, a Nordic cult that's spent over 150 years living in the mountains, headed by Venable (Bill Sage). From what we are told, The Foundation were founded by a bunch of pre-Civil War Americans, so why do they speak in some Nordic language? We are never given enough backstory on the group to explain that. In the end,
Wrong Turn
(2021) is a strange mix of
Wrong Turn
(2003),
The Village
(2004), and
Tomb Raider (2018)
.
While the story does have some shortcomings, the cast is phenomenal! What drew me to the film is that one of my favorite goddesses, the enchanting
Emma Dumont
, was in it. She plays the role of Milla with aplomb, and were Jen not the main character, I could easily see her taking the lead. Also, someone must have given the costumer designer the memo that I like bespectacled beauties, as Emma shows off her pretty peepers behind a pair of glasses for a few early scenes :-) Of course, Charlotte Vega plays the lead character Jen, so she gets the most screen time and given the biggest story arc. I've never seen Charlotte before, and you may be surprised to hear her speak with a British accent in the making of featurette, as she is very convincing as an American. She does well showing the emotional change Jen goes through throughout the film.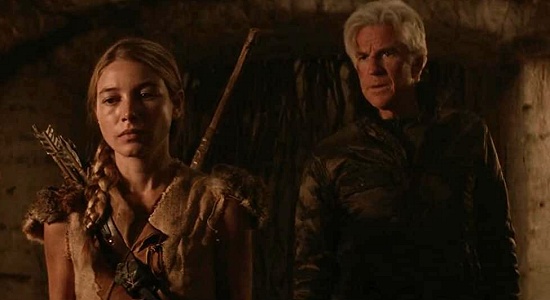 Matthew Modine gives a rather driven performance as Jen's father Scott, especially when he catches up with her and turns into bit of an action hero. Fun Fact: His real-life daughter, Ruby Modine, performs the haunting version of "This Land Is Your Land" heard during the end credits. The head of The Foundation, Venable, is played by venerable character actor Bill Sage. The name may not sound familiar, but you've likely seen him before on television or in the movies. He blends so well into his role that I didn't even realized that he was the same guy I saw just a few weeks ago as released prisoner Elliot Hamler in the
Magnum P.I. episode "The Big Payback"
. Finally, special mention should be given to Daisy Head, who plays Venable's daughter Edith. Essentially Venable's "right hand man", she's our first glimpse of "humanity" at The Foundation and helps to give some personality to the scariness of the group.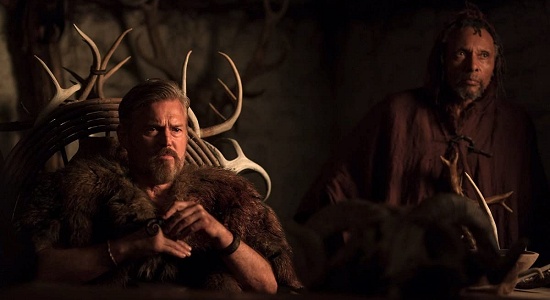 Wrong Turn
is presented in a 2.39:1 aspect ratio with a runtime of 1:50:12. Audio languages include English 5.1 DTS-HD MA. The film includes English SDH and Spanish subtitles.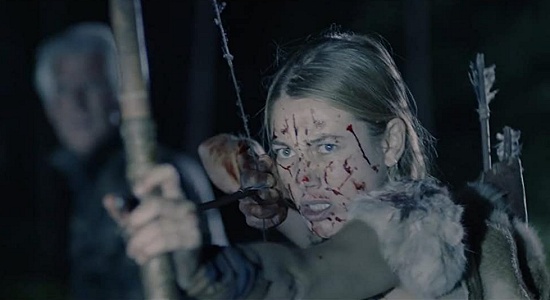 Here's a list of all of the bonus features that can be found on the Blu-ray disc.
Audio Commentary with director Mike P. Nelson.
Monsters Among Us: Making Wrong Turn (27:25) - As the name implies, it's a making of featurette featuring interviews and scenes from the film. Do NOT watch this before you watch the film, as it will spoil several things for you, including the ending.
Wrong Turn Promotional Trailer (3:35) - This promotional trailer, which plays out like a brief "making of" featurette, was created while the film was in production in 2019.
Deleted and Extended Scenes (7:09) - Six scenes: "Ruthie Encounter", "Bite!", "Lost and Found (Extended Scene)", "The Deputy", "Can I Help You?", and "I Found A Home..." Some include characters that were completely cut from the film, and some just have brief moments that were exorcised for pacing.
A digital copy code voucher is also included in the standard one-disc Blu-ray case. The first print run includes a slipsleeve.
Wrong Turn
(2021) is available on individual
Blu-ray
and
DVD
. The previous six
Wrong Turn
films can be purchased on Blu-ray in a
five-film set
with the
sixth film purchased separately
.
All images were taken from the
IMDB gallery
of the film. This item has been provided by Lionsgate for review on this site.
No feedback yet
Leave a comment