By Paul Rudoff on Mar. 11, 2021 at 11:50 PM in Home Video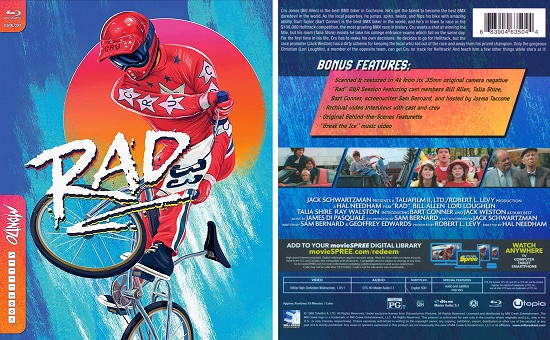 On May 22, 2020, Vinegar Syndrome released the 1986 BMX classic
Rad
onto 4K UHD & Blu-ray, marking the film's FIRST disc release. Yeah, it never saw release on DVD in the 20+ years of that format's existence! Limited to 12,000 copies,
Vinegar Syndrome's combo pack
sold out quickly and is going for over $100 on eBay and
Amazon Marketplace
.
If you missed out on the chance to get the Vinegar Syndrome release for a decent price, Mill Creek is here with your "second chance". Using the
same transfer
that was "scanned and restored in 4K from the original 35mm original camera negative", Mill Creek is set to release
Rad on Blu-ray in Steelbook packaging
for a MSRP of $39.99 (but Amazon always has it priced cheaper). Read on to find out more about it...
UPDATE:
Mill Creek has re-released the film on
Blu-ray in standard packaging with MORE special features
! I just
reviewed that release here
.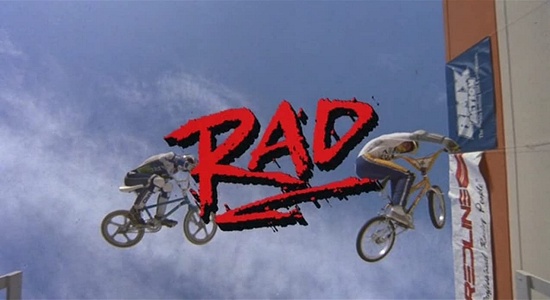 Rad
(1986) is the tale of Cru Jones (Bill Allen), the best BMX biker in Cochrane. He's got the talent to become the best BMX daredevil in the world. Bart Taylor (Bart Conner) is the best BMX biker in the world, and he's in town to race in the $100,000 Helltrack competition, the most grueling BMX race in history. Cru wants a shot at winning the title, but his mom (Talia Shire) insists that he take his college entrance exams which fall on the same day. He decides to go for Helltrack, but race promoter Duke Best (Jack Weston) has a dirty scheme for keeping the local whiz kid out of the race and away from his prized champion. Only the gorgeous Christian (Lori Loughlin), a member of the opposing team, can get Cru on track for Helltrack...and teach him a few other things while she's at it!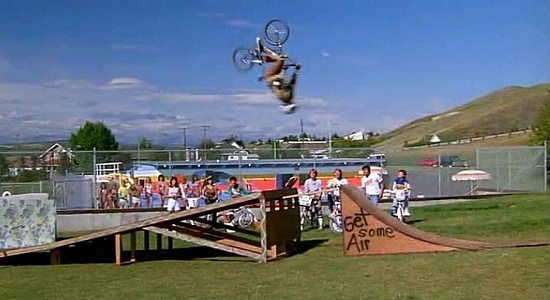 Maybe it's because I've never been interested in BMX racing, or the fact that the movie has never been available on DVD, but I've never seen
Rad
before. Not even
on VHS
. I was nine years old when this movie came out, and while I rode around on a bicycle like other children of the '80s, I would have been just a wee bit out of this movie's target audience at the time. Having seen it now for the first time, I really feel like I missed out on one of the awesomest insane totally '80s movies ever made!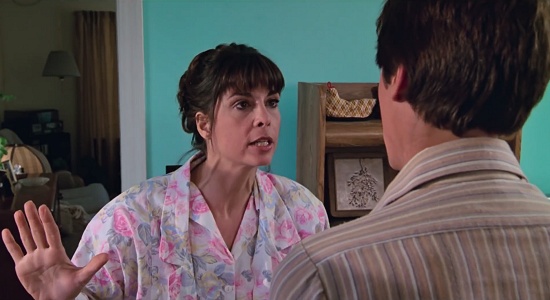 The story ain't Shakespeare. It's a pretty simple underdog story. It felt a bit like a BMX version of
Rocky
, a connection made all the more solid by the casting of Rocky's love interest Talia Shire as the mother. (Talia's then-husband Jack Schwartzman is the film's executive producer.) Cru's prerequisite love interest is Christian, portrayed by Lori Loughlin. Although Cru shows interest in one of the girls at his high school early on, as soon as Christian enters the picture, it's all about her. The character of Christian exists, pretty much, just to be a love interest, and to give our hero some insight into the world of professional BMX racing. She comes to town on the rival Mongoose team, but she doesn't participate in any races or spend any time with her "team". Why did Mongoose even hire her if she does nothing for them?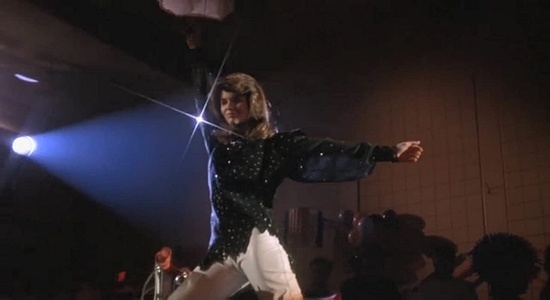 What Christian does bring to the table is a particular set of skills... "bicycle boogeying" and "ass sliding". Instead of going in to the gymnasium to dance with his classmates, Cru stays just outside the door doing tricks on his bike. Christian notices, and is instantly smitten. Soon enough, she's pulled out her bike and, before long, they're both in the gym with the spotlight on them. When ensues is a "bicycle boogie" dance number where Cru and Christian wow the crowd with graceful feats on their bikes set to Real Life's "Send Me an Angel". Later, our young lovers solidify their relationship by going down a concrete slide into the lake below in an act that is constantly referred to as "ass sliding". That phrase is now a permanent part of my vocabulary.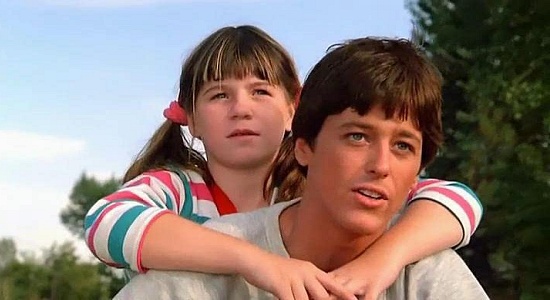 Although Cru's mom doesn't get much screen time - even though the actress was sleeping with the producer! - his smart aleck little sister Wesley (Laura Jacoby) is one of the highlights of the film. She has several one-liners that truly made me chuckle. The rest of the cast includes
my favorite Martian
Ray Walston, Olympic gymnast Bart Connors (as BMX rival Bart Taylor), and a truly great performance by Jack Weston as the sleazy promoter Duke Best.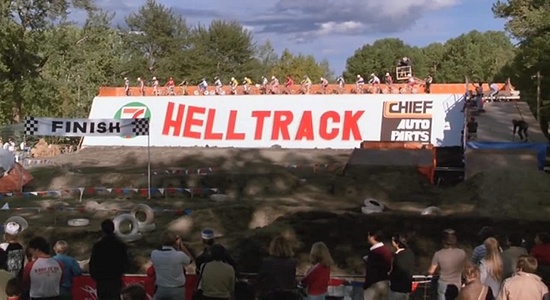 Rad
is directed by Hal Needham, the former stuntman responsible for the Burt Reynolds classics
Smokey and the Bandit (1977)
,
Hooper (1978)
,
Smokey and the Bandit II (1980)
,
The Cannonball Run (1981)
,
Stroker Ace (1983)
, and
Cannonball Run II (1984)
. (He made one more film after
Rad
, the wrestling comedy
Body Slam (1986)
, which is set for release on Blu-ray by Kino Lorber this June.) All of those films have something in common, besides Uncle Burt. They are all heavy in motor vehicles and stunt work. So, it's no surprise that all of the trick riding scenes in
Rad
are exceptionally well filmed and are another highlight of the film.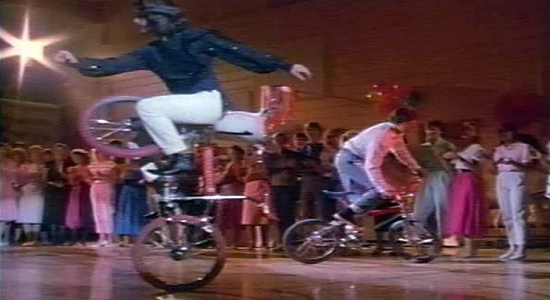 The picture quality on this Blu-ray is beyond excellent. There are no real flaws to speak of, other than those in the original source material, such as a few jumping frames during the "bicycle boogie" sequence. There is a strange pink filter over the sky in the early paper delivery scenes, which makes those shots look dark and unnatural. After that minute or so, the rest of the movie is bright with vibrant colors.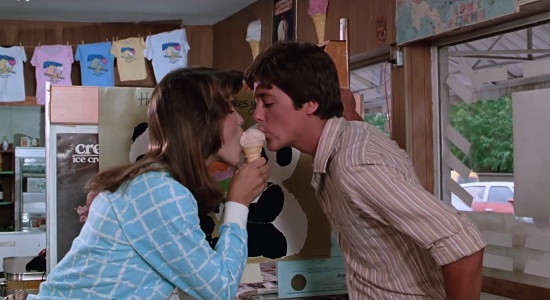 Rad
is presented in a 1.85:1 aspect ratio with a runtime of 1:33:05 (includes a 10-second Utopia logo tacked onto the start of the film). Audio languages include English 5.1 DTS-HD MA. The film includes English SDH subtitles.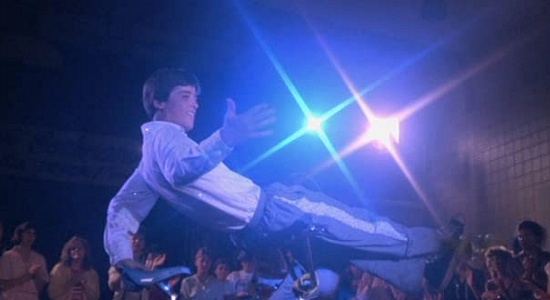 Here's a list of all of the bonus features that can be found on the Blu-ray disc.
Rad Q&A Session (40:59) - Cast members Bill Allen, Talia Shire, and Bart Conner, along with screenwriter Sam Bernard, are interviewed via video conferencing by Jorma Taccone.
Archival Interviews (10:47) - Four sets of interview clips from the Electronic Press Kit, individually chaptered, featuring Bart Conner, Lori Loughlin, Hal Needham, and Bill Allen.
Original Behind-the-Scenes Featurette (5:00) - This EPK featurette includes a brief history of the bicycle, behind-the-scenes footage, cast and crew interviews, and film clips.
Break The Ice Music Video (3:34) - A 1986 music video from John Farnham.
The Q&A Session seems to be new, but the others were ported over from the Vinegar Syndrome release. Sadly, all of the other Vinegar Syndrome bonus features are missing...and there's quite a lot that's not here. The list and descriptions below of all of the MISSING CONTENT has been culled from the information at
Blu-ray.com
and
DVD Compare
. (Also, the deleted scenes in the video embedded at the end of this review are not in either release.)
MISSING: Audio Commentary #1 - with actress/producer Talia Shire and producer Robert Schwartzman.
MISSING: Audio Commentary #2 - with actor Bill Allen (with 0:47 audio introduction).
MISSING: Audio Commentary #3 - with actors Bill Allen and Bart Conner, writer Sam Bernard, and BMX riders Eddie Fiola, Martin Aparijo, Jose Yanez, and Jeremy Moser.
MISSING: The Stuntman Directs (15:57) - An archival interview except from an upcoming "Rad" documentary, discussing the feature with the late Hal Needham.
MISSING: Writing Something Rad (16:43) - An interview with co-writer Sam Bernard.
MISSING: Rad 25 (9:17) - A visit to a 25th anniversary event in Cochran, Alberta, Canada in 2011, surveying autograph opportunities, displays of bike replicas, BMX races, location tours, BMX stunt demonstrations, and interviews with Bill Allen and Eddie Fiola.
MISSING: Cast & Crew Interviews (25:19) - Recent interviews with Martin Aparijo (BMX rider), Bart Conner (actor), Eddie Fiola (BMX rider), Jeremy Moser (BMX rider), and Sam Bernard (writer).
MISSING: Photo Gallery (3:45) - Behind-the-scenes photos and personal pictures from the "Rad" set.
MISSING: Theatrical Trailer (1:29)
It really would have been great if Mill Creek would or could have included more (preferable ALL) of that content. Maybe Vinegar Syndrome owns the commentaries and featurettes, and doesn't want to share, but surely the photo gallery and (definitely) the trailer are owned by the movie's copyright holder and could have been included. In any case, to make up for it, Mill Creek decided to make the packaging extra special.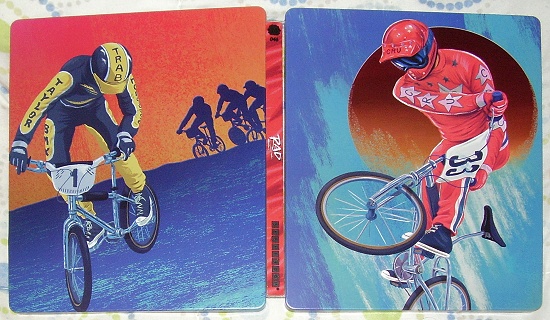 (click to enlarge)
This Blu-ray is #46 in the
"Mondo X SteelBook" collaboration
, repurposing
JJ Harrison's gnarly artwork
for a stunning homage to this cult favorite film. The Steelbook case has a clear plastic slipsleeve around it that adds the title on the front and the details on the back. The sleeve has a removable plastic film on it to keep it in pristine condition. The interior shows more of the BMX'ers and houses a MovieSpree digital copy code voucher (not pictured).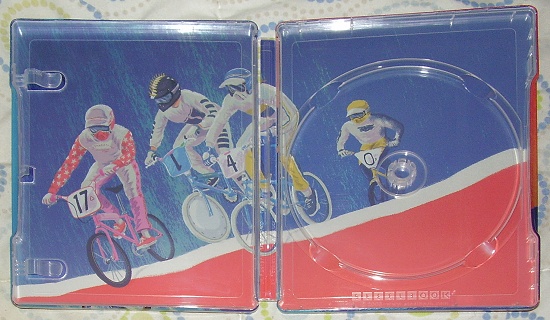 (click to enlarge)
If you already own the Vinegar Syndrome 4K/Blu-ray combo pack, you really don't need
Mill Creek's Rad Blu-ray
- unless you absolutely need the video conferenced Q&A featurette and the really cool Steelbook case. If you missed out on the Vinegar Syndrome release, and you want a stunning transfer of the movie with a handful of bonus features in beautiful packaging, without paying an arm and a leg, then the Mill Creek Blu-ray is HIGHLY RECOMMENDED!
All images were taken from the
IMDB gallery
of the film. This item has been provided by Mill Creek Entertainment for review on this site.
No feedback yet
Leave a comment