By Paul Rudoff on Mar. 13, 2021 at 10:31 PM in Home Video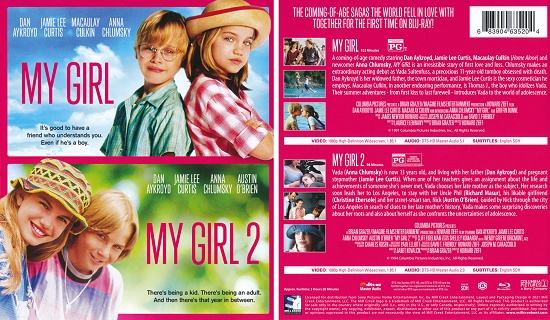 Mill Creek just released the
My Girl Double Feature Blu-ray
, collecting both classic 1990s films. Read on to find out more about it...
(My Girl)
The
My Girl
films are the coming-of-age tales of Vada Sultenfuss (Anna Chlumsky).
My Girl (1991)
is an irresistible story of first love and loss. Vada is a precocious 11-year-old tomboy obsessed with death. Her widowed father Harry (Dan Aykroyd) is the town mortician, and Shelly (Jamie Lee Curtis) is the sexy cosmetician that he employs. Thomas J. Sennett (Macaulay Culkin) is the boy who idolizes Vada. Their summer adventures - from first kiss to last farewell - introduces Vada to the world of adolescence. In
My Girl 2 (1994)
, Vada is now 13 years old, and living with her father Harry (Dan Aykroyd) and pregnant stepmother Shelly (Jamie Lee Curtis). When one of her teachers gives an assignment about the life and achievements of someone she's never met, Vada chooses her late mother as the subject. Her research soon leads her to Los Angeles, to stay with her Uncle Phil (Richard Masur), his likable girlfriend Rose (Christine Ebersole) and her street-smart son, Nick (Austin O'Brien). Guided by Nick through the city of Los Angeles in search of clues to her late mother's history, Vada makes some surprising discoveries about her roots and also about herself as she confronts the uncertainties of adolescence.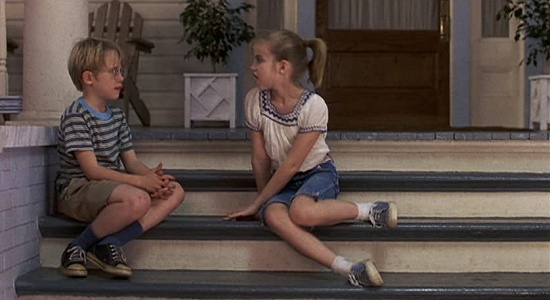 (My Girl)
My Girl (1991)
takes place in 1972 and is a coming-of-age romantic comedy drama introducing us to quirky Vada. The dialog is witty and will induce a few chuckles, while the story will induce a few tears. Keep a box of tissues nearby. The film was promoted at the time as featuring Macaulay Culkin's first on-screen kiss, hot off his success in
Home Alone
the year before. I remember that parents were quite shocked when they took their little kids to see this film due to some traumatic elements that they were not prepared for beforehand. Dan Aykroyd and Jamie Lee Curtis, who previous starred together in
Trading Places
, are reunited as love interests once again. Anna Chlumsky is charming in her first starring role. She would later go on to star in
Gold Diggers: The Secret of Bear Mountain (1995)
, which I will be reviewing soon as part of Mill Creek's
Retro VHS Blu-ray series
.
My Girl
is an excellent film and hands down, the better of the two films.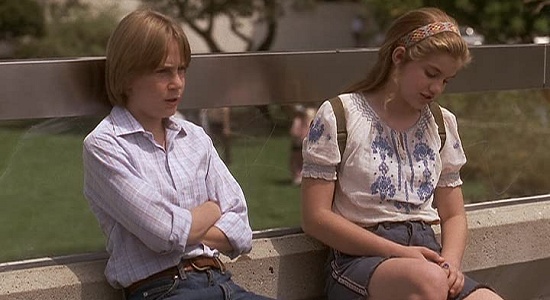 (My Girl 2)
My Girl 2 (1994)
takes place in 1974. As a follow-up to the first film, we get what amounts to an epilogue at the beginning and end, showing us what happened after the events of the first film with Vada, her father, and Shelly. The entire middle portion of the film, in which Vada spends time in Los Angeles with her uncle Phil, going on a "scavenger hunt" across the city to learn about her late mother, is entirely preposterous. We are forced to believe that Vada and her soon-to-be cousin Nick could easily travel around Los Angeles via public transportation and be granted access to several highly private locations over the course of a mere five days. During her "motherly research mission", Vada and Nick visit a yearbook printing company and are allowed to search their archives, visit Universal Studios and are allowed onto the backlot DURING an active movie shoot, and visit the police station and convince an officer to make an illegal bogus charge of domestic terrorism against an innocent man just to get his home address from DMV. I know that this is supposed to be kid's fantasy, but when you set a film in reality, you have to play the rules of the real-world. It doesn't help the film that Austin O'Brien plays Vada's sidekick/semi-love interest, Nick. He was annoying in
Last Action Hero
, and he has the same smug attitude here, too. There's also a subplot about an auto shop customer (Gerrit Graham) flirting with unmarried uncle Phil's live-in girlfriend Rose that didn't need to be there. Phil and Rose could have already been married, or they could have remained in a committed unmarried relationship, or -get this- SHE could have asked HIM to marry her! It was 1974 and Women's Lib was already a thing at the time. Honestly,
My Girl 2
is a poor follow-up to the first film, and a poor film overall. Not the worst film I've ever seen, but far from great. The only thing I liked about it - and I've remembered this since I first saw it 26 years ago - is the anachronistic appearance of a Blockbuster Video store (at the 1:00:30 mark) in 1974! The company didn't exist until 1985, and you couldn't even rent movies on VHS until 1977.
(My Girl 2) (image lightened from Blu-ray framegrab) (click to enlarge)
Both
My Girl
films are presented in a 1.85:1 aspect ratio and are included on a single disc.
My Girl
has a runtime of 1:42:16, while
My Girl 2
has a runtime of 1:38:47.
My Girl
only has an English 5.1 DTS-HD MA audio track, while
My Girl 2
only has an English 2.0 DTS-HD MA audio track Both films include English SDH subtitles only.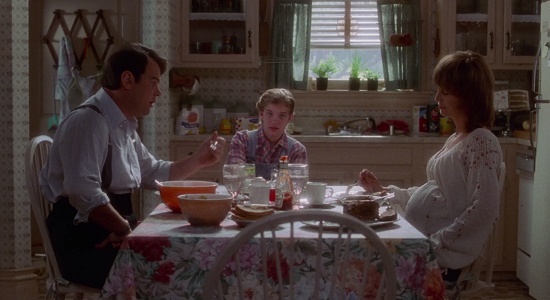 (My Girl 2)
There are no bonus features for either film on this Mill Creek disc, which is a shame because the
Blu-ray Sony released in 2015 for the first film
had a handful of extras that I wish were here.
Sony's 2020 Blu-ray of the second film
had no bonus features, so nothing is lost there (other than some non-English audio and subtitle languages from both Sony discs). Below is a list of MISSING BONUS FEATURES FOR THE FIRST FILM that can be found on Sony's Blu-ray, courtesy of
Blu-ray.com
.
MISSING: Audio Commentary - with writer Laurice Elehwany
MISSING: A Day on the Set - Divided into two sub-supplements: First Kiss (1:18) and Bingo! (3:24). Both simply offer a collage of on-set footage as it pertains to the scenes in question.
MISSING: Original Behind the Scenes Featurette (6:01) - A simple, vintage making-of.
MISSING: Theatrical Trailer (2:20)
It really would have been great if Mill Creek included all of that content, so that this could be the only copy you'll ever need.
The one thing I noticed about the first film on Mill Creek's Blu-ray is that the picture is rather dark. (The second film is much brighter and vivid.) I wondered if the 2015 Sony Blu-ray was also dark, so I decided to do a little research to find out. Here's an unedited frame from the opening scene of the first film taken from this 2021 Mill Creek Blu-ray.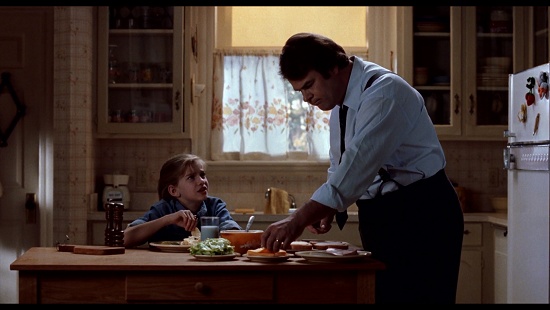 (click to enlarge)
Here's the same unedited frame from the 2015 Sony Blu-ray, courtesy of
Blu-ray.com
. If you look really carefully, you'll notice that Sony's disc is a tiny bit lighter. Not leaps and bounds lighter, but there is an improved difference.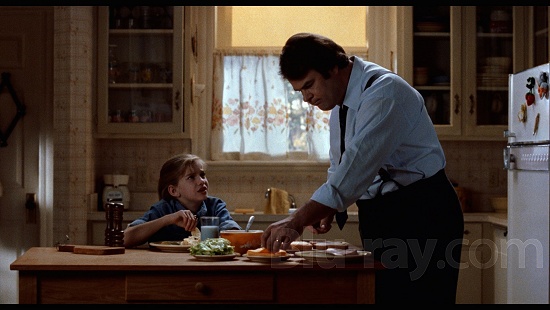 (click to enlarge)
Just for fun, and to see the framing difference, here's how it looks on Sony's original 4:3 fullscreen (open matte) DVD release. The image is MUCH brighter than either Blu-ray. You can actually see some of the dishware in the cabinets! The open matte reveals more image at the top and bottom, such as Vada's legs under the table. There is a tiny bit of image cut off on the sides, such as one set of magnets on the refrigerator and some of the door on the left.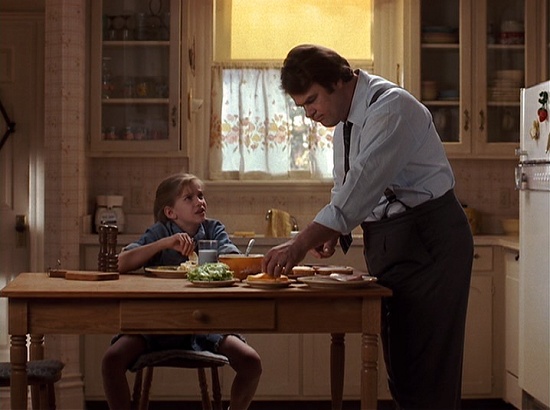 (click to enlarge)
If you already own the Sony Blu-rays of both films, there's nothing for you here. If you're like me, and only had the old 4:3 Fullscreen Sony DVDs (which had no bonus features, aside from the first film's trailer), this
My Girl Double Feature Blu-ray
is a RECOMMENDED CHEAP UPGRADE. However, fans may prefer to pay a little more for the superior individual Sony Blu-rays:
My Girl
and
My Girl 2
.
The first three images (after the packaging header image) were taken from the IMDB galleries of the films:
My Girl
and
My Girl 2
. All of the rest were framegrabbed by me, Paul Rudoff, except for the 2015 Blu-ray framegrab noted as coming from Blu-ray.com. This item has been provided by Mill Creek Entertainment for review on this site.
No feedback yet
Leave a comment