By Paul Rudoff on Mar. 19, 2021 at 3:11 PM in Home Video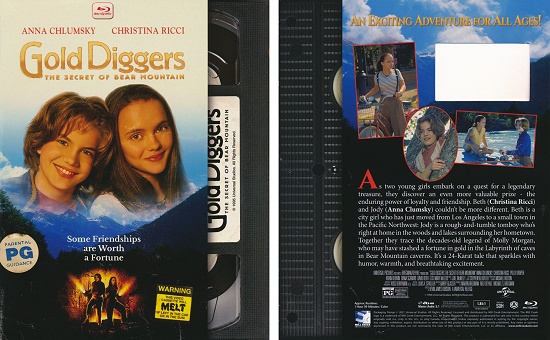 Gold Diggers: The Secret of Bear Mountain
makes its Blu-ray debut as part of Mill Creek Entertainment's Retro VHS Style series, with packaging designed to look like the
VHS videocassettes of the 1980s and 1990s
. Several other titles in the series have
already been reviewed
on The Corner Penthouse, and I'm always excited when Mill Creek announces more. It's fun to see if it's a title I used to own on VHS, or one whose trailer I remember seeing at the start of some other VHS tape, or even some obscure movie I've never heard of before.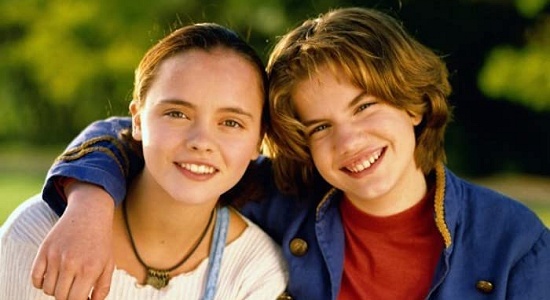 Gold Diggers: The Secret of Bear Mountain
(1995) is the story of two young girls who embark on a quest for a legendary treasure, but discover an even more valuable prize: the enduring power of loyalty and friendship. Beth Easton (Christina Ricci) and Jody Salerno (Anna Chlumsky) couldn't be more different. Beth is a city girl who has just moved from Los Angeles to a small town in the Pacific Northwest; Jody is a rough-and-tumble tomboy who's right at home in the woods and lakes surrounding her hometown. Together they trace the decades-old legend of Molly Morgan, who may have stashed a fortune in gold in the labyrinth of caves in Bear Mountain.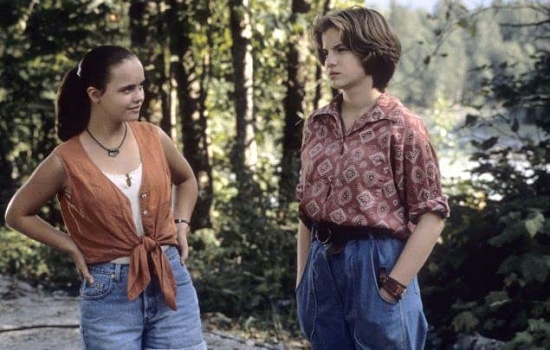 The movie is set in 1980, making it another period piece for Chlumsky, after the
My Girl
films. Beth (Ricci) and her widowed mother Kate (Polly Draper) move from Los Angeles to Wheaton, Washington to start a new life in the farm inherited from Kate's aunt. Although Beth struggles with small town life at first, she soon befriends Jody (Chlumsky), who is the town pariah. They bond over their love of Winnie the Pooh and that their fathers have both passed away. This friendship is the key to the movie, giving us strong female characters without the "woke" agenda you would see nowadays. Jody tells Beth about Bear Mountain and the legend of gold miner Molly Morgan. This sparks the promise of an adventure, like that found in
The Goonies
. Unfortunately, what starts as a great adventure turns into a melodrama focusing on Jody's troubled home life with her mother Lynette (Diana Scarwid) and her mother's boyfriend Ray Karnisak (David Keith). The domestic abuse storyline gives this a more serious tone than one would expect from a "kid's movie", but it takes away from the adventure aspect that was promised. As such, this movie can best be described as "no meat on the bones". The tacked on "happy ending", where the girls receive a reward from a mysterious benefactor, was completely unnecessary and seems to have been added as a way to making up for the missing adventure that kids who watched this 26 years ago were expecting to see.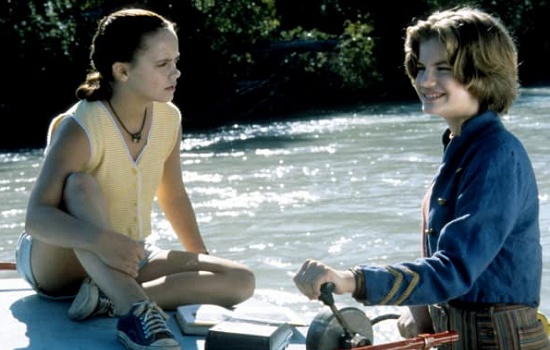 I remember when this movie first came out, but I have never seen it until now, even though it starred two of my favorite crushes of the 1990s: Christina Ricci from
The Addams Family
and
Casper
, and Anna Chlumsky from
My Girl
. As it turns out, another one of my 1990s crushes is in it, too. Jewel Staite, from
Are You Afraid of the Dark?
(also
Season 4
) and
Space Cases
(and later
Firefly
), appears as a neighborhood kid named Samantha at the 10:00 and 1:05:25 marks. The movie was filmed in her homeland of Canada, and she can be seen in the middle of the image below.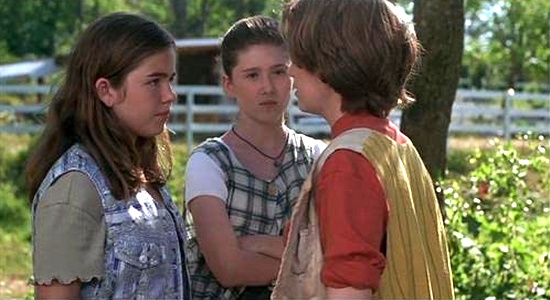 Gold Diggers: The Secret of Bear Mountain
is presented in a 1.85:1 aspect ratio with a runtime of 1:33:09. On the audio side, there is only an English 5.1 DTS-HD Master Audio track. Subtitles are available in English only. As is the case with most Mill Creek Entertainment releases, there are no special features - just like the original videocassette!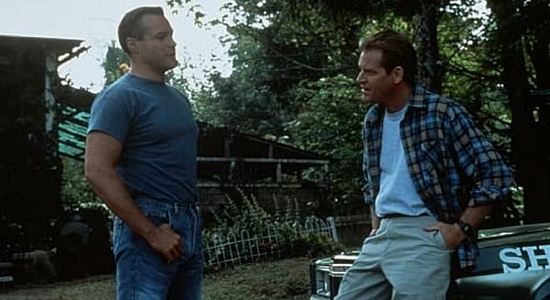 The real "bonus feature" here is the vintage-looking VHS-inspired slipsleeve, with faux wear and tear, and fake "rental stickers" on it, while giving the appearance of a videocassette being pulled out from the right side (though the original VHS may have been in a bottom-loading box), complete with tape label side on the right spine. The VHS sleeves for all four March 2021 releases (
The Babe
,
Gold Diggers: The Secret of Bear Mountain
,
Gorillas in the Mist
, and
Stop! Or My Mom Will Shoot
) are glossy, while all past sleeves were matte finish. I don't know if they will all be glossy in the future, or if this is a one-time occurrence.
Here's a complete look at this special slipsleeve. Click on it to get a better look.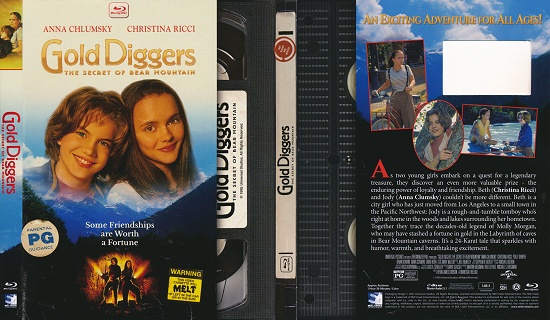 The front artwork is based on the original U.S. VHS box art, as seen below. The back of the slipsleeve seems to be an original creation, as I could not find any VHS (or even DVD) artwork that it bears a similarity to.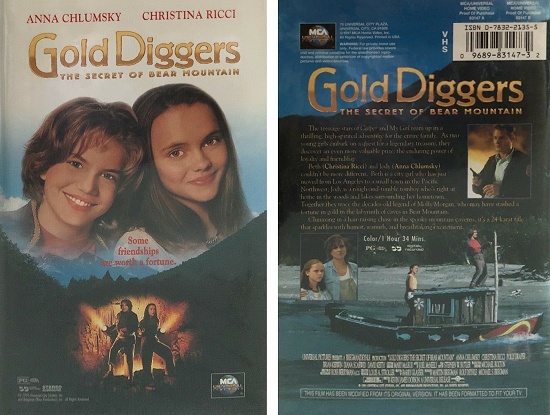 The case artwork underneath is of a modern style, featuring a close-up of the girls in the cave imagery from the bottom of the front cover (and movie poster?), which means that the VHS-style slipsleeve may only be available for a limited time. In the photo below, the slipsleeve cover is on the left and the case artwork underneath is on the right.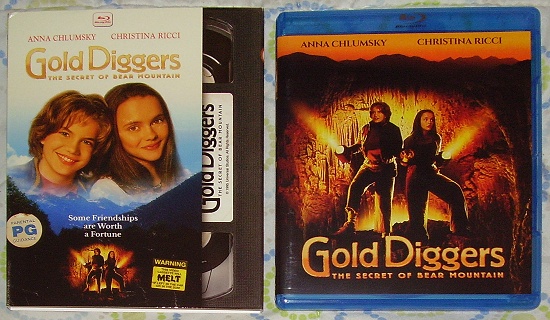 Since Mill Creek Entertainment is a budget company, you can grab
Gold Diggers: The Secret of Bear Mountain
on Amazon for a great low price right now.

The "Retro VHS Style" series includes the following Blu-ray releases, which are being listed in chronological movie order, and not the order they are being released onto Blu-ray. Some titles below may not have been released yet.
Images used come from the
Internet Movie Database gallery
of the film. The Blu-ray has been provided by Mill Creek Entertainment for review on this site.
No feedback yet
Leave a comment