By Paul Rudoff on Jul. 3, 2021 at 11:38 PM in Home Video, Horror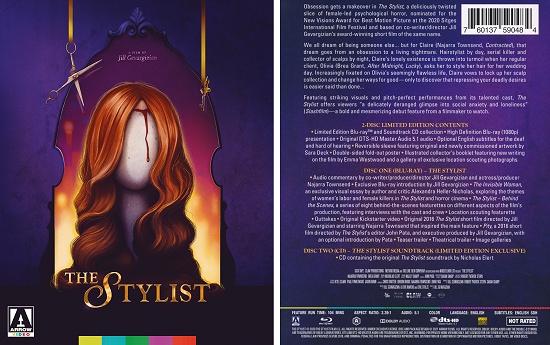 Arrow Films just released
The Stylist
(2020) onto Blu-ray, as a
2-Disc "Limited Edition" with a Soundtrack audio CD
. Read on to find out more about it...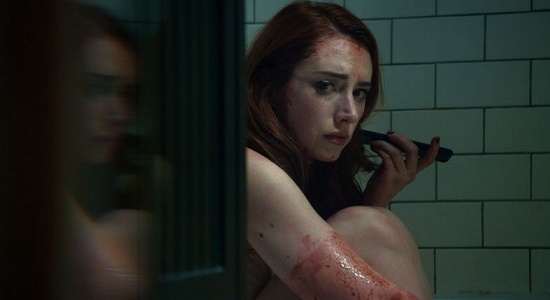 The Stylist
(2020) is the story of Claire (Najarra Townsend), who dreams of being someone else. However, that dream goes from an obsession to a living nightmare. Hairstylist by day, serial killer and collector of scalps by night, Claire's lonely existence is thrown into turmoil when her regular client, Olivia (Brea Grant), asks her to style her hair for her wedding day. Increasingly fixated on Olivia's seemingly flawless life, Claire vows to lock up her scalp collection and change her ways for good - only to discover that repressing your deadly desires is easier said than done.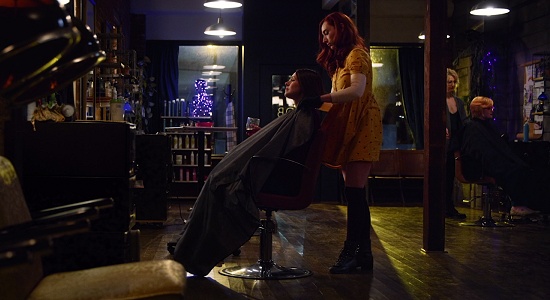 Expanding a short film into a feature-length movie isn't easy to do. Sometimes, the story works better as a short than it does in the long-form. As an example, see
When A Stranger Calls (1979)
, which
I previously reviewed
. The first 15-20 minutes of that film are a recreation of the original short, and then there's an hour of filler featuring "new" characters, before it gets back to the original protagonist and provides a conclusion to the story set up in that opening scene.
The Stylist
also spends its first 15 minutes recreating the original 2016 short, but unlike
When A Stranger Calls
, it improves upon the short by using the extra runtime to allow us to spend more time with Claire, thus giving us the opportunity to, occasionally, sympathize with her.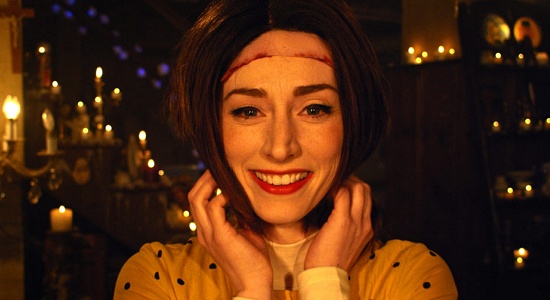 The film feels like a cross between
Single White Female
and the character of Leatherface from
The Texas Chainsaw Massacre
, which director Jill Gevargizian - who has a cameo as one of Claire's victims (image below) - has stated was an inspiration. I appreciate that the main character's name is "Claire" because she feels "clear", as in transparent and non-existent. She's lonely and feels unloved, desperate for a friend, while envious of her clients whom she thinks live better lives than herself.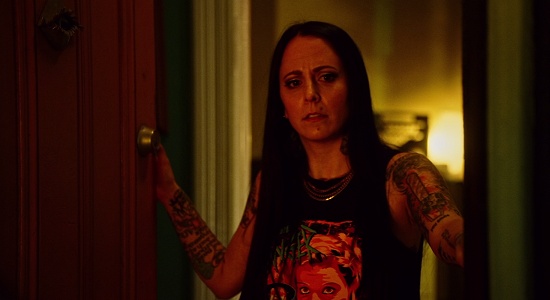 Unfortunately, the feature still fails to provide many of the details behind Claire's psychotic condition. We get a hint here or there, but not enough to put any pieces together. Also, the short showed that Claire had a nasty scar on her neck, which hinted at some kind of physical abuse, but that element does not appear in the feature film. It also would have been nice to get an idea as to why Claire decides to viciously attack and scalp seemingly "random" people who aren't her clients and, in one instance, whom she's never met before. I also would have liked to have known exactly how Claire disposes of all of her victims, or even how she was able to get keys to Olivia's house, and that of her black friend. I guess the script by Jill Gevargizian, Eric Havens, and Eric Stolze was too busy building atmosphere to worry about such little things. That said, I did enjoy the film. It was nice to see a slow-moving psychological horror/character study, and not a slasher film with death scene after death scene. (There are only three on-screen deaths in the film.)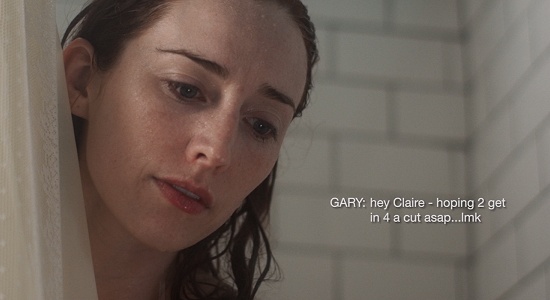 The cast is fantastic, with a break-out performance by star Najarra Townsend. I've never heard of her before, but she's definitely on my radar now. Her co-star, Brea Grant, is the only actor from the film that I had heard of before. I had a big crush on Brea about 10 years ago when she was in
Midnight Movie (2008)
and guest-starred in a few
Season 6 episodes of Dexter in 2011
.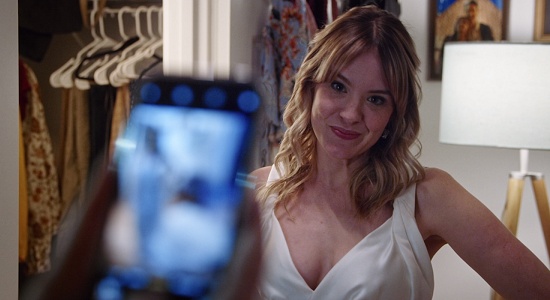 The Stylist
is presented in a 2.39:1 aspect ratio with a runtime of 1:45:09 (includes a 0:44 director's introduction). Audio languages include English DTS-HD Master Audio 5.1. The film includes English SDH subtitles.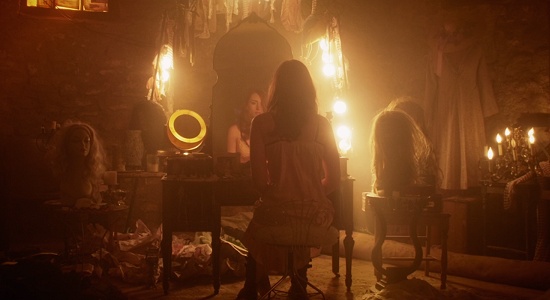 Here's a list of all of the bonus features that can be found on the Blu-ray disc.
Audio Commentary by co-writer/producer/director Jill Gevargizian and actress/producer Najarra Townsend.
Director's Introduction by Jill Gevargizian (0:44)
The Invisible Woman (20:14) - A visual essay by author and critic Alexandra Heller-Nicholas that explores the themes of women's labor and female killers in The Stylist and horror cinema. (NOTE: THIS ESSAY SPOILS THE FILM'S ENDING, SO DON'T WATCH IT FIRST!!!)
Behind the Scenes Featurettes (1:06:04) - A series of eight behind-the-scenes featurettes on different aspects of the film's production, featuring interviews with the cast and crew: "Short to Feature", "WTF Claire?", "Olivia", "Women in Film", "Film Family", "Designing The Stylist", "Filming in KC", and "Kansas City Chiefs!".
Location Scouting (4:12) - Photographs of various filming locations juxtaposed with still movie frames.
Outtakes (6:31)
Original Kickstarter Video (2:30) - Jill Gevargizian drumming up support for her project.
Short Film: The Stylist (14:58) - The original 2016 short film, directed by Jill Gevargizian and starring Najarra Townsend, that inspired the main feature.
Short Film: Pity (9:01) - A 2016 short film directed by The Stylist's editor, John Pata, and executive produced by Jill Gevargizian. The runtime includes the Director's Introduction by Pata.
Teaser Trailer (1:03)
Trailer (1:46)
Image Gallery: Production Stills (5:40) - A total of 34 still frames from the movie; NOT production photographs.
Image Gallery: Location Scouting (7:40) - The same 46 photos and still movie frames that are also used in the "Location Scouting" featurette, as well as printed in the enclosed booklet.
The "Limited Edition" release also includes a second disc:
The Stylist Original Soundtrack
on audio CD. It contains the eight tracks listed below with a total runtime of 31:05. The first track is the haunting score theme from the short and the feature film, while the rest are vocal tracks heard throughout the movie.
The Stylist -- Nicholas Elert (4:18)
Enough's Enough -- Archway (5:41)
The Change -- Phil Park (3:34)
Hammers -- Savage Radley (2:09)
Summertime -- ESAI (3:30)
Yokohama -- Kap Kallous & Lia Mack (2:50)
Pull Up -- Bryan Maxwell & EZ Eddie (4:55)
Don't Mind If I Doob -- Coolaid (4:04)
As if that wasn't enough, there are two pack-in items inside the thick 14mm clear Blu-ray case, which is slightly thicker than what's typically used here in America (aside from
Criterion
and PlayStation 3 games).
Dual-Sided Mini-Poster
A 27-Page Booklet - Featuring a cast and crew list, "The Stylist: A Curious Case of Mistaken Identity" by Emma Westwood, a gallery of location scouting photographs juxtaposed with stills from the movie, and some notes about the restoration. (NOTE: THE ESSAY BY WESTWOOD SPOILS THE FILM'S ENDING, SO DON'T READ IT FIRST!!!)
Although Arrow did a great job assembling the materials, I am greatly disappointed that the same "Location Scouting" photographs and related movie still frames are used AS THREE DIFFERENT BONUS FEATURES! You'll find them in the book, with an introduction by the director that explains them. You'll find them as part of a featurette that also adds in some script excerpts. Finally, you'll find them as an image gallery. In all instances, it's the SAME EXACT PHOTOS!
LOCATING SCOUTING / FINAL FILM COMPARISONS

I aspire to be a meticulous filmmaker. Every decision from set design, hairstyling, music, camera placement/movement, and everything in between must have intention and reason. Movies should be made with thought and care. I believe that is what makes film powerful, and to accomplish that you have to allow time for pre-production. It's important for me to "see" the film before we shoot. Specifically, I need to see how the shots will edit together. Typically this is done through storyboarding, but I am not an illustrator. Whenever possible I go to the film's locations and photograph the exact shots I'm envisioning instead of drawing them. On this film, I was fortunate to be able to do that with director of photography Robert Patrick Stern and production designer Sarah Sharp. Together we were able to get a head-start, not only on planning the shots themselves, but also on blocking the scenes and the set design. We started that process five months before filming and had a lot of fun along the way. I hope you enjoy this look into our journey.

-- JILL GEVARGIZIAN
CO-WRITER/DIRECTOR
The case contains a reversible liner featuring the original movie artwork on one side, and newly commissioned artwork by artist Sara Deck on the other. The first print run includes a slipsleeve.
The Stylist
is available on
Blu-ray (2-Disc Limited Edition)
and
DVD
. The movie is HIGHLY RECOMMENDED to fans of slow-moving psychological horror films. I suspect that the 2-Disc Blu-ray will eventually be replaced with a 1-Disc release, so if you want the soundtrack and pack-in items, grab it now.
All images were taken from the
IMDB gallery
of the film. This item has been provided by Arrow Films for review on this site.
No feedback yet
Leave a comment