By Paul Rudoff on Jul. 5, 2021 at 10:34 PM in Home Video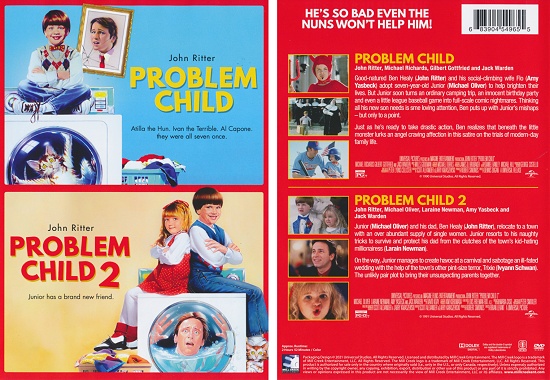 Mill Creek just released the
Problem Child Double Feature DVD
, collecting both classic 1990s films. Read on to find out more about it...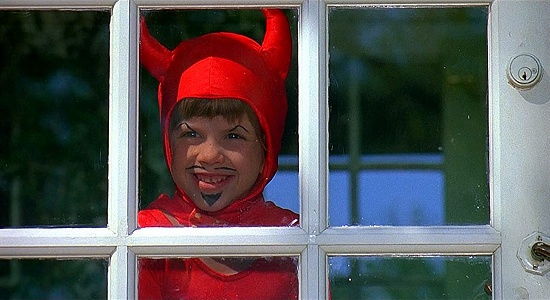 (Problem Child)
The
Problem Child
films are the story of devilish seven-year-old Junior (Michael Oliver), who wreaks havoc on anyone who crosses his path. In
Problem Child (1990)
, good-natured Ben Healy (John Ritter) and his social-climbing wife Flo (Amy Yasbeck) adopt Junior in order to help brighten their lives. But Junior soon turns an ordinary camping trip, an innocent birthday party, and even a little league baseball game, into full-scale comic nightmares. Thinking all his new son needs is some loving attention, Ben puts up with Junior's mishaps - but only to a point. Just as he's ready to take drastic action, Ben realizes that beneath the little monster lurks an angel craving affection. In
Problem Child 2 (1991)
, Junior and his dad, Ben, relocate to a town with an over abundant supply of single women. Junior resorts to his naughty tricks to survive and protect his dad from the clutches of the town's kid-hating millionairess, Lawanda Dumore (Laraine Newman). On the way, Junior manages to create havoc at a carnival and sabotage an ill-fated wedding with the help of the town's other pint-size terror, Trixie (Ivyann Schwan). The unlikely pair plot to bring their unsuspecting parents together.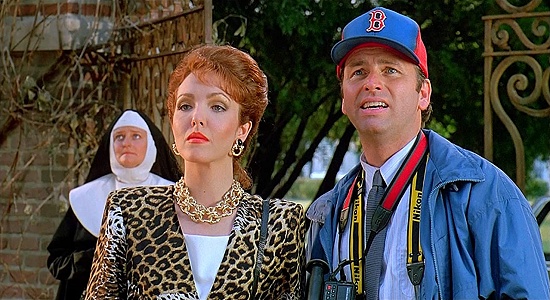 (Problem Child)
Problem Child (1990)
is a film I remember from my childhood, but I can't say that I was a big fan. I probably found Junior to be rather annoying when I was younger, but now I like him. Everyone in the movie, except for father Ben, is a real a-hole. So, you really side with Junior and want him to give them their comeuppance. The movie is like a family friendly-ish version of
The Bad Seed
, a point made when someone tells Ben, "You got one bad seed there." It's rated PG for language, and includes some mean-spirited lines that they could never get away with today. When Ben suggests adoption to his wife Flo, she tells him, "I don't wear second-hand clothes. I don't want a second-hand kid." One of Junior's classmates says that "he's not even a real kid. He's adopted."
(Problem Child)
The cast does a great job. Michael Oliver is perfect as the devilish Junior, and John Ritter really nails the role of hapless father Ben. This is the film in which John met his future wife Amy Yasbeck, who plays his wife, Flo. Rounding out the cast is the annoyingly-voiced Gilbert Gottfried as adoption agent Mr. Peabody, and Michael Richards is a stand-out as Martin Beck, "The Bow Tie Killer". Wrestling fans take note of an appearance by "The Texas Tornado", Kerry Von Erich, as the "Neo Nazi" who reads Beck the letter while in prison. (image displayed above) Finally, be sure to stay tuned during the end credits to hear The Beach Boys sing the movie's theme song.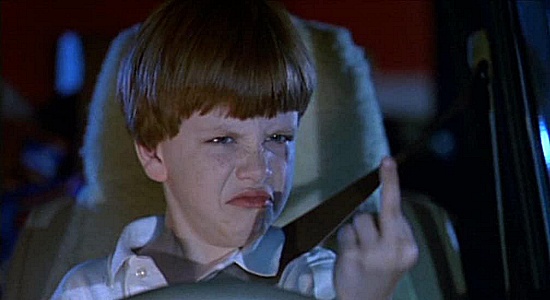 (Problem Child 2)
Problem Child 2 (1991)
follows the events of the first film and manages to be just as good, even finding a way to bring back Amy Yasbeck as a new character because she and John hit it off so well and they wanted her to return. The rating on the film has increased to PG-13, thanks to lines from Junior such as, "Those people are real dicks"; and "The bitch must die." For the most part, the movie is fairly believable and enjoyable, aside from a trio of successive scenes near the end that are wholly unbelievable, and thus feel out of place. Animal Control comes to visit the Healy house for a Rabies check. Why? They say that it's a routine check, but they are not shown going door-to-door. It's also not something Animal Control would do. The scene also contains a dog food commercial parody that we, the audience, are left wondering if it's real or a figment of Junior's imagination. This scene leads to Junior switching some Rabies-tainted blood (that Animal Control just happened to have in their truck) with blood that the evil Lawanda was having tested (for her soon-to-be marriage to Ben, I believe). As a result, Lawanda is hauled off from her bachelorette party by Animal Control, who believe that she has Rabies. Again, Animal Control would not do that. She is taken to the hospital. Apparently, no one at the hospital re-checked her blood to see that she DOESN'T have Rabies. Furthermore, at the hospital, Junior switches her chart with that of a patient in the room across the hall who is getting a massive nose job; because he WANTS a large, unseemly nose. Apparently, in this hospital, no one checks the name or genders on patient's charts to ensure they have the right one. How does a hospital like this stay in business? I can only imagine how many medical malpractice lawsuits must have been taken against them.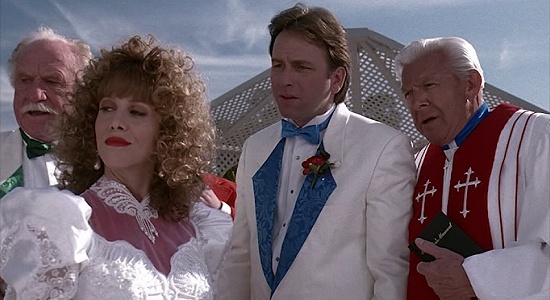 (Problem Child 2)
All of the main cast members return, except for Michael Richards. Joining them for a small appearance is legendary
Howdy Doody
host Buffalo Bob Smith as the wedding officiant, Father Flanagan, at the end. (image displayed above) Adding to the fun is that the film contains a number of subtle references to the
Back to the Future film series
, which was also produced by Universal. (1) The first time we meet Mr. Thorn (James Tolkan), among the rules that he's writing on the blackboard is "No Slackers". James Tolkan played Mr. Strickland in
Back to the Future
, and was fond of calling both Marty and his father "slackers". (2) Some then-commercially available toy miniatures of the DeLorean, and the 2015 police car and taxi cab from
Back to the Future II
, can be seen in Junior's "Roach Motel". (3) The large stone cats that adorned the Hill Valley clock tower flank the doors of the school auditorium; with one quite visibly occupying the scene when Ben follows Annie out of the auditorium.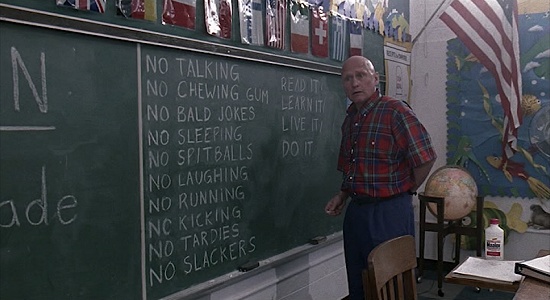 (Problem Child 2)
Both
Problem Child
films are presented in a 1.85:1 aspect ratio (in anamorphic widescreen) and are included on a single disc.
Problem Child
has a runtime of 1:20:43, while
Problem Child 2
has a runtime of 1:30:30. Both films only have an English 2.0 Dolby Digital audio track, and English SDH subtitles only. There are no bonus features for either film.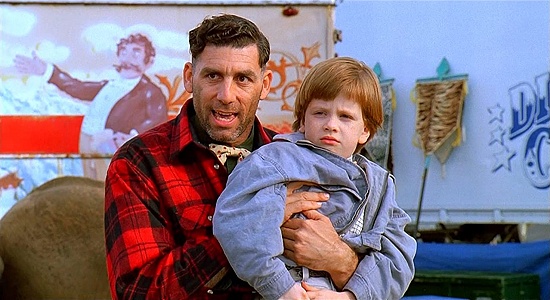 (Problem Child)
I have to point out that these two films are not the entirely of the
Problem Child
franchise. A third film was produced,
Problem Child 3: Junior in Love (1995)
, which was a made-for-television movie that did not feature Michael Oliver or John Ritter. Justin Chapman now plays the role of Junior, while William Katt (
The Greatest American Hero
) handles fatherly duties as Ben. The only actors who return are Gilbert Gottfried as Dr. Peabody and Jack Warden as Big Ben. There was also an
animated series
that ran for one season from 1993-1994. Gilbert Gottfried is the only actor from all three films to appear in the animated series.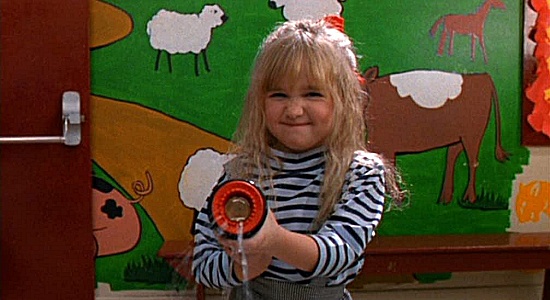 (Problem Child 2)
Obviously, neither the third film, nor any of the 26 animated series episodes, are included here. In fact, neither has gotten a Region 1 (U.S., Canada) DVD release. If you want the third movie, you'll need a region-free DVD player, as it's only available on
Region 2 (or 4?) DVD
. For the animated series, you'll need to dig out that old VCR, as it's only been made available in several dual-episode VHS tapes (which aren't even close to being the complete series):
Junior Meets Tiny Ben / Junior Healy Superstar
,
Sawdust, Tinsel and Junior / Grease My Palm
,
My Fair Cyndi / The Wilderness Healys
, and
The Weird Olympics / The Cyndi Kerrigan Story
.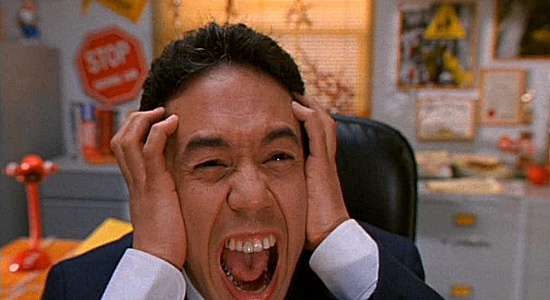 (Problem Child 2)
This
Double Feature DVD from Mill Creek
marks both films first widescreen DVD release in the United States (Region 1). Prior to this, Universal only released both films together in the
"Tantrum Pack"
, where they were both presented in 4:3 Fullscreen (probably open matte) with a trailer as the only bonus feature for each. I'm really happy that Mill Creek has improved upon the existing release. That said, I'd be remiss if I didn't point out that Universal did release both films individually on Blu-ray -
Problem Child
and
Problem Child 2
- but with no bonus features. It really would have been great if Mill Creek released a Double Feature Blu-ray, like they did for
My Girl 1 & 2
(
reviewed here
). Maybe they will in the future.
All images were taken from the IMDB galleries of the films:
Problem Child
and
Problem Child 2
. This item has been provided by Mill Creek Entertainment for review on this site.
No feedback yet
Leave a comment