By Paul Rudoff on Aug. 3, 2021 at 12:00 PM in Home Video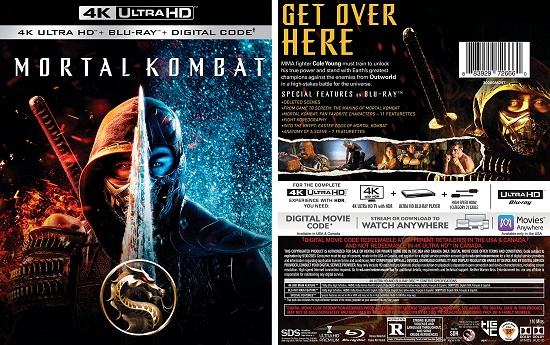 Mortal Kombat (2021)
was recently released on 4K UHD/Blu-ray Combo Pack by Warner Brothers. Read on to find out more about it...
[ SYNOPSIS ]
MMA fighter Cole Young (Lewis Tan), accustomed to taking a beating for money, is unaware of his heritage - or why Outworld's Sorcerer Shang Tsung (Chin Han) has sent his best warrior, Sub-Zero (Joe Taslim), an otherworldly Cryomancer, to hunt him down. Fearing for his family's safety, Cole goes in search of Sonya Blade (Jessica McNamee) at the direction of Jax (Mehcad Brooks), a Special Forces Major who bears the same strange dragon marking Cole was born with. Soon, he finds himself at the temple of Lord Raiden (Tadanobu Asano), an Elder God and the protector of Earthrealm, who grants sanctuary to those who bear the mark. Here, Cole trains with experienced warriors Liu Kang (Ludi Lin), Kung Lao (Max Huang) and rogue mercenary Kano (Josh Lawson), as he prepares to stand with Earth's greatest champions against the enemies from Outworld in a high stakes battle for the universe. But will Cole be pushed hard enough to unlock his arcana - the immense power from within his soul - in time to save not only his family, but to stop Outworld once and for all?
[ QUICK THOUGHTS ]
I grew up with the 1995 live-action
Mortal Kombat
film starring Christopher Lambert (as Lord Raiden), Cary-Hiroyuki Tagawa (as Shang Tsung), Bridgette Wilson (as Sonya Blade), and Trevor Goddard (as Kano). It was an excellent, fun, and somewhat campy film that was only hindered by its PG-13 rating, which was done to ensure that the teen fans of the Mature-rated video game would be able to see it. Well, those teens, such as myself, are now adults. Warner Brothers realized that we're old enough now to see an R-rated film adaptation. The film earns it's R-rating due to "strong bloody violence and language throughout, and some crude references". The rating is well deserved, and is one of the things that put this above the 1995 film which, honestly, I enjoyed a little more.
The best character in this new film is Kano, portrayed with scene-chewing gusto by Josh Lawson. Although I love Trevor Goddard's portrayal in the 1995 film, the R-rating allows Lawson to use some choice bits of dialog that lets him make Kano into the type of a-hole that Goodard wasn't allowed to be. The worst character is the Asian Lord Raiden, portrayed very boringly by Tadanobu Asano. Gone is Christopher Lambert's "wink-and-a-smile" attitude, and Asano's heavy accent made it hard to understand him most of the time. I also much prefer Cary Hiroyuki Tagawa's Shang Tsung to the underwhelming portrayal by Chin Han. Speaking of actors, as a wrestling fan, I'd be remiss if I didn't point out Nathan Jones - who was in WWE for a short time in 2003 - appearing as a bad guy named Reiko.
The fight scenes are incredible, as are the fatalities, which are now allowed to be as bloody and gory as a
Saw film
. The story itself is paper thin and really just there as an excuse to string together the fights. It doesn't help that the story mainly focuses on Cole Young, a new character created for the movie, who is extremely boring. I doubt you will really care for him. It also doesn't help that the story is the build-up TO the Mortal Kombat tournament, but not the tournament itself. I guess we'll see the tournament in the sequel... assuming they make one.
[ SPECIFICATIONS ]
The movie is presented in a 2.39:1 aspect ratio with a runtime of 1:50:03. Audio languages include English, English Descriptive, French, Italian, and Spanish. Subtitle languages include English SDH, French, Italian, Dutch, Spanish, Chinese, Japanese, and Korean.
[ SPECIAL FEATURES ]
There are no special features on the 4K UHD disc. All special features are included on the Blu-ray disc (see below).
[ SECOND DISC ]
Also included is a standard Blu-ray disc, which contains the movie and all of the special features listed below. Audio languages include English, English Descriptive, French, German, German Descriptive, Italian, Portuguese, and Spanish. Subtitle languages include English SDH, German, Spanish, French, Italian, Dutch, Portuguese, Danish, Finnish, Norwegian, and Swedish.
Deleted Scenes (4:13) - Four deleted/extended scenes includes "Extended Cole Nightmare and Longer Kano Plane Story", "Sea of Spikes", "Kung Lao and Liu Kang Meet with Raiden in Chinese Garden", and "Sub-Zero Confronts Shang Tsung".
From Game to Screen: The Making of Mortal Kombat (21:30) - An overview of the franchise's transition to the big screen over the years, with members of the cast and crew sharinge their personal memories of the video games.
Mortal Kombat: Fan Favorite Characters (16:51) - A series of 11 mini-featurettes giving insight into each of these characters: Cole Young, Sonya Blade, Kano, Sub-Zero, Jax, Lord Raiden, Scorpion, Shang Tsung, Liu Kang, Kung Lao, and Mileena. Notable absent are Goro, Reiko, and Kabal.
Fight Koreography (9:05) - A look the fight scenes and stunt work with comments from director Simon McQuoid, second-unit director/stunt coordinator Kyle Gardiner, fight choreographer Chan Griffin, and others.
Into the Krypt: Easter Eggs of Mortal Kombat (4:11) - Director Simon McQuoid points out some of the Easter eggs that die-hard fans may not even notice.
Anatomy of a Scene (11:57) - This is a collection of 7 mini-featurettes looking at how these fight scenes were developed, filmed, and finished in post-production: "Hanzo Hasashi vs. Bi-Han", "MMA Fight: Cole vs. Ramirez", "Sonya vs. Kano", "Scorpion vs. Sub-Zero", "Reiko vs. Jax", "Kabal vs. Liu Kang", and "Mileena vs. Cole".
[ ADDITIONAL INFORMATION ]
A Digital Copy code voucher is also included in the standard two-disc black UHD Blu-ray case. The first print run includes a slipsleeve.
[ PURCHASE LINKS ]
Mortal Kombat (2021)
is available on
4K UHD/Blu-ray Combo Pack
,
individual Blu-ray
, and
individual DVD
.
Mortal Kombat (1995)
,
Mortal Kombat: Annihilation (1997)
, and
Mortal Kombat: Legacy (2011)
are available in
a Triple Feature Blu-ray set
.
Legacy
is Season 1 of the two-season series. The second season was released as
Mortal Kombat: Legacy II (2013)
, and is available on
Blu-ray
and
DVD
. There are also two animated films in the
Mortal Kombat
movie series.
Mortal Kombat Legends: Scorpion's Revenge (2020)
is available on
4K UHD/Blu-ray Combo Pack
,
Blu-ray/DVD Combo Pack
, and
individual DVD
.
Mortal Kombat Legends: Battle of the Realms (2021)
is available on
4K UHD/Blu-ray Combo Pack
and
individual Blu-ray
. Finally, there were two
Mortal Kombat
television shows in the late 1990s. The
Mortal Kombat: Defenders of the Realm (1995-1996)
animated series is only available on
an import DVD
, so you'll probably need a region-free player in order to play it. The
Mortal Kombat: Conquest (1998-1999)
live-action series is available as a
Complete Series DVD set
.
This item has been provided by Warner Brothers for review on this site.
No feedback yet
Leave a comment