By Paul Rudoff on Aug. 4, 2021 at 12:00 PM in Home Video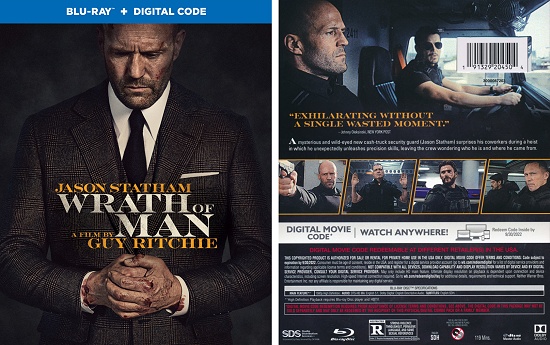 Wrath of Man (2021)
was recently released on Blu-ray by Warner Brothers. Read on to find out more about it...
[ SYNOPSIS ]
Mysterious and wild-eyed new cash-truck security guard Patrick Hill (Jason Statham) - nicknamed "H" by a colleague - surprises his co-workers when he unleashes precision skills during an attempted robbery. The crew is left wondering who he is and where he came from. Soon, the marksman's ultimate motive becomes clear as he takes dramatic and irrevocable steps to settle a score.
[ QUICK THOUGHTS ]
Wrath of Man
is a heist/revenge film that is a remake of the 2004 French film
Le Convoyeur
(aka
Cash Truck
), which re-teams director Guy Ritchie with star Jason Statham for their four collaboration after
Lock, Stock and Two Smoking Barrels (1998)
,
Snatch (2000)
, and
Revolver (2005)
. In addition to Statham, the rest of the great cast includes Scott Eastwood, Josh Harnett, Andy Garcia, Jeffrey Donovan, and many, many others. Too many others, if you ask me. There are simply way too many characters, and despite the excessively long running time (almost two hours), other than Hill, none of them are given much character development. Garcia's character, Agent King, is seen oh-so-briefly, and by the end of the film, you'll be left with so many questions about him because the story drops characters in and out as needed, without bothering to flesh them out.
In fact, "too much" is the main fault I had with the film. There are many scenes, especially in the middle when it starts to time jump around, that are not needed in order for the story to be told. Some may be red herrings, like the scene with Hill's co-worker Dana (Niamh Algar) in her apartment where he finds a stash of money she "stole" from the job. The time jump stuff lead me to be confused most of the time in the middle, as I was actively trying to follow the story and remember who each of the myriad of characters were and which "side" they were playing for. Had this movie been re-edited a bit more chronologically, and some of the excess cut out, I think it could have been cut down to 90-minutes and would have been much more enjoyable with less plot holes. That said, it's not a bad film and the unkillable Jason Statham makes it worth watching at least once.
[ SPECIFICATIONS ]
The movie is presented in a 2.39:1 aspect ratio with a runtime of 1:58:56. Audio languages include English and English Descriptive. Subtitle languages include English SDH.
[ SPECIAL FEATURES ]
There are no special features at all. This is pathetic.
For starters, uploaded to the
official MGM YouTube channel
in April & May 2021 were two short videos:
Guy Ritchie Featurette
and
Cast Featurette
. Why aren't these on the disc? Why aren't the two trailers (embedded below) on the disc? This tiny bit of material already exists and should have been included, at the minimum.
In addition to that, there are International 4K UHD and Blu-ray releases that include bonus features (see "Purchase Links" section below) which are, also, not included here. Why? There is no excuse for this barebones disc from Warner Brothers. It's the kind of thing I'd expect from Mill Creek Entertainment, but they're a budget company, so they have an excuse. Warner Brothers has no excuse here.
[ ADDITIONAL INFORMATION ]
A Digital Copy code voucher is also included in the standard one-disc blue Blu-ray case. The first print run includes a slipsleeve.
[ PURCHASE LINKS ]
Wrath of Man
is available on
Blu-ray
and
DVD
from Warner Brothers - yeah, no 4K UHD release - but I would not advise buying either of them. You would be better off buying either of these International releases: The
French Metropolitan Video 4K UHD/Blu-ray Combo Pack
or the
Canadian VVS Films Blu-ray
. Either release should get you some special features, and obviously, if you want the film in 4K on physical disc, the Metropolitan relase is your only option. (The links for them go to Amazon France and Amazon Canada, respectively, as they are not yet available on the American Amazon site.)
This item has been provided by Warner Brothers for review on this site.
No feedback yet
Leave a comment