By Paul Rudoff on Aug. 9, 2021 at 12:00 PM in Home Video, Horror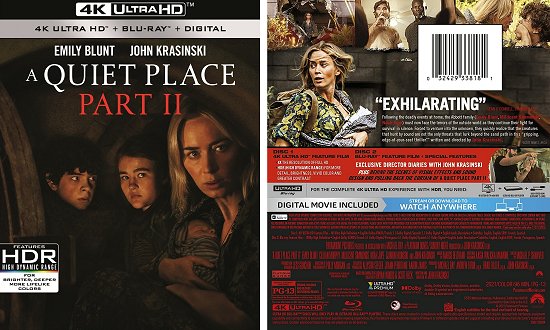 A Quiet Place Part II (2020)
was recently released on 4K UHD/Blu-ray Combo Pack by Paramount. Read on to find out more about it...
[ SYNOPSIS ]
Following the deadly events at home, the Abbott family - Evelyn (Emily Blunt), Regan (Millicent Simmonds), and Noah (Noah Jupe) - must now face the terrors of the outside world as they continue their fight for survival in silence. Forced to venture into the unknown, they quickly realize that the creatures that hunt by sound are not the only threats that lurk beyond the sand path.
[ QUICK THOUGHTS ]
The first
A Quiet Place
film was unique in that, aside from one extra person, the cast were just five people - and the characters were all members of the same family. It was also a film that did not attempt to provide viewers with a lot of answers. It thrust viewers headlong in a world that was already around 80 days into a dire situation. All we learned is that there are new creatures on Earth that will kill anything that makes even the slightest of sounds - much like the spirit at the movie studio in
The Real Ghostbusters
episode
"Take Two"
. Because of how successful the movie was, and that there were a lot of unanswered questions, we have a sequel.
The first film was framed with time cards showing how many days into this event the world was. This narrative framing allows the sequel to flash back to "Day 1" to show us how this all started, before jumping back to "Day 474" to continue where the first movie left off. In a nice touch, the movie opens with shots similar to the first film's opening shots - a deserted main street and a trip to the pharmacy - only they're not abandoned just yet. I liked the flashback, though it seemed like father Lee (John Krasinski) learned a little too quickly that sound was the trigger. We do get to see more of the creatures this time, thanks to a bigger budget and that flashback.
Again, Millicent Simmonds, as the deaf girl Regan, is the standout. Millicent shares most of her screen time with Cillian Murphy, who plays the new character Emmett. Millie & Cillie have an excellent adventure that is the highlight between the two concurrent storylines. I really couldn't get very invested in the other storyline involving mother Evelyn, son Marcus, and the newborn liability... I mean, newborn baby. My biggest issue with the first film is that I can't imagine why Lee and Evelyn would choose to bring a baby into this world. A tiny, screaming, noise-making baby. The baby was conceived
after
the world crisis started, and pregnancy is easily preventable, so there was no reason for them to do it. A baby is a death sentence in this world.
The concept behind these two films is good and scary, though a bit flawed. We don't learn how characters sleep or go to the bathroom without making any noise. You can't do either perfectly quietly. Also, lots of old, rusty, metal hatches and doors are opened and closed in this film. Although we don't hear any creaking, I have a hard time believing that they would have whisper-quiet hinges. Although
A Quiet Place Part II
works well enough on its own, you will need to see the first film to get the most out of this story. The ending leaves the door open for a
Part III
, and there are still lots of unanswered questions, but also gives a fitting conclusion for the series should a third film not be made.
[ SPECIFICATIONS ]
The movie is presented in a 2.39:1 aspect ratio with a runtime of 1:37:00. Audio languages include English, Czech, German, Spanish, French, Italian, Japanese, Hungarian, Polish, and Thai. Subtitle languages include English, English SDH, French, German, Italian, Japanese, Portuguese, Spanish, Cantonese, Czech, Danish, Dutch, Finnish, Greek, Hungarian, Korean, Malay, Mandarin, Norwegian, Polish, Romanian, Swedish, and Thai.
[ SPECIAL FEATURES ]
There are no special features on the 4K UHD disc. All special features are included on the Blu-ray disc (see below).
[ SECOND DISC ]
Also included is a standard Blu-ray disc, which contains the movie and all of the special features listed below. Audio languages include English, German, Spanish, French, Italian, Portuguese, and Turkish. Subtitle languages include English, English SDH, Danish, German, Spanish, French, Italian, Dutch, Norwegian, Portuguese, Finnish, Swedish, and Turkish. Paramount has uploaded some clips to YouTube of the special features:
John Krasinski on Directing Millicent Simmonds
,
Following in Lee's Footsteps
,
Day One
, and
Shooting on Location
.
Director's Diary: Filming with John Krasinski (9:38) - Follow the director on the set of the new film as he details the cast and crew's incredible work.
Pulling Back the Curtain (3:47) - Uncover the secrets of the monstrous invaders.
Regan's Journey (6:19) - Dig into the two-film character arc of daughter Regan, portrayed by Millicent Simmonds.
Surviving the Marina (5:00) - A breakdown of the unforgettable marina scene.
Detectable Disturbance: Visual Effects and Sound Design (8:26) - Delve into the extraordinary visual effects and sound design.
[ ADDITIONAL INFORMATION ]
A Digital Copy code voucher is also included in the standard two-disc black UHD Blu-ray case. The first print run includes a slipsleeve.
[ PURCHASE LINKS ]
A Quiet Place Part II (2020)
is available on
4K UHD/Blu-ray Combo Pack
,
individual Blu-ray
, and
individual DVD
.
A Quiet Place (2018)
is available on
4K UHD/Blu-ray Combo Pack
,
Blu-ray/DVD Combo
, and
individual DVD
. If you want to buy both films together,
A Quiet Place 2-Movie Collection
is available on
Blu-ray
.
Additional clips, trailers, and photographs can be viewed/downloaded from the
Paramount Publicity website
.
This item has been provided by Paramount for review on this site.
No feedback yet
Leave a comment