By Paul Rudoff on Sep. 4, 2021 at 12:00 PM in Home Video, Horror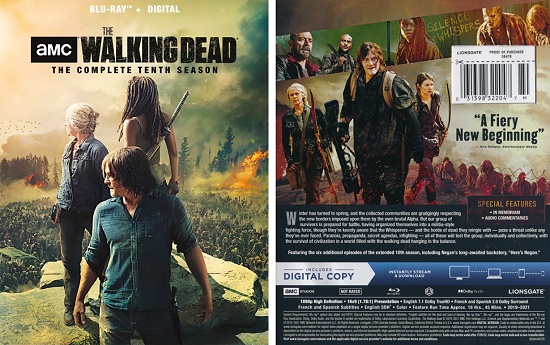 Lionsgate recently released the
The Walking Dead: The Complete Tenth Season Blu-ray
(aka Season 10). Read on to find out more about it...
[ SYNOPSIS ]
Winter has turned to spring, and the collected communities are grudgingly respecting the new borders imposed upon them by the ever-brutal Alpha (Samantha Morton). But having organized themselves into a militia-style fighting force, our group of survivors is prepared for battle - though they're keenly aware that the Whisperers, and the horde of dead they mingle with, pose a threat unlike any they've ever faced. Paranoia, propaganda, secret agendas, infighting - all of these will test the group, individually and collectively, with the survival of civilization in a world filled with the walking dead hanging in the balance.
[ QUICK THOUGHTS ]
That it's been two years since
I reviewed the Season 9 Blu-ray
should tell you that Season 10 is unlike any other. Running a whole year and a half (from October 6, 2019 to April 4, 2021), Season 10 is definitely the longest season for the show. It was meant to end on April 12, 2020 with the 16th episode, "A Certain Doom", but the special effects for the episode could not be finished in time due to government-mandated work stoppages at the start of the COVID pandemic, so the episode didn't air until October 4, 2020. Since they were unable to film Season 11 over Summer 2020, that season could not start airing in October as originally planned. This left the show producers with the difficult task of figuring out how to get the show back on schedule. Their solution was to extend Season 10 by an additional six episodes (included in this Blu-ray set), and then start Season 11 (the final season) at the end of August 2021.
What we have is a 22-episode season that concludes the Whisperer War, and gives us six additional stories that were filmed during the pandemic using a much smaller amount of cast and crew. I am very happy that the Whisperer War was concluded rather quickly. The "All Out War" with Negan was dragged out for so many seasons, that I got bored with it. While I didn't care much for the Whisperer War, they kept it limited to just two seasons, so I'm okay with it. The six "bonus episodes" really don't impact the show very much. They could have been left out and not affected the overall storyline. Generally, they range from decent to utterly stupid to short but pointless. "Home Sweet Home" introduces a new group of characters... all of whom are promptly killed off. A man pulls pin on a hand grenade, and everyone who stood in close proximity just turns their backs and doesn't get hurt! Sure.
"Find Me" is a confusing mess of a flashback (it jumps back 5 years, then goes forward 1 year, 8 months, 6 months, etc.) to Daryl (Norman Reedus) spending time with a pretty lady (whom we'll never see again) named Leah (Lynn Collins) at a cabin in the woods. It's nice that he got laid, but it's all really pointless... unless you were
really
wondering where he got Dog from. "One More" is definitely the best of the six with Robert Patrick guest-starring as a one-off character named Mays who keeps Gabriel (Seth Gilliam) and Aaron (Ross Marquand) imprisoned in a warehouse. It's very dark and gives all three actors a chance to show off their craft. "Splinter" takes place in the confines of a boxcar where Princess (Paola Lazaro), captured and separated from the group, struggles with memories of her traumatic past and tries to escape. While I absolutely LOVED this episode, because it's almost an entirely one-woman-show featuring Paola Lazaro, I can understand why others would hate it. Even if you don't like it, it's far from the worst of the six.
That honor belongs to the next episode, "Diverged". The episode could be summed up as, "Daryl fixes his motorbike, and Carol (Melissa McBride) deals with a rat in the kitchen while she makes soup." The scenes with Carol feel like something straight out of a Tom & Jerry cartoon. Finally, we have "Here's Negan", the long-awaited Negan (Jeffrey Dean Morgan) backstory. It shows us what Negan and his wife Lucille (played by Jeffrey Dean Morgan's real-life wife Hilarie Burton-Morgan) went through at the start of the zombie apocalypse while dealing with her Cancer illness. While it isn't the "epic backstory" many were expecting, it does not disappoint. Great performances by both leads, and some surprises in the supporting characters for long-time fans of the show.
[ EPISODE INFORMATION ]
The six-disc set includes all 22 episodes of the season that aired on AMC from October 6, 2019 to April 4, 2021. This includes the six additional episodes of the "extended 10th season".
Disc 1:
1. "Lines We Cross" (October 6, 2019) (51:28)
2. "We Are the End of the World" (October 13, 2019) (43:50)
3. "Ghosts" (October 20, 2019) (46:56)
4. "Silence the Whisperers" (October 27, 2019) (43:56)
Disc 2:
5. "What It Always Is" (November 3, 2019) (46:12)
6. "Bonds" (November 10, 2019) (45:34)
7. "Open Your Eyes" (November 17, 2019) (44:22)
8. "The World Before" (November 24, 2019) (54:34)
Disc 3:
9. "Squeeze" (February 23, 2020) (44:49)
10. "Stalker" (March 1, 2020) (45:49)
11. "Morning Star" (March 8, 2020) (44:54)
12. "Walk with Us" (March 15, 2020) (43:47)
Disc 4:
13. "What We Become" (March 22, 2020) (50:18)
14. "Look at the Flowers" (March 29, 2020) (45:09)
15. "The Tower" (April 5, 2020) (41:53)
16. "A Certain Doom" (October 4, 2020) (44:46)
Disc 5:
17. "Home Sweet Home" (February 28, 2021) (41:25)
18. "Find Me" (March 7, 2021) (42:45)
19. "One More" (March 14, 2021) (46:55)
20. "Splinter" (March 21, 2021) (39:33)
Disc 6:
21. "Diverged" (March 28, 2021) (41:45)
22. "Here's Negan" (April 4, 2021) (49:42)
[ SPECIFICATIONS ]
The show is presented in a 1.78:1 aspect ratio. Audio languages include English (Dolby TrueHD 7.1), French (Dolby Surround 2.0), and Spanish (Dolby Surround 2.0). Subtitle languages include English SDH, French, and Spanish.
[ SPECIAL FEATURES ]
Here's a list of all of the special features that can be found throughout the set. The commentaries are on the discs with their related episodes, and the "In Memorium" is on Disc 6.
Audio Commentary for "Lines We Cross" - with showrunner/exec producer/writer Angela Kang and actress Melissa McBride.
Audio Commentary for "Squeeze" - with writer David Leslie Johnson, and actors Melissa McBride and Norman Redus.
Audio Commentary for "Walk With Us" - with special effects supervisor Aaron McLane and actor Khary Payton.
In Memoriam (13:53) - Reflecting on the characters who did not survive the season.
[ ADDITIONAL INFORMATION ]
A Digital Copy code voucher is also included in the standard six-disc blue Blu-ray case. The first print run includes an embossed slipsleeve.
[ PURCHASE LINKS ]
The Walking Dead: The Complete Tenth Season
is available on
Blu-ray
and
DVD
. If you don't own any of the previous seasons, you can
buy them all at Amazon
. I previously
reviewed the Season 9 Blu-ray
. You can
purchase all seasons of Fear The Walking Dead at Amazon
. I previously
reviewed the Season 4 Blu-ray
. Season 1 of
The Walking Dead: World Beyond
is available on
Blu-ray
and
DVD
.
This item has been provided by Lionsgate for review on this site.
No feedback yet
Leave a comment