By Paul Rudoff on Oct. 1, 2021 at 12:00 PM in Home Video, Horror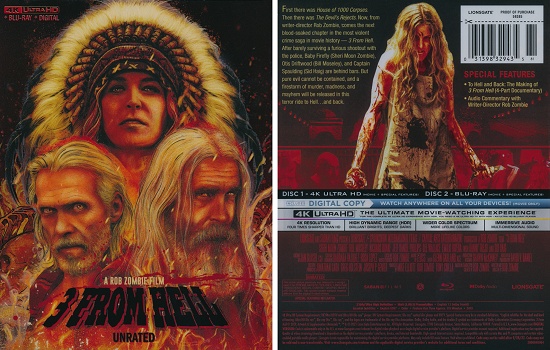 It's that most wonderful time of the year. No, I'm not talking about Christmas, silly. It's October 1st, just 31 days until the greatest holiday of them all: Halloween! Throughout the month, I will be taking a look at some of the latest Horror offerings on home video to get you in the right spirit. Today, let's look at Lionsgate's recently released
3 From Hell (Unrated) 4K UHD/Blu-ray Combo Pack in Steelbook Packaging
. Read on to find out more...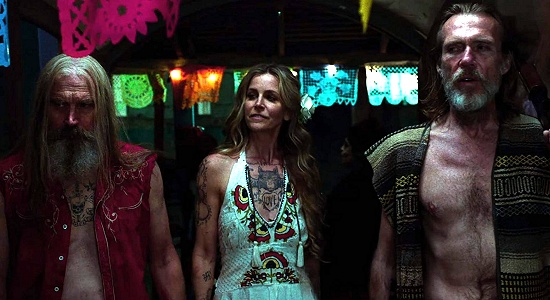 3 From Hell
is the third film in Rob Zombie's Firefly Family trilogy, following
House of 1,000 Corpses
(2002) and
The Devil's Rejects
(2005). After barely surviving a furious shootout with the police, Baby Firefly (Sheri Moon Zombie), Otis Driftwood (Bill Moseley), and Captain Spaulding (Sid Haig) are behind bars. But pure evil cannot be contained. Teaming up with Otis' half-brother Winslow (Richard Brake), the demented Firefly clan are back to unleash a whole new wave of death and depravity. A firestorm of murder, madness and mayhem will be released in this terror ride to Hell... and back.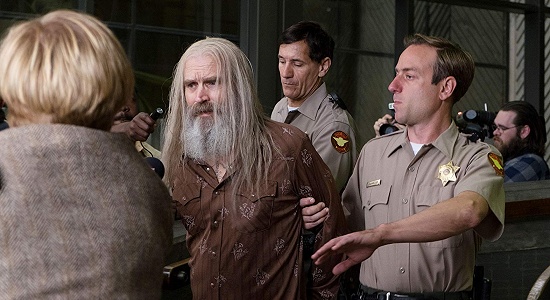 Yes, the characters that "died" at the end of
The Devil's Rejects
have, magically, survived. I guess you can't keep a good serial killer down.
3 From Hell
starts off with our terrorizing trio having been caught by the police. Although Captain Spaulding is executed in 1978, the many supporters of the psychopathic clan have glorified them through lively media reports. While the movie starts off as some sort of social commentary, these opening scenes have no great significance for the rest of the story, which takes place from October 2nd to early November in 1988 (though it feels more like the 1970s than the late 1980s). The remaining family members succeed in breaking out of prison and, shortly afterwards, end up in Mexico during Day of the Dead festivities.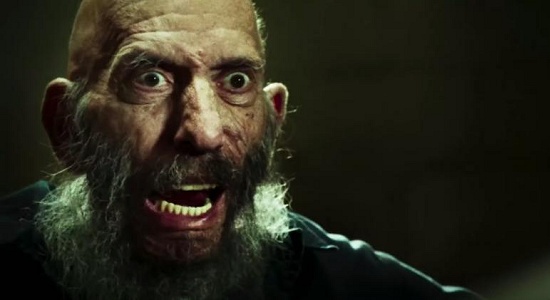 Sid Haig only appears as Captain Spaulding in the first few minutes of the film, in what could best be called an "extended cameo". Director Rob Zombie revealed in an interview that his original script featured a much larger role for Sid Haig. However, upon receiving word that Haig was in the hospital recovering from surgery, Zombie visited him and was alarmed by the drastic changes in his physique, most notably that he had lost a significant amount of weight. Zombie realized that Haig's health was in serious question, and he was forced to reconsider Captain Spaulding's prominence in the story while keeping Haig in the film since Lionsgate was going to shut down the film without Haig in it. After numerous rewrites, Zombie introduced the character Winslow Foxworth Coltrane, played by Richard Brake, as a way of filling in for the third Firefly family member without having to replace Captain Spaulding altogether.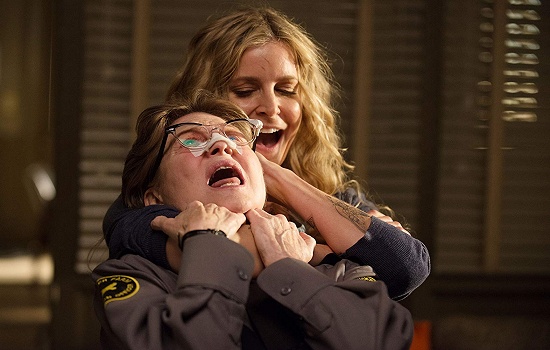 In addition to Sid Haig, Sheri Moon Zombie, Bill Moseley, and Richard Brake, this dark comedy is littered with appearances from other Rob Zombie regulars and genre favorites. You'll spot Daniel Roebuck as reporter Morris Green, Richard Riehle as Sheriff Wolf, Dee Wallace as prison guard Greta, Clint Howard as party clown Mr. Baggy Britches, Sean Whalen as poor soda-lovin' bastard Burt Willie, Barry Bostwick as the voice of the Narrator, and a small cameo from the always awesome Danny Trejo.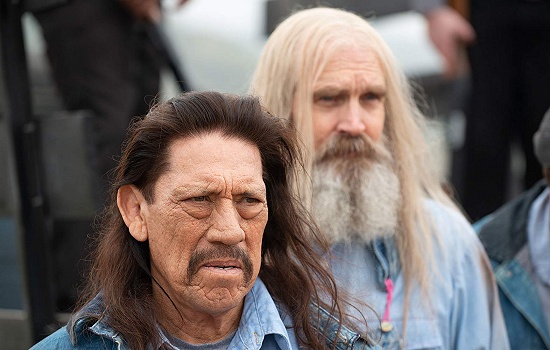 The 4K UHD disc contains the
Unrated
version of
3 From Hell
, which is presented in a 1.85:1 aspect ratio with a runtime of 1:55:47. The only audio track is English in Dolby TrueHD 7.1. The film includes English SDH and Spanish subtitles.
Below is a list of all of the bonus features that can be found on the 4K UHD disc.
Audio Commentary - with director Rob Zombie
To Hell and Back: The Making of 3 From Hell (1:34:28) - A feature-length documentary detailing the production with lots of candid footage.
Also included is a second Blu-ray disc, which contains all of the bonus features listed above. The Blu-ray disc also contains the
Unrated
version, with English audio in Dolby TrueHD 7.1, and English SDH and Spanish subtitles.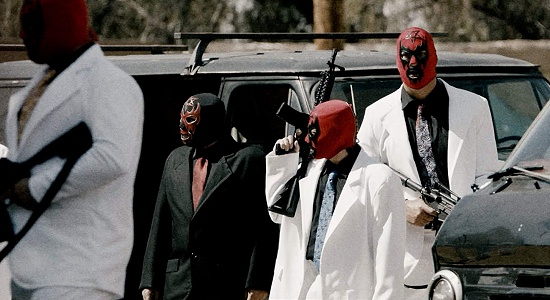 The
R-rated
version of the movie is not included on either disc. As far as I'm aware, in the U.S., it is only available from Lionsgate on DVD. That is your only option if you want it on physical disc. That said, I have read that the digital copy code voucher included with this release redeems the R-rated version of the film. The Movie Censorship site has a
detailed list of the differences between the Unrated and R-Rated versions
.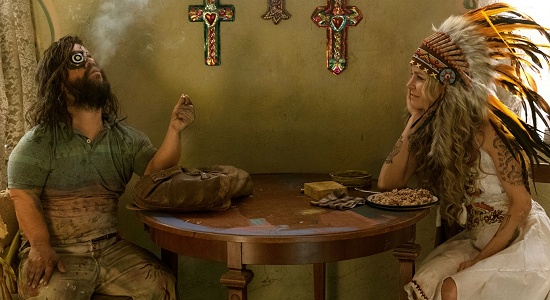 Although Lionsgate had previously released this 4K/Blu set back in 2019, the Steelbook case is new. This is one of the better Steelbook cases I have seen. There is a plastic sleeve over it which features all-new artwork by
Vance Kelly
of our trio of anti-heroes on the cover, and a photo of bloody Baby with the specs on the back. Here's where the art designer got clever. When you pull that sleeve off, Baby, Otis, and Winslow turn into skeletons sitting atop the skulls of their victims. It's a simple illusion, but it works so well. The back of the case shows three upright coffins that anxiously await the bodies of the Firefly family.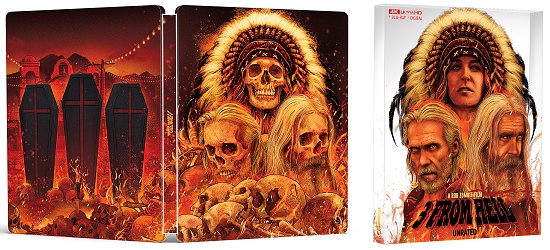 The interior of the case features a drawing of Baby aiming her bow and arrow, framed inside of a cross. The two discs sit on opposite sides. I usually hate Steelbook cases because the disc holders are horrible and make getting the discs out such a pain in the butt. I must not have been the only one to complain because for the first time I've ever seen, the disc locking mechanisms have been changed! It is now SOOOOO much easier to get the discs in and out, and I no longer fear that the discs are going to break in the process. Of course, my pet peeve about Steelbook cases being impossible to replace should they get broken still holds true.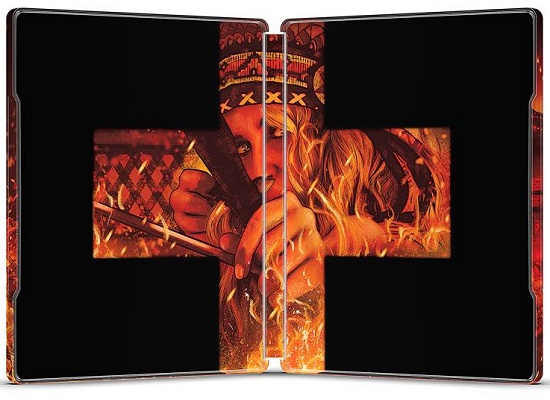 3 From Hell
is available in a
4K UHD/Blu-ray Combo Pack in Steelbook Packaging
exclusively from Best Buy. If you don't care about the Steelbook, the same two discs are available in a
4K/Blu-ray Combo Pack in Standard Packaging
. The Theatrical Cut is only available on DVD, whether as part of the
Blu-ray/DVD Combo Pack
or on
individual DVD
.
The original two movies in this trilogy -
House of 1,000 Corpses
(2002) and
The Devil's Rejects
(2005) - are collected in the DVD
"Rob Zombie 3-Disc Collector's Set"
, along with the
30 Days In Hell
making of documentary. I'm linking to a DVD set instead of a Blu-ray because Lionsgate's American-released Blu-ray of
House
is missing a few of the DVD's bonus features (including the isolated music score), while the Lionsgate
Rejects
Blu-ray is missing nearly ALL of the DVD's bonus features, including the feature-length
30 Days In Hell
documentary. As a completist, I just can't recommend the Blu-ray when you get SO much more on the DVDs. Of course, there are import Blu-rays, but they are still missing a couple of things, and I try not to recommend imports unless I personally own them and can confirm no issues playing them in a U.S.-bought player.
All images were taken from the
IMDB gallery
of the film. This item has been provided by Lionsgate for review on this site.
No feedback yet
Leave a comment