By Paul Rudoff on Sep. 30, 2021 at 10:44 PM in Home Video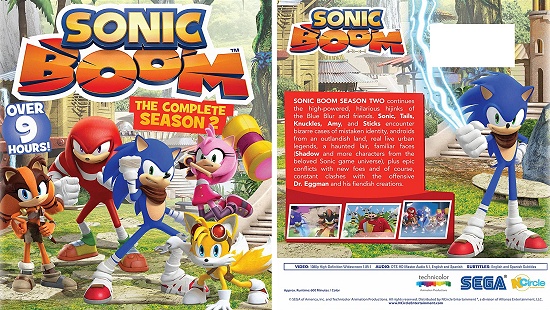 Mill Creek Entertainment and NCircle recently released the
Sonic Boom: The Complete Season 2 Blu-ray
. Read on to find out more about it...
[ SYNOPSIS ]
Sonic Boom: Season Two
continues the high-powered, hilarious hijinks of the Blue Blue and friends. Sonic (Roger Craig Smith), Tails (Colleen Villard), Knuckles (Travis Willingham), Amy (Cindy Robinson), and Sticks (Nika Futterman) encounter bizarre cases of mistaken identity, androids from an outlandish land, real live urban legends, a haunted lair, familiar faces (Shadow and more characters from the beloved Sonic game universe), plus epic conflicts with new foes and of course, constant clashes with the offensive Dr. Eggman (Mike Pollock) and his fiendish creations.
[ QUICK THOUGHTS ]
I really enjoyed
Season 1
of the series, so I was happy to check out Season 2; which completes the series as there are no other seasons. For the most part, the show keeps the same tone as the first season, but adds in some new gadgets and automobiles to freshen things up a bit. There are also little references that fans of the game series will enjoy, such as when Dr. Robotnik... I mean, Dr. Eggman makes a comment about how classic 2D video games are ruined when game developers try to make them into 3D. The show is the kind that parents can watch with their kids, as each with get something different out of it.
[ EPISODE INFORMATION ]
The three-disc set includes all 52 stories (which should be 26 episode pairs) of the season that aired from October 29, 2016 to November 11, 2017. Each story runs for 11:38 and includes the same show opening and end credits.
Disc 1:
01. "Tommy Thunder: Method Actor"
02. "Spacemageddonocalypse"
03. "Nutwork"
04. "Alone Again, Unnaturally"
05. "The Biggest Fan"
06. "Anything You Can Do, I Can Do Worser"
07. "I Can Sea Sonic's Fear from Here"
08. "In the Midnight Hour"
09. "Multi-Tails"
10. "Strike"
11. "The Evil Dr. Orbot"
12. "Knuck Knuck! Who's Here?"
13. "Mech Suits Me"
14. "FiendBot"
15. "Og Man Out"
16. "Knine-to-Five-Knuckles"
17. "Blackout"
Disc 2:
18. "Unnamed Episode"
19. "Robot Employees"
20. "Give Bees a Chance"
21. "Mombot"
22. "Muckfoot"
23. "Nominatus Rising"
24. "Eggman's Brother"
25. "Do Not Disturb"
26. "Robots from the Sky, Part 1"
27. "Robots from the Sky, Part 2"
28. "Robots from the Sky, Part 3"
29. "Robots from the Sky, Part 4"
30. "Flea-ing from Trouble"
31. "Lightning Bowler Society"
32. "Planes, Trains and Dude-Mobiles"
33. "Sticks and Amy's Excellent Staycation"
34. "Inn Sanity"
35. "Mister Eggman"
Disc 3:
36. "The Haunted Lair"
37. "Return of the Buddy Buddy Temple of Doom"
38. "Eggman's Anti Gravity Ray"
39. "Victory"
40. "Three Men and My Baby!"
41. "Where Have All the Sonics Gone?"
42. "If You Build It They Will Race"
43. "Chain Letter"
44. "Vector Detector"
45. "Three Minutes or Less"
46. "Lair on Lockdown"
47. "You and I Bee-come One"
48. "Don't Make Me Angry"
49. "Eggman Family Vacation"
50. "Return to Beyond the Valley of the Cubots"
51. "Eggman: The Video Game, Part 1"
52. "Eggman: The Video Game, Part 2"
[ SPECIFICATIONS ]
The show is presented in a 1.78:1 aspect ratio. Audio languages include English (DTS-HD Master Audio 5.1), Spanish (Dolby Digital 2.0). Subtitle languages include English.
[ SPECIAL FEATURES ]
Here's a list of all of the special features that can be found on Disc 3.
Team Sonic Racing Trailer (1:02) - An advertisement for the 2019 video game.
Sonic Mania Trailer (0:31) - An advertisement for the 2017 video game.
Sonic the Hedgehog Movie Trailer (1:05) - An advertisement for the 2020 movie, which I previously reviewed.
Sonic Dash Mobile Trailer (0:37) - An advertisement for the 2013 video game.
Sonic the Hedgehog Green Hill Zone Playset Ad (0:33) - An advertisement for the 2020 toy by Jakks Pacific.
Concepts and Designs - This is a collection of 25 still images of artwork from the series.
[ ADDITIONAL INFORMATION ]
No Digital Copy voucher is included, but there is a nice slipsleeve.
[ PURCHASE LINKS ]
Sonic Boom: The Complete Season 2
is available on
Blu-ray
. To complete the series, you will also need the
Season 1 Blu-ray
(
reviewed here
).
This item has been provided by Mill Creek Entertainment for review on this site.
No feedback yet
Leave a comment