By Paul Rudoff on Nov. 22, 2021 at 7:20 PM in Books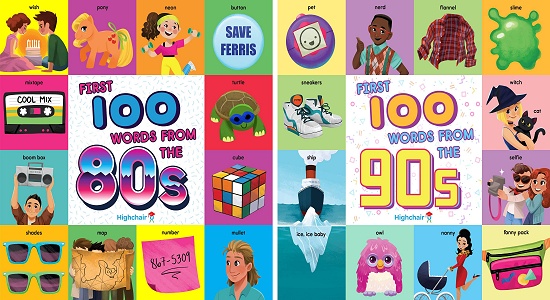 Insight Editions recently released the
First 100 Words From the 80s
and
First 100 Words From the 90s
board books. Read on to find out more about them...
OFFICIAL SYNOPSIS - Pop the collar of that polo shirt, throw on your favorite pair of slouch socks, and take your baby on a stroller ride back in time to share the most popular and iconic music, TV shows, toys, films, and fashion of the 80s and 90s! Never mind apple, ball, cow, and dog. Your little dude or dudette will be totally psyched to learn words rad like acid wash jeans, boy band, Clueless, and Duran Duran!
Each 20-page book was written by Sara Miller with illustrations by
Steph Lew
. They are designed to teach children aged 1-4 years English language vocabulary words based on pop culture from each decade. These 13-ounce 8"x0.5"x8" sturdy board books will stand up to repeated readings and curious hands and mouths.
Unsurprisingly, Ghostbusters is shown some love in the '80s book. The second image shows the vocabulary words "ghost" and "busted".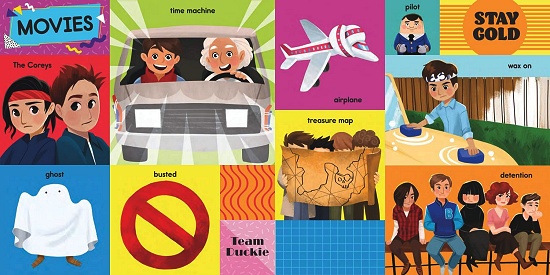 Looking through these books, and all of Steph's cute illustrations, reminded me of so many things I loved about each decade. Even though I'm 40 years past the target audience, it was fun looking at the drawings and figuring out what it was supposed to represent. The only one I couldn't figure out was which TV show the "strangers" box is referencing in the '90s book? Is it "The Real World"?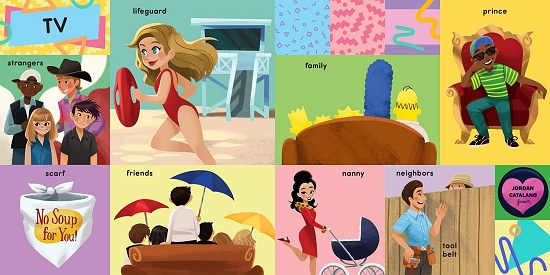 By having both books, I did notice that Steph used one of her illustrations in both books. In the '80s book it represents "side pony", while it covers "scrunchie" in the '90s book.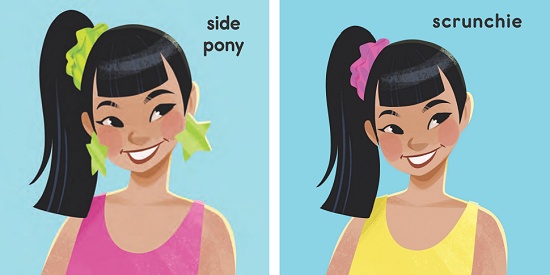 The
First 100 Words From the 80s
and
First 100 Words From the 90s
board books are a great gift for your favorite little ones. Parents, grandparents, and cool aunts and uncles can introduce young readers to their favorite decades. Be the rad-est gift giver in the room at baby showers, gender reveals, and birthday parties.
If you like these decade-based "First Words" board books, be aware that more are set to be released in 2022:
First 100 Words From the 60s
and
First 100 Words From the 70s
.
This item has been provided by Insight Editions for review on this site.
No feedback yet
Leave a comment