By Paul Rudoff on Nov. 29, 2021 at 7:48 PM in Wrestling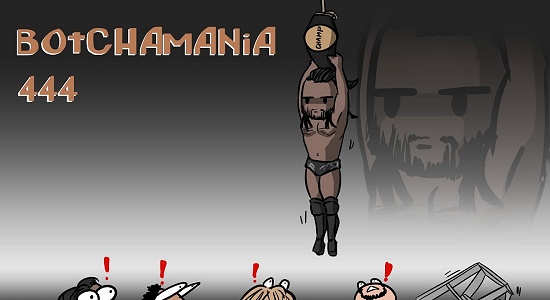 It's been almost a year since I last
wrote about Botchamania
. It's my favorite wrestling comedy series, so when I spot a goof (aka a "botch") in a wrestling program, I send creator Maffew Gregg an e-mail about it. In the latest episode, Botchamania #444, a botch that I spotted was used. Read on to find out more...
When you get to the 7:30 mark in the episode, you will see a clip from
episode #6 of Championship Wrestling from Atlanta
(October 24, 2021) featuring a tag team match between Infamy and The Tate Twins (at the 26:43 mark). Although, the announcer and commentators call the team by their correct name, the on-screen graphic inexplicably calls them "Incoming".

While I'm not credited in the video itself, Maffew gave me credit in the YouTube video description, with Spook Central's address listed underneath.
(Botchamania #444 YouTube Description, November 12, 2021)
After watching the full episode #444 below, go check out Botchamania on
Facebook
(req. login) and
Twitter
.
IMPORTANT:
Since it is very likely that the Botchamania episode embedded in this article will be taken down by Youtube, because WWE doesn't understand Fair Use, be sure to visit the
unofficial video archive
to view this episode and many more, past and present.
No feedback yet
Leave a comment