By Paul Rudoff on Apr. 12, 2022 at 12:00 PM in Home Video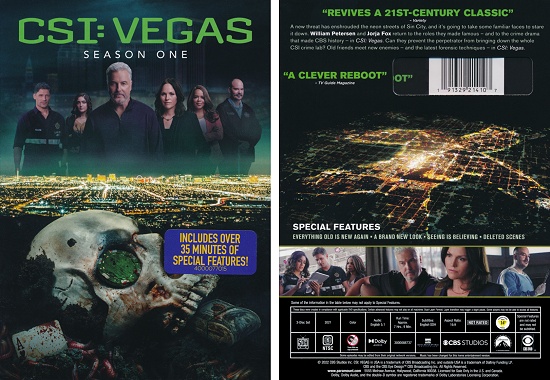 CBS Home Entertainment recently released the
CSI: Vegas: Season 1 (2021) DVD
. Read on to find out more about it...
[ SYNOPSIS ]
The sequel to the global hit
CSI: Crime Scene Investigation
, opens a brand-new chapter in Las Vegas - the city where it all began. Facing an existential threat that could bring down the entire Crime Lab and release thousands of convicted killers back onto the neon-lit streets of Vegas, a brilliant new team of investigators, led by Maxine Roby (Paula Newsome), must enlist the help of old friends, Gil Grissom (William Petersen), Sara Sidle (Jorja Fox) and David Hodges (Wallace Langham). This combined force will deploy the latest forensic techniques to do what they do best "follow the evidence" in order to preserve and serve justice in Sin City.
[ EPISODE INFORMATION ]
The three-disc set includes all 10 episodes that aired on CBS from October 6, to December 8, 2021.
Disc 1:
01. "Legacy" (42:53)
02. "Honeymoon in Vegas" (42:53)
03. "Under the Skin" (42:52)
04. "Long Pig" (42:53)
Disc 2:
05. "Let the Chips Fall" (42:53)
06. "Funhouse" (42:53)
07. "In The Blood" (42:54)
Disc 3:
08. "Pipe Cleaner" (42:54)
09. "Waiting In The Wings" (42:54)
10. "Signed, Sealed, Delivered" (42:53)
[ SPECIFICATIONS ]
The show is presented in a 1.78:1 aspect ratio (anamorphic widescreen). Audio languages include English 5.1 Dolby Digital. Subtitle languages include English SDH.
[ SPECIAL FEATURES ]
These are all of the special features found on all three discs.
Deleted Scenes: "Legacy" (1:25) - 2 scenes.
Deleted Scenes: "Honeymoon in Vegas" (1:41) - 2 scenes.
Deleted Scenes: "Under the Skin" (1:44) - 2 scenes.
Deleted Scene: "Long Pig" (0:41) - 1 scene.
Deleted Scene: "Let the Chips Fall" (0:48) - 1 scene.
Deleted Scene: "Funhouse" (0:32) - 1 scene.
Everything Old Is New Again (18:00) - A look into how the new reboot came about and the challenges of creating a series that can walk tall in the footsteps of its predecessor. Sit down with both the new cast and the original actors who have returned to get their view on the new series and how their characters play in this new revival.
A Brand New Look (5:45) - Associate Producer Alex Berry tours the newly created state-of-the-art laboratory sets that feel very "21st Century" with dramatic lighting and unique environments. Alex explains the purpose of each set and how they become an integral part of the series.
Seeing Is Believing (7:39) - Visual Effects Supervisor Brad Tannenbaum provides an in-depth explanation at creating some of the mesmerizing shots seen in the series. Several of the mind-blowing effects will be deconstructed so the viewer will have a better understanding of what is involved in making this series so special.
[ ADDITIONAL INFORMATION ]
The set is packaged in a standard 3 disc clear DVD case, with each disc on its own page. The first print run includes a slipcover.
[ NOTES ]
CSI: Vegas: Season 1
is available on
Blu-ray
(MOD) and
DVD
.
This item has been provided by CBS Home Entertainment for review on this site.
No feedback yet
Leave a comment