By Paul Rudoff on Apr. 22, 2022 at 12:00 PM in Home Video, Animation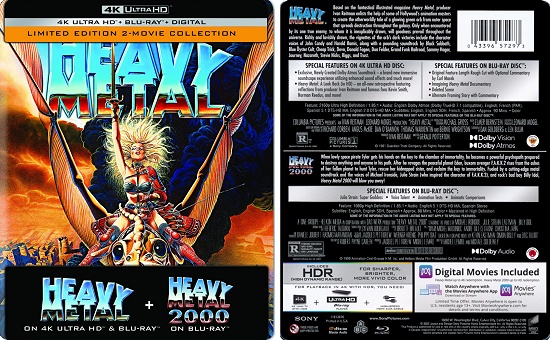 Sony Pictures Home Entertainment recently released the
Heavy Metal Limited Edition 2-Movie Collection 4K/Blu-ray Steelbook
. Read on to find out more about it...
[ SYNOPSIS ]
HEAVY METAL (1981)
A universe of mystery. A universe of magic. A universe of awesome. Good... and terrifying evil. Based on the fantastical illustrated magazine Heavy Metal, producer Ivan Reitman enlists the help of some of Hollywood's animation masters to create the otherworldly tale of a glowing green orb from outer space that spreads destruction throughout the galaxy. Only when encountered by its one true enemy, to whom it is inexplicably drawn, will goodness prevail throughout the universe. Richly and lavishly drawn, the vignettes of the orb's dark victories include the character voices of John Candy, Harold Ramis and a pounding soundtrack by Black Sabbath, Blue Oyster Cult, Cheap Trick, Devo, Donald Fagen, Don Felder, Grand Funk Railroad, Sammy Hagar, Journey, Nazareth, Stevie Nicks, Riggs, and Trust. Highly imaginative and full of surprising special effects,
Heavy Metal
set the standard for alternative contemporary animation.
HEAVY METAL 2000 (2000)
When lowly space pirate Tyler gets his hands on the key to the chamber of immortality, he becomes a powerful psychopath prepared to destroy anything and anyone in his path. After he ravages the peaceful planet Eden, buxom avenger F.A.K.K.2 rises from the ashes of her fallen planet to hunt Tyler, rescue her kidnapped sister and reclaim the key to immortality. Fueled by a cutting-edge metal soundtrack and the voices of Michael Ironside, Julie Strain (who inspired the character of F.A.K.K.2) and rock's bad boy Billy Idol,
Heavy Metal 2000
will blow you away!
[ SPECIAL FEATURES ]
Each of the three discs has special features, with the two Blu-ray discs porting over content from the 1999 and 2000 DVDs. The Blu-ray disc for the first film is the same as originally released back in 2011. The second film is making its Blu-ray debut in this collection.
HEAVY METAL (4K UHD DISC)
Heavy Metal: A Look Back (9:20) - A new retrospective featuring reflections from producer Ivan Reitman, famous fans Kevin Smith, Norman Reedus, and more! Participants were filmed over teleconferencing and appear windowed within the frame.
HEAVY METAL (BLU-RAY DISC)
Feature Length Rough Cut (1:30:21) - An early incomplete version of the film (in standard definition) that's built through hand-drawn animations and is without music, editing, dialogue, and the like. Available with optional commentary by Carl Macek (recorded in 1999), author of the book The Art of the Movie Heavy Metal: Animation for the Eighties.
Deleted Scenes (8:42) - Includes "Neverwhere Land Sequence" (3:26), "Alternate Framing Story With Commentary" (2:38), and "Alternate Framing Story" (2:38). For some reason, the version with commentary by Carl Macek is placed BEFORE the version without it.
Imagining Heavy Metal (35:39) - A documentary that explores the picture's history, stories, themes, and animation process featuring interviews with several crew members.
HEAVY METAL 2000 (BLU-RAY DISC)
Julie Strain: Super Goddess (13:16) - A look at the 6'1" Amazonian sex symbol, who voices the main character. It also looks at her role models, embracing her nude modeling career and how it propelled her acting career, her Andy Sidaris films, her fans, life off the camera, her marriage to Kevin Eastman, photography career, and more.
Voice Talent (3:43) - Exploring Julie Strain's, Billy Idol's, and Michael Ironside's voice work in the film.
Animation Tests (1:17) - Kevin Eastman narrates a short look at some early animatics, focusing more on their purpose than the scenes playing out.
Animatic Comparisons (11:29) - Storyboards juxtaposed against the final film version, with the storyboards in a large window and the film in a smaller window in the lower right corner. Included are "Eden Air Fight", "Lizard Fight", "Love Scene", "Julie Bathes", and "Final Fight".
[ MISSING DVD SPECIAL FEATURES ]
I'm saddened to report that many great special features from the original
Heavy Metal
"Collector's Series" DVD (released in 1999) and the
Heavy Metal 2000
"Special Edition" DVD (released in 2000) are missing from these discs. Full details can be found on the Heavy Metal Magazine Fanpage
here
and
here
, but here's a quick list of the missing content.
HEAVY METAL
For the most part, the missing content is a LOT of artwork & photo galleries, though we also lost Carl Macek's 1999 reading of his book (which plays as one of the film's audio tracks).
*
Carl Macek Reading His Book: Heavy Metal: The Movie
*
Pencil Portfolio
- "Grimaldi" (6 images)
- "Harry Canyon" (2 images)
- "Den" (5 images) (the last one is a brief animation)
- "Captain Sternn" (2 images)
- "B-17 / Gremlins" (3 images)
- "So Beautiful and So Dangerous" (4 images)
- "Taarna" (4 images)
*
Conceptual Art
- "Grimaldi" (2 images)
- "Den" (5 images)
- "B-17 / Gremlins" (6 images)
- "Taarna" (43 images) (36 and 38 are animated)
*
Single Cel Portfolio
- "Harry Canyon" (3 images)
- "Den" (4 images)
- "Captain Sternn" (2 images)
- "Neverwhere Land" (10 images)
- "So Beautiful and So Dangerous" (2 images)
- "Taarna" (7 images)
*
Layered Cel Portfolio
- "Soft Landing" (3 images)
- "Grimaldi (11 images)
- "Harry Canyon" (25 images)
- "Den" (15 images)
- "Captain Sternn" (5 images)
- "B-17 / Gremlins" (6 images)
- "So Beautiful and So Dangerous" (28 images)
- "Taarna" (98 images) (19, 25 and 53 are animated)
*
Production Photos
- "B-17 / Gremlins" (11 images)
- "Taarna" (7 images)
*
Magazine Cover Gallery
- 1977-1981 (111 images)
- 1982-1986 (109 images)
- 1987-1991 (34 images)
- 1992-1999 (47 images)
HEAVY METAL 2000
Again, we lose the photo galleries (which I have uploaded to
The Corner Penthouse Facebook page
), though there aren't as many as for the first film. I'm surprised Sony didn't port over the trailer. The isolated music track is the biggest loss.
*
Isolated Music Track
*
Theatrical Trailer
(1:32)
*
Photo Galleries
: "Backgrounds" (43 images) and "Julie Strain" (3 images)
[ ADDITIONAL INFORMATION ]
A digital copy code voucher is included inside the Steelbook case, with two codes that redeems each of the two movies separately.
The Steelbook packaging is beautiful. The front cover features the film's classic poster artwork depicting Taarna riding her bird-like mount, her sword held vertically in the air, with smoke billowing in the background with the film's title in chrome-like letters at the top. The back cover depicts the spacecraft from the "So Beautiful & So Dangerous" vignette with Den in it's "mouth". There is no artwork on the inside, just a uniform silver color. The three discs are presented on three hubs, with the ones on the right being overlayed.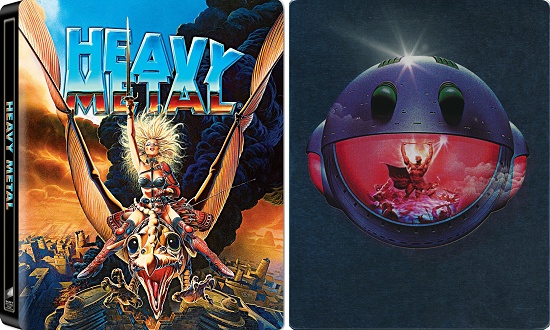 (click to enlarge)
[ NOTES ]
Simply put, the first film has never looked as good as it does on the 4K UHD disc included here. I always love watching animation in HD and UHD because you can see such incredible details in the image. It's like you're truly watching a successive array of animation cels; which technically it is. My only issue with this release is that so much of the original DVD materials are missing for both films. The team at Sony made the effort to bring back old special features for the
Ghostbusters Ultimate Collection
. It's a shame the same team that worked on this Steelbook set didn't make the same effort. It would have been great for this to have been the ultimate Heavy Metal complete package.
Anyway, the
Heavy Metal Limited Edition 2-Movie Collection 4K/Blu-ray Steelbook
is HIGHLY RECOMMENDED, though I would suggest also picking up the old DVDs:
Heavy Metal (Collector's Edition) DVD
,
Heavy Metal 2000 (Special Edition) DVD
,
Double Feature DVD
(presumably the same two individual DVDs).
This item has been provided by Sony Pictures Home Entertainment for review on this site.
No feedback yet
Leave a comment