By Paul Rudoff on May. 16, 2022 at 11:30 PM in Wrestling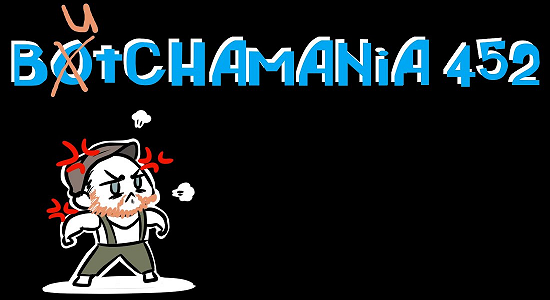 Botchamania is my favorite wrestling comedy series, which I've
written about many times
already. The series spotlights goofs (aka "botches") in wrestling programs. In the latest episode, Botchamania #452 (May 1, 2022), a few botches that I spotted were used. Read on to find out more...
When you get to the 2:44 mark, you will see a clip from the April 4, 2022 episode of WWE
Raw
featuring Roman Reigns wearing his "Greatness on a Different Level Mode" shirt, which WWE refers to as the
"GOD Mode" shirt
even though it really initializes to "GOADL Mode". Despite WWE constantly telling their announcers to force-feed their stupendous buzzwords and phrases to the home audience, on this night, the announcer mispronounced the message on the shirt. Not the greatest botch that has ever appeared on Botchamania, but I thought it was funny, and so did Maffew, apparently.

While I'm not credited in the video itself, Maffew gave me credit in the YouTube video description, with Spook Central's address listed underneath.
Two other botches I submitted were also used, though I was not credited for them. Perhaps someone else submitted them before me.
At the 1:18 mark is a botch from the April 18, 2022 episode of WWE
Raw
featuring one of my favorites, Liv Morgan, botching a move with her partner Rhea Ripley. During the Women's tag match, Rhea holds Naomi while Liv jumps off the turnbuckle to do move onto Naomi. Rhea and Liv don't time it correctly, so Liv never connects with Naomi, whom Rhea drops.

At the 10:00 mark is an audio botch from the April 20, 2022 episode of AEW
Dynamite
. During the coffin match, after Andrade tries to rip the lid off the coffin, he goes back to take some shots on his opponent, Darby Allin. As this happens, you can clearly hear the ref tell them they "90 seconds" left to finish the match.

After watching the full episode #452 below, go check out Botchamania on
Facebook
(req. login) and
Twitter
.
IMPORTANT:
Since it is very likely that the Botchamania episode embedded in this article will be taken down by Youtube, because WWE doesn't understand Fair Use, be sure to visit the
unofficial video archive
to view this episode and many more, past and present.
No feedback yet
Leave a comment