By Paul Rudoff on Jun. 24, 2022 at 12:00 PM in Home Video, Horror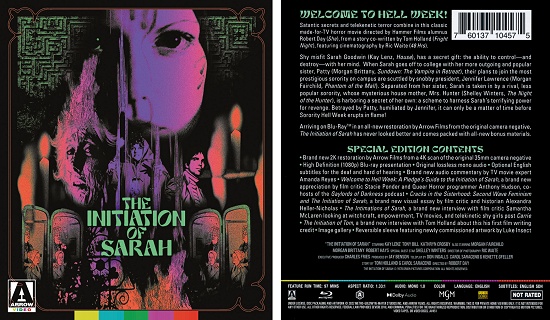 Arrow Video recently released
The Initiation of Sarah (1978) on Blu-ray
. Read on to find out more about it...
[ SYNOPSIS ]
Shy misfit Sarah Goodwin (Kay Lenz), has a secret gift: the ability to control -- and destroy -- with her mind. When Sarah goes off to college with her more outgoing and popular sister, Patty (Morgan Brittany), their plans to join the most prestigious sorority on campus are scuttled by snobby president, Jennifer Lawrence (Morgan Fairchild). Separated from her sister, Sarah is taken in by a rival, less popular sorority, whose mysterious house mother, Mrs. Hunter (Shelley Winters), is harboring a secret of her own: a scheme to harness Sarah's terrifying power for revenge. Betrayed by Patty, humiliated by Jennifer, it can only be a matter of time before Sorority Hell Week erupts in flame!
[ SPECIFICATIONS ]
The movie is presented in a 1.33:1 aspect ratio with a runtime of 1:36:49. The movie has not been rated, seeing as how it originally aired on television. Audio languages include English. Subtitle languages include English SDH.
[ SPECIAL FEATURES ]
All of the content listed below can be found on the Blu-ray disc. It should be noted that every single one of the interviews is preceded by a 15-second "opinions" disclaimer, which is included in the runtimes listed below. This same disclaimer is also shown on disc boot-up, so I don't know why Arrow felt the need to repeat it FOUR more times! A little excessive, don't ya think?
Audio Commentary - by television movie expert Amanda Reyes.
Welcome to Hell Week: A Pledge's Guide to the Initiation of Sarah (16:33) - A new appreciation by critic Stacie Ponder and Queer Horror programmer Anthony Hudson celebrating the film through a queer feminist lens.
Cracks in the Sisterhood: Second Wave Feminism and The Initiation of Sarah (14:48) - A new visual essay by film critic and historian Alexandra Heller-Nicholas
The Intimations of Sarah (16:19) - A new interview with film critic Samantha McLaren looking at witchcraft, empowerment, TV movies, and telekinetic shy girls post Carrie.
The Initiation of Tom (8:58) - A new interview with Tom Holland on this his first film writing credit.
Image Gallery - A total of six images.
[ ADDITIONAL INFORMATION ]
As is usually the case with Arrow Video, included inside the thick one-disc clear Blu-ray case is an illustrated collector's booklet featuring essays (by Lindsay Hallam and Alexandra West) and photographs, along with a cast & crew list, and information on the transfer/restoration. The case artwork is reversible, featuring the original poster artwork on one side and newly-commissioned artwork (by Luke Insect) on the other. No slipcover is included.
[ NOTES ]
My first experience with
The Initiation of Sarah
wasn't this 1978 television movie, but rather the remake starring Mika Boorem and Summer Glau that aired on the ABC Family channel in 2006. I quite enjoyed the remake, and I'm happy to report that the original is just as good. It's a bit campy, and was obviously an attempt to cash in on the
Carrie
craze, but it has it's own charm. RECOMMENDED, especially if you like female empowerment and witchcraft films and shows.
The Initiation of Sarah (1978)
is available on
Blu-ray
.
The Initiation of Sarah (2006)
is only available on
DVD
and
DVD-R
.
This item has been provided by Arrow Video for review on this site.
No feedback yet
Leave a comment