By Paul Rudoff on Jun. 23, 2022 at 12:00 PM in Home Video, Horror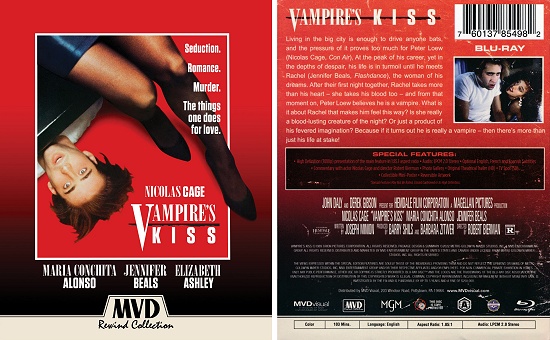 MVD Visual recently released
Vampire's Kiss (1988) on Blu-ray
as part of the MVD Rewind Collection. Read on to find out more about it...
[ SYNOPSIS ]
Living in the big city is enough to drive anyone bats, and the pressure of it proves too much for Peter Loew (Nicolas Cage). At the peak of his career, yet in the depths of despair, his life is in turmoil until he meets Rachel (Jennifer Beals), the woman of his dreams. During their first night together, Rachel takes more than his heart. She takes his blood, too! From that moment on, Peter believes he is a vampire. What is it about Rachel that makes him feel this way? Is she really a blood-lusting creature of the night, or is it just a product of his fevered imagination? If it turns out he is really a vampire, then there's more than just his life at stake!
[ SPECIFICATIONS ]
The movie is presented in a 1.85:1 aspect ratio with a runtime of 1:43:36. The movie
has been rated
R. Audio languages include English (LPCM 2.0 Stereo). Subtitle languages include English, French, and Spanish.
[ SPECIAL FEATURES ]
All of the content listed below can be found on the Blu-ray disc.
Audio Commentary - with actor Nicolas Cage and director Robert Bierman.
Photo Gallery - A total of 28 images presented as an auto-advancing slideshow, with some duplicate images.
Theatrical Trailer (2:04)
TV Spot (0:30)
[ ADDITIONAL INFORMATION ]
Included inside the one-disc clear Blu-ray case is a singled-sided folded 9.5"x11.25" mini-poster featuring the same artwork seen on the front of the case. The case artwork is reversible, featuring the original poster artwork on one side and newly-commissioned artwork on the other. Titles in the MVD Rewind Collection include a slipcover, which has faux wear and tear on it, along with a faux "Bee Kind, Remember to Rewind" 'sticker' on the cover meant to invoke the VHS rental era. The VHS theme is carried over to the disc face, which is meant to resemble the face label area on a VHS videocassette, though it's square, not rectangular. However, none of the artwork is meant to resemble the original VHS artwork, nor is there the illusion of a VHS tape sliding out from the side, like in
Mill Creek's Retro VHS Blu-ray series
.
[ NOTES ]
Vampire's Kiss
is the 39th title in the MVD Rewind Collection, but it is the first one that I have had the pleasure of watching and reviewing. Although the packaging doesn't try to emulate the original VHS "look", I am rather pleased with what MVD has done. The film is great, especially if you enjoy Nicolas Cage's style of acting. There are no issues with the transfer, and while the selection of extras is a bit thin, at least there
are
extras. The
Vampire's Kiss Blu-ray
is HIGHLY RECOMMENDED.
I don't know if I'll be able to cover other titles in the
MVD Rewind Collection
, as I have the
Vestron Video Collector's Series
and
Mill Creek's Retro VHS Blu-ray series
. In case I don't, below is a list of all of the other titles in the series as of this writing, with links to buy them at Amazon.
01.
D.O.A.: A Rite of Passage (1981)
02.
Attack of the Killer Tomatoes (1978)
03.
Black Eagle (1988)
04.
Savannah Smiles (1982)
05.
The Return of Swamp Thing (1989)
06.
Went to Coney Island on a Mission from God... Be Back by Five (1998)
07.
Abominable (2006)
08.
Lionheart (1990)
09.
Windrider (1986)
10.
Bram Stoker's Shadowbuilder (1998)
11.
Angel Town (1990)
12.
Bright Lights, Big City (1988)
13.
Nemesis (1992)
14.
Double Dragon (1994)
15.
Showdown (1993)
16.
Nemesis Sequel Trilogy (1995-1996)
17.
Double Impact (1991)
18.
Boogie Boy (1998)
19.
My Samurai (1992)
20.
The Point (1971)
21.
Mind Games (1989)
22.
Mikey (1992)
23.
Bloodfight / Ironheart Double Feature (1989/1992)
24.
Split Second (1992)
25.
Guncrazy (1992)
26.
Drive (1997)
27.
Action U.S.A. (1989)
28.
Mortuary (1983)
29.
The House on Sorority Row (1982)
30.
The Go-Go Boys: The Inside Story of Cannon Films (2014)
31.
The Dark (1979)
32.
One Dark Night (1982)
33.
Dirty Laundry (1987)
34.
Final Justice (1984)
35.
Jack Frost (1997)
36.
Jack Frost 2: The Revenge of the Mutant Killer Snowman (2000) (R-Rated Version)
(also
Edited Abridged Version
)
* The original release (now called the "Abridged Version") is edited. The "R-Rated Version" re-release is unedited. The item number for the R-Rated Version is MVD10212BR, the UPC code is 760137102120, and the disc art has been tinted blue to easily distinguish it from the edited release. (
Other differences noted here.
)
37.
Liar's Moon (1981)
38.
Monday Morning (1995)
39.
Vampire's Kiss (1988)
40.
Miami Blues (1990)
41.
Desperate Hours (1990)
42.
The Chocolate War (1988)
43.
Disturbing Behavior (1998)
This item has been provided by MVD Visual for review on this site.
No feedback yet
Leave a comment