By Paul Rudoff on Jun. 22, 2022 at 12:00 PM in Home Video, Horror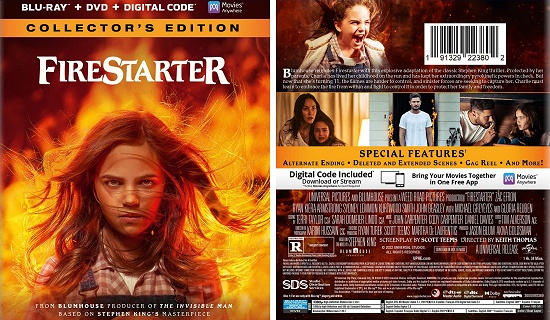 Universal Pictures Home Entertainment recently released the
Firestarter (2022) Blu-ray/DVD combo pack
. Read on to find out more about it...
[ SYNOPSIS ]
Protected by her parents Andy (Zac Efron) and Vicky (Sydney Lemmon), Charlie McGee (Ryan Kiera Armstrong) has lived her childhood on the run and has kept her extraordinary pyrokinetic powers in check. Now that she's turning 11, the flames are harder to control, and sinister forces are seeking to capture her. Charlie must learn to embrace the fire from within and fight to control it in order to protect her family and freedom.
[ SPECIFICATIONS ]
The movie is presented in a 2.39:1 aspect ratio with a runtime of 1:34:18. The movie
has been rated
R for violent content. Audio languages include English, Spanish, and French. Subtitle languages include English SDH, Spanish, and French.
[ SPECIAL FEATURES ]
All of the content listed below can be found on the Blu-ray and DVD discs.
Audio Commentary - with director Keith Thomas.
Alternate Ending (2:43)
Deleted And Extended Scenes (20:14) - Includes "Andy Reflects in Mirror", "Andy's Lot Six Nightmare - Extended", "Wanless Gets a Visitor - Extended", "Rainbird Scare/Wildlife Hunt", "Charlie Treks to Find Andy", "Charlie Counts Down "Five, Four, Three, Lies", and "Andy's Visionary Escape From the Cell".
Gag Reel (1:06)
A Kinetic Energy (6:04) - Filmmakers and cast discuss how stars Zac Efron and Ryan Kiera Armstrong worked closely with director Keith Thomas to bring this new Firestarter to life.
Spark A Fire (3:43) - A look at how the story and themes of FIRESTARTER were adapted from the famous novel.
Igniting Firestarter (3:38) - A behind-the-scenes look at how some of FIRESTARTER's most extreme fire effects and stunts were accomplished.
Power Struggle (3:28) - A breakdown of the physical stunts and practical effects that came together to craft the fight scene between Rainbird and Vicky.
[ ADDITIONAL INFORMATION ]
A digital copy code voucher is included inside the standard two-disc blue Blu-ray case. The first print run includes an embossed slipcover.
[ NOTES ]
I went into this film with a completely fresh mind. I had never read the original Stephen King novel, seen the 1984 film adaptation (starring Drew Barrymore), or even the 2002 sequel (a two-part TV movie) with Marguerite Moreau. I did watch the 1984 and 2002 films immediately after my viewing of this new film, but I didn't watch
Firestarter
(2022) with any preconceived notions. Usually I can find something positive to say about a film, even if it's just that one of my favorite actors is in it.
Firestarter
(2022) is a film that I really can't say much positive above. It was the longest 95-minutes of my life. To say that the film is boring would be an understatement. Halfway though, it felt like 90-minutes had already passed. If I were pressed to look for positives, I could say that the score by John Carpenter (yes,
that
John Carpenter) is good, but I doubt that a soundtrack album will be released so that I could listen to the music separate from the film. The elderly couple that Andy and Charlie come across now have a backstory, which makes them more three-dimensional than the same couple portrayed by Art Carney and Louise Fletcher in the older film. Also, Andy's powers now make his eyes bleed, which is infinitely better than David Keith putting his hands to his head and staring intently, which looked really stupid.
Firestarter (2022)
is available on
Blu-ray/DVD Combo Pack
and
Individual DVD
. I would recommend RENTING IT first. If you have a Peacock Plus or Premium Plus subscription, you can stream it there to determine if you want to own it. While the 1984 film is no masterpiece, I do think it's the better of the two, primarily bolstered by George C. Scott's performance as John Rainbird.
Firestarter (1984)
has two Blu-ray releases; one with special features from
Shout Factory
and the other is a movie-only disc from
Universal
(also with
Digital Copy
).
Firestarter 2: Rekindled (2002)
is not available on Blu-ray, so you'll have to settle for DVD, either
by itself
or in a
two-disc set with the 1984 film
(
alt url
). Oh, yeah, the
original Stephen King novel (1980)
is available as a
Hardcover Book
and as a
1984-Movie Tie-In Paperback
.
This item has been provided by Universal Pictures Home Entertainment for review on this site.
No feedback yet
Leave a comment