By Paul Rudoff on Aug. 25, 2022 at 4:00 PM in Home Video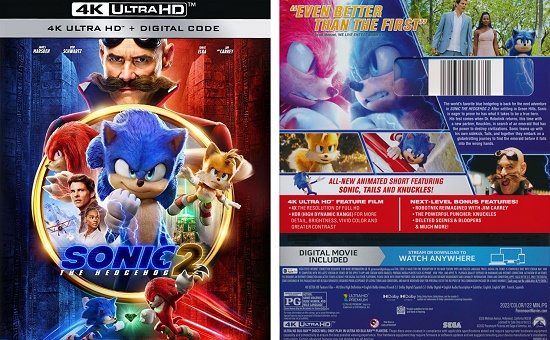 Paramount Pictures Home Entertainment recently released the
Sonic the Hedgehog 2 (2022) 4K UHD
. Read on to find out more about it...
[ SYNOPSIS ]
After settling in Green Hills, Sonic (Ben Schwartz) is eager to prove he has what it takes to be a true hero. His test comes when Dr. Robotnik (Jim Carrey) returns, this time with a new partner, Knuckles (Idris Elba), in search of an emerald that has the power to destroy civilizations. Sonic teams up with his own sidekick, Tails (Colleen O'Shaughnessey), and together they embark on a globe-trotting journey to find the emerald before it falls into the wrong hands.
[ SPECIFICATIONS ]
The movie is presented in a 2.39:1 aspect ratio with a runtime of 2:02:18. The movie
has been rated
PG for action, some violence, rude humor, and mild language. Audio languages include English, Spanish, and French. Subtitle languages include English, English SDH, French, Spanish, Danish, Finnish, Norwegian, and Swedish.
[ SPECIAL FEATURES ]
All of the content listed below can be found on the 4K UHD disc. (This is not a combo pack; there is no Blu-ray disc.)
Audio Commentary - with director Jeff Fowler and actor Ben Schwartz (voice of Sonic).
Sonic Drone Home (5:19) - This animated short shows Sonic, Tails, and Knuckles having an adventure in a junkyard with a scrap heap of a nemesis. Ben Schwartz is the only voice actor to reprise his role from the film. Tails and Knuckles are voiced by Alicyn Packard and Fred Tatasciore, respectively.
Deleted and Extended Scenes (17:17) - Included are these seven scenes: "Mushroom Planet Intro", "Sonic Caught Sneaking Out", "Getting Ready for Hawaii", "Tails Meets Wade", "Robotnik's Fake Crowdfunding Scheme", "Knuckles Learns the Meaning of Flying", and "Wade Discovers Robotnik's Secret Hideout".
Bloopers (3:18)
Music Video (3:06) - For the song "Stars in the Sky" by Kid Cudi.
Finding Your Team (6:31) - Exploring the family dynamic amongst the cast.
The Powerful Puncher: Knuckles (5:43) - Exploring the character's place in the franchise and in the film.
Rapid Fire Responses with Ben Schwartz (3:20) - Sonic's voice actor answers a number of either/or questions.
Robotnik Reimagined (5:37) - Looking at the character in the film and Jim Carrey's performance.
A Sibling for Sonic: Tails (4:46) - Looking at Sonic's sidekick in the film.
[ ADDITIONAL INFORMATION ]
A digital copy code voucher is included inside the standard one-disc black 4K UHD Blu-ray case. The first print run includes an shiny slipcover.
[ NOTES ]
An enjoyable film, though not as good as the original. There are moments where it seems like this is two movies mashed together. You have the movie starring Sonic and crew against nemesis Dr. Robotnik. Then you have a Tyler Perry movie about a wedding in Hawaii that stops the movie dead in its tracks every time it cuts back to it. Without getting into spoilers, the wedding doesn't even make sense because no one knew that Sonic was going to be there, and that ended up being the whole point for the wedding to take place. The wedding subplot would have been fine in another movie.
Jim Carrey is back as Dr. Robotnik (no Dr. Eggman here), and is his usual over-acting self. He steals the show, along with newcomer Idris Elba as the voice of Knuckles. I'm still not sold on Ben Schwartz as the voice of Sonic. I don't understand why they never brought in the official video game voice actor, Roger Craig Smith, as they did for Tails; voiced by Colleen O'Shaughnessey. Ghostheads will want to know that
the film contains a Ghostbusters reference
.
Sonic the Hedgehog 2 (2022)
is available on
4K UHD
,
Blu-ray
and
DVD
. Any one of them is RECOMMENDED. The first movie,
Sonic the Hedgehog (2020)
(which
I reviewed
), is available on
4K UHD Combo Pack
,
Blu-Ray + DVD Combo Pack
, and
Individual DVD
.
This item has been provided by Paramount Pictures Home Entertainment for review on this site.
No feedback yet
Leave a comment