By Paul Rudoff on Sep. 24, 2022 at 7:00 PM in Wrestling, Video Games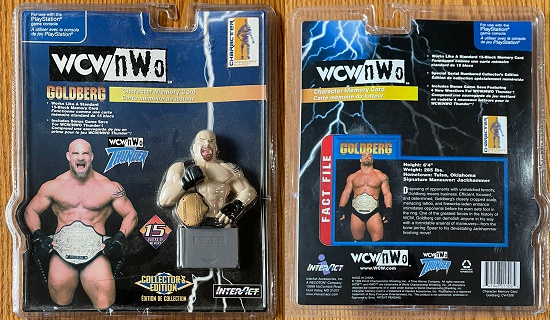 About 10 years ago, I typed up notes intended to be used to write reviews for a lot of different items. As I was cleaning up the digital clutter on my hard drive recently, I found all of these notes. Most of the products are out-of-print and no longer available for their original cheap prices, so there is no reason to use most of the notes. However, for a few items, the information contained in my notes doesn't seem to be available elsewhere online, so it still seems prudent to write the reviews as intended.
Read on as I tell you all about the
WCW/NWO Goldberg Character PlayStation Memory Card
released in 1999 by InterAct Accessories...
Long before the Sony PlayStations 2 through 5, there was the original unnumbered PlayStation. Looking back on it now, the games looked like crap, but back in the 1990s, that was the king.
Twisted Metal
,
Tomb Raider
,
WWF SmackDown
... such great memories. Speaking of memories... You kids today don't realize how good you have it that the current consoles save your games to the internal hard drive. The original PlayStation (and its follow-up) didn't even have an internal hard drive. To save your game, you had to buy a proprietarily-designed limited-capacity memory card. USB technology didn't exist at the time, so that wasn't an option. Memory cards for the original PlayStation were limited to 15 "blocks". Sony doesn't document how big a block is in terms of bytes, but through reverse engineering,
some people
found it to be 128 kilobytes. That is a minuscule fraction of today's multi-Gigabyte USB sticks.
Although Sony wants you to buy their official 15-block memory cards, there are always third-party options. Some of those cards would try to fancy things up a bit by designing the card to look a little different from the plain old Sony cards. InterAct, who was known for making all sorts of unofficial video game accessories, designed a
memory card for the PlayStation
(and the
Nintendo 64
) that featured the likeness of WCW wrestler Bill Goldberg. (On the PS1 card, Goldberg is flat with the card; on the N64 card, Goldberg is perpendicular with the card.)
Although the cards are not officially licensed by Sony or Nintendo, they were officially licensed by World Championship Wrestling during the height of the
Monday Night Wars
. The PlayStation version "works like a standard 15-block memory card" and is a "Special Serial Numbered Collector's Edition" of 100,000 (not that that makes it especially rare). It comes with a
WCW/NWO Thunder
game save already on the card that the packaging promises contains "4 new wrestlers". I would guess that they're four Create-A-Wrestler creations, but I can't say for sure as I don't have a copy of WCW/NWO Thunder to try it out in. A Goldberg "Fact File" card on the back gives his stats and a biography: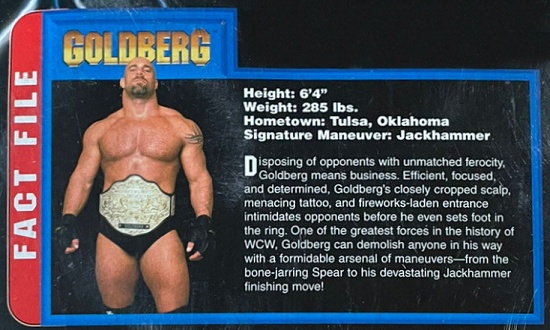 It looks better than a plain Sony memory card. Goldberg has a few nice details on him, such as his left shoulder tattoo, and the championship belt he's holding. That belt says "World Heavyweight Wrestling Champion" and "Goldberg" on it.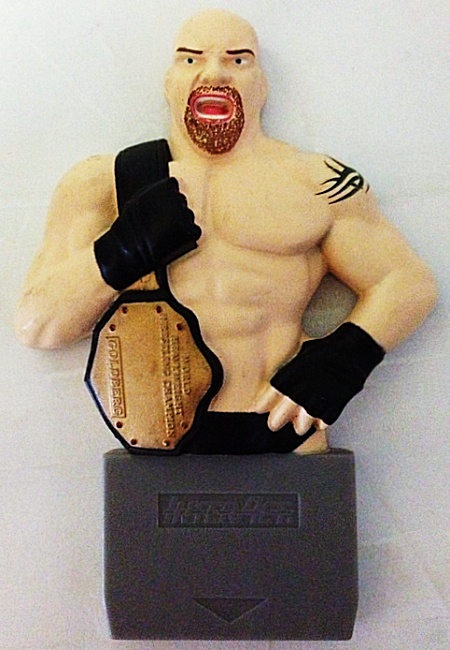 As expected, it works for PlayStation 1 (PS1) games on a PlayStation 2 (PS2)...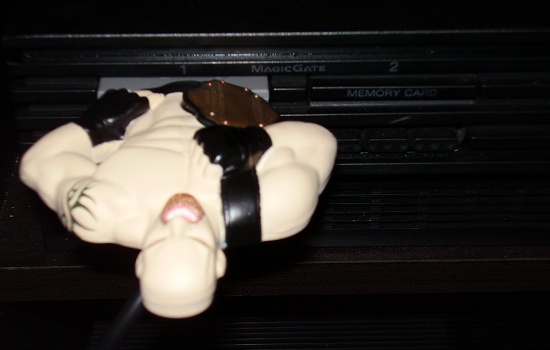 (click to enlarge)
...as long as you don't also have a memory card in slot 2. Goldberg's arms block the second memory card slot on a PlayStation 2 (and probably a PlayStation 1 as well), which makes it
extremely hard
to put a second memory card into the console so you can copy/move saves between memory cards.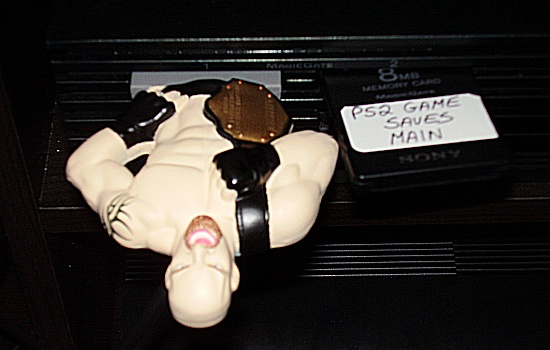 (click to enlarge)
You will need to jiggle things around in order to get the second card to fit, and it still isn't a comfortable fit. That's my father's thumb in the photo below, which was taken on April 17, 2013, nine months before
he would pass away
. I told you I have been sitting on these notes for about 10 years.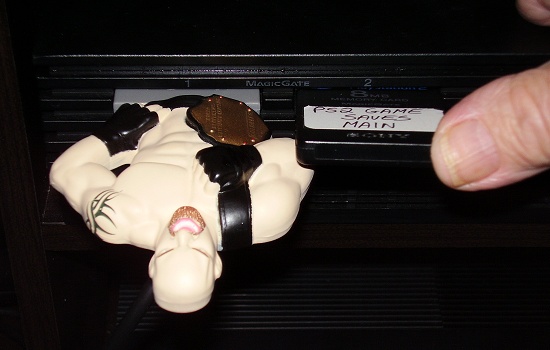 (click to enlarge)
This one negative is the reason why I sold my Goldberg memory card after the very first use. I like to keep my PS1 saves backed-up on a PS2 card, and if I have to nearly break the card slots on the console just to fit the second card in, it's not worth it. This Goldberg card is really cool, but not cool enough to possibly break my console for.
No feedback yet
Leave a comment