By Paul Rudoff on Oct. 1, 2022 at 2:00 PM in Home Video, Horror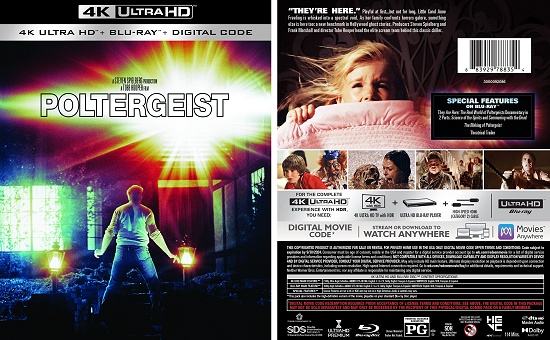 Hello Boils and Ghouls. The Halloween season is upon us, which means
lots of treats to enjoy
on October 31st. Join me as I take a look at Warner Brothers' recently released
Poltergeist (1982) 4K UHD/Blu-ray combo pack
. Read on to find out more...
[ SYNOPSIS ]
Suburbanites Steve (Craig T. Nelson) and Diane (JoBeth Williams) suddenly experience paranormal activity in their home. What starts off as minor excitement quickly turns into nasty ghostly encounters. The disappearance of their daughter Carol Anne (Heather O'Rourke) forces the Freelings to bring in parapsychologists and a professional exorcist to exorcise their home.
[ SPECIFICATIONS ]
The movie is presented in a 2.39:1 aspect ratio with a runtime of 1:54:25. The movie
has been rated
PG. Audio languages include English, Spanish, French, and German. Subtitle languages include English SDH, French, German, Italian, Spanish, Danish, Dutch, Finnish, Norwegian, and Swedish.
[ SPECIAL FEATURES ]
All of the content listed below can be found on the Blu-ray disc, which is a NEW disc (currently not available separately). There are no special features on the 4K UHD disc.
They Are Here: The Real World of Poltergeists Pt. 1 - Science of the Spirits (15:31) - This cheesy 2007 documentary features a few psychic mediums, paranormal investigators, and other frauds just trying to make a living by insisting the film's core mythology is plausible.
They Are Here: The Real World of Poltergeists Pt. 2 - Communing with the Dead (15:33) - There is no Play All, so both parts are only available separately.
The Making of Poltergeist (7:18) - This 1982 MGM featurette offers comments from writer-producer Steven Spielberg, producer Frank Marshall (who actually directed this piece), actor Craig T. Nelson, and director Tobe Hooper, as well as candid footage from the set.
Theatrical Trailer (2:26) - The vintage trailer that is embedded below.
[ ADDITIONAL INFORMATION ]
A digital copy code voucher is included inside the standard two-disc black UHD case. The first print run includes a shiny slipcover.
[ NOTES ]
Along with
Jaws
,
Poltergeist
used to scare the crap out of me as a kid. It's still quite a scary film, though now it doesn't frighten me as much. There are numerous photo-sensitive seizure warnings on the front and back of the packaging, on an insert inside the case, and even on the discs themselves! I've owned the movie previously on DVD and Blu-ray, and they never carried this warning. This is intended to provide ample warning to viewers with epilepsy about the light intensity of strobe effects seen during the film.
Yes, that annoying jump-cut is still present and is as distracting as ever. If you don't know what that's about,
allow me to explain
... At the 34:13 mark, Diane Freeling is explaining to husband Steven about the odd but exciting phenomena happening in their kitchen. She's cut off in mid-sentence, and a jarring jump cut edit sees Steven and Diane now on their neighbor's front porch talking to him, again, mid-sentence. It's extremely awkward. Shortly before the cut happened, Carol Anne had remarked about her mom not making dinner, and Diane said they would just get Pizza Hut. In the original cut of the film, Steven responds with a groan and says "I hate Pizza Hut." After the movie had locked picture and gone to print for distribution, Pizza Hut found out, and complained to MGM, leading the exchange to be removed. What makes much less sense is why several additional surrounding lines were chopped that had nothing to do with Pizza Hut. Most reports say the scene was axed before the film debuted in theaters. At the very least, no prints of that version are reported to exist currently, and every home video version dating back to the VHS days has the same awkward jump cut. A fan site has a
script excerpt of the deleted footage
.
It's been a while since I've seen the film, though it's never looked as good as it does on this new 4K UHD. Warner Brothers' restoration department did a fantastic job. Warner Brothers' marketing department, on the other hand, did a horrible job with the cover art. Serious, why not use the iconic poster image of little Carol Anne in front of the television? Who thought showing Craig T. Nelson's back in front of the glowing house was a good idea?!?
The
Poltergeist (1982)
4K UHD/Blu-ray Combo Pack is available in
Regular packaging
and
Steelbook packaging
. Older versions of the movie, without the Making Of and Trailer, are available on
Blu-ray Digibook
(I have this and the book is
really
beautiful),
Blu-ray
, and
DVD
Poltergeist II (1986)
and
Poltergeist III (1988)
are available in a
Double Feature Blu-ray
. Shout Factory also released both sequels separately with special features, but they are OOP:
Poltergeist II
and
Poltergeist III
.
Additionally, there's the
2015 Remake
and the
Cursed Films documentary
.
This item has been provided by Warner Brothers for review on this site.
No feedback yet
Leave a comment