By Paul Rudoff on Oct. 3, 2022 at 2:00 PM in Home Video, Horror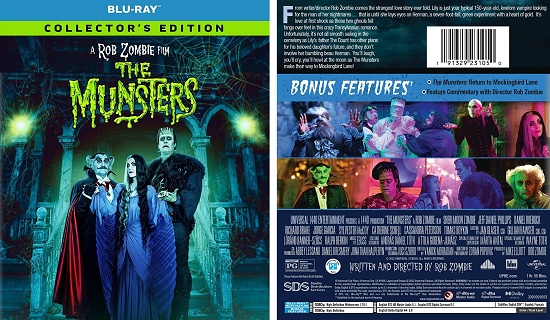 Hello Boils and Ghouls. The Halloween season is upon us, which means
lots of treats to enjoy
on October 31st. Join me as I take a look at Universal' recently released
Rob Zombie's The Munsters (2022) Blu-ray
. Read on to find out more...
[ SYNOPSIS ]
Lily (Sheri Moon Zombie) is just your typical 150-year-old, lovelorn vampire looking for the man of her nightmares... that is until she lays eyes on Herman (Jeff Daniel Phillips), a seven-foot-tall, green experiment with a heart of gold. It's love at first shock as these two ghouls fall fangs over feet in this crazy Transylvanian romance. Unfortunately, it's not all smooth sailing in the cemetery as Lily's father The Count (Daniel Roebuck) has other plans for his beloved daughter's future, and they don't involve her bumbling beau, Herman.
[ SPECIFICATIONS ]
The movie is presented in a 1.78:1 aspect ratio with a runtime of 1:49:46. The movie
has been rated
PG for macabre and suggestive material, scary images, and language. Audio languages include English and Spanish. Subtitle languages include English SDH and Spanish.
[ SPECIAL FEATURES ]
All of the content listed below can be found on the Blu-ray disc.
Audio Commentary - with director/writer/producer Rob Zombie.
The Munsters: Return To Mockingbird Lane (1:01:52) - An intimate window into Rob Zombie's filmmaking process. Watch as he weaves his way through the production and collaborates with a dedicated team to bring his unique vision to life.
[ ADDITIONAL INFORMATION ]
There is no digital copy code voucher included inside the standard one-disc blue Blu-ray case. The first print run includes an embossed slipcover.
[ NOTES ]
When the trailer (embedded below) was first released several months ago, I thought that the movie looked bad. Still, there have been trailers that have misrepresented films before (such as
Paddington
), so maybe the actual film would be better. I thought that it would be "so bad, it's good". Unfortunately, it's more like "so bad, it's bad".
It all goes wrong just a few minutes in when we get a completely out-of-place title screen. It would have been more appropriate to put the title over a shot of a full moon, or a crypt, or
anywhere
else. The whole film is tonally off, and at 11 minutes shy of two hours (with credits),
WAY
too long. The script is the bad guy here, which is the only bad guy to be found, as there's no discernible villains in the movie or, in fact, any actual obstacles in the "story". It's just one set piece after another, and then it just ends without any satisfying climax - or even an unsatisfying climax.
This film isn't the first time that other actors have inhabited the roles that were originated by Fred Gwynne (Herman), Yvonne DeCarlo (Lily), and Al Lewis (The Count/Grandpa). Some have done a better job than others, and here the standout is Daniel Roebuck as The Count. I've always liked Roebuck - and not just because he used to do annual haunted houses with Bob Burns (Tracy the Gorilla from
Filmation's live Ghostbusters
). He's the only reason to sit through this long and boring film. Jeff Daniel Phillips might look like Herman, but he sounds all wrong, while Sheri Moon Zombie proves once again why she only ever gets cast in her husband's films.
While it's not always pleasant to look at, and the jokes don't always land, it does have it's enjoyable moments. There's Richard Brake's overly campy performance, channeling Vincent Price from the Roger Corman 'Poe' movies. The production design is wonderfully cartoonish, and the strong colored lighting adds to the ghoulishness. Zombie also makes great use of stylized graphics and scene transitions, although the spinning backgrounds used for close-ups of the characters were ripped-off from the classic horror anthology
Creepshow
. It would be interesting to watch the film in black and white.
There have been numerous attempts to reboot the original series, but none of them have been successful. However, it still feels as though it has been done better, and on more than one occasion. In 1995, Fox's TV special
Here Come the Munsters
, was a delightful reiteration which provided the family an origin and was effective in spawning another sequel and being as close to the original series as you could get. Ten years ago, in 2012, the
Mockingbird Lane
unsold pilot, provided the family with a much darker edge that they desperately needed to settle into a new century. I do think a more serious and darker take on
The Munsters
is what would have been needed in 2022 instead of a rehash of the original show, which just exists as a vanity project for a hardcore fan.
Rob Zombie's The Munsters (2022)
is available on
Blu-ray
and
DVD
. (There is no combo pack with both discs.) After everything I wrote about the film, I can't recommend it as a blind buy. It is currently streaming on Netflix, so if you're already a subscriber,
watch it there
or pay a few bucks to
rent it on Amazon
. If you find it to your liking, then definitely purchase one of the discs.
For information on the original series, and all of the other Munsters movies and shows, check out
my The Munsters Complete DVD Collection review/article
.
This item has been provided by Universal Pictures Home Entertainment for review on this site.
No feedback yet
Leave a comment