By Paul Rudoff on Oct. 22, 2022 at 6:00 PM in Home Video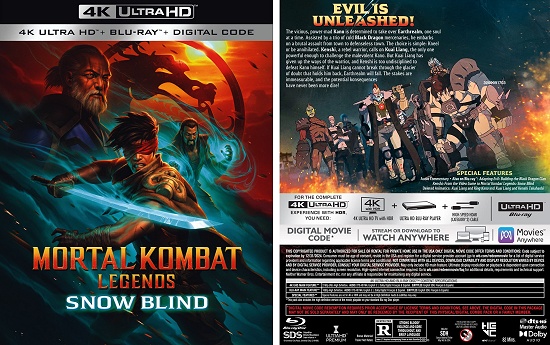 Warner Brothers recently released the
Mortal Kombat Legends: Snow Blind (2022) 4K UHD
. Read on to find out more about it...
[ SYNOPSIS ]
The vicious, power-mad Kano is determined to take over Earthrealm, one soul at a time. Assisted by a trio of cold Black Dragon mercenaries, he embarks on a brutal assault from town to defenseless town. The choice is simple: Kneel or be annihilated. But when the cocky and talented but undisciplined Kenshi doesn't take a knee, Kano and his clan destroy the young warrior, taking his eyesight and his confidence. Under the tutelage of reluctant, retired Kuai Liang, the only one powerful enough to challenge the malevolent Kano, Kenshi finds renewed hope and a clear path to redemption. But will it be enough to stop Kano from decimating all of Earthrealm?
[ SPECIFICATIONS ]
The movie is presented in a 1.78:1 aspect ratio with a runtime of 1:21:59. The movie
has been rated
R for strong bloody violence and gore throughout, and brief language. Audio languages include English. Subtitle languages include English SDH, French, German SDH, Spanish, and Dutch.
[ SPECIAL FEATURES ]
All of the content listed below can be found on the Blu-ray disc. The 4K UHD disc only contains the audio commentary.
Audio Commentary - with producer/director Rick Morales and screenwriter Jeremy Adams.
Adapting Evil: Building the Black Dragon Clan (9:26) - From King Kano to the evil ensemble of Mortal Kombat's deep cut characters, the filmmakers reveal the approach to bringing the sinister Black Dragon Clan to life.
Kenshi: From the Video Game to Mortal Kombat Legends: Snow Blind (7:41) - An in-depth exploration of fan favorite Kenshi Takahashi from his video game origins to his first sword-wielding animated appearance.
Deleted Animatics (5:05) - Two deleted scenes, "Kuai Liang and King Kano" (1:26) and "Kuai Liang and Kenshi Takahashi" (3:42), in storyboard form with limited temp audio.
[ ADDITIONAL INFORMATION ]
A digital copy code voucher is included inside the standard two-disc black 4K UHD Blu-ray case. The first print run includes an shiny slipcover.
[ NOTES ]
Mortal Kombat Legends: Snow Blind (2022)
is available on
4K UHD/Blu-ray
and
individual Blu-ray
. There is no DVD release, but given that you get both discs with the 4K release, it is the HIGHLY RECOMMENDED version to get. The film is extremely gory fun and will be liked by any fan of the video game franchise.
This is the third film in the
Mortal Kombat Legends
series.
Scorpion's Revenge (2020)
is available on
4K UHD/Blu-ray
and
Blu-ray/DVD
.
Battle of the Realms (2021)
is available on
4K UHD/Blu-ray
and
individual Blu-ray
. For links to more Mortal Kombat home videos, see my
Holiday Gift Guide - Action/Adventure Home Videos article
, which includes a review of
Battle of the Realms
.
This item has been provided by Warner Brothers for review on this site.
No feedback yet
Leave a comment