By Paul Rudoff on Oct. 21, 2022 at 6:00 PM in Home Video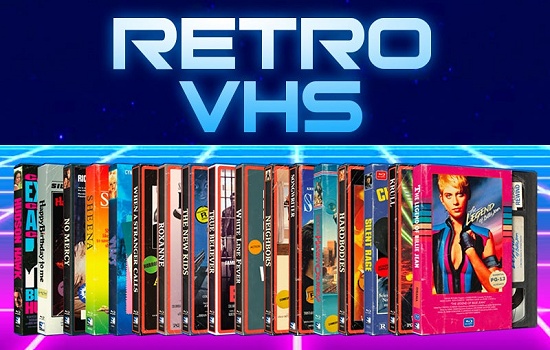 Mill Creek Entertainment's Retro VHS Style series has packaging designed to look like the
VHS videocassettes of the 1980s and 1990s
. I have reviewed
several other titles in the series
. Let's take a quick look at the latest titles in the series...
The vintage-looking VHS-inspired slipcover, with faux wear and tear, and fake "rental stickers" on it, is designed to give the appearance of a videocassette being pulled out from the right side, complete with tape label side on the right spine. The VHS-style artwork may be based on the original U.S. or U.K. VHS box art, or bear a similarity to it, using the same or similar photos, but in a different orientation. The case artwork underneath is different, either made in a modern style, or perhaps sticking closer to the original theatrical movie poster. The VHS-style slipcover may only be available for a limited time.
All of the following titles have already been released and are available for purchase from Amazon at the links provided. The Corner Penthouse will earn a very tiny commission for your purchase using these links.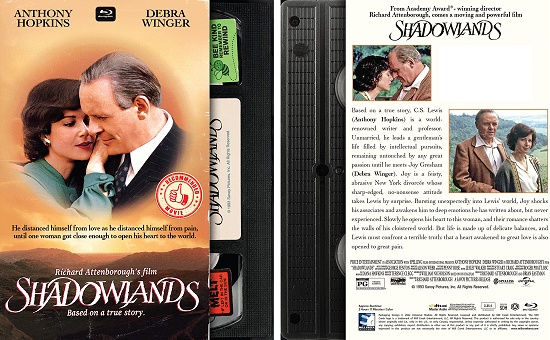 Shadowlands (1993)
• BUY IT:
Blu-ray
.
• VIDEOS:
Trailer
.
• SYNOPSIS:
Based on a true story, C.S. Lewis (Anthony Hopkins) is a world-renowned writer and professor. Unmarried, he leads a gentleman's life filled by intellectual pursuits, remaining untouched by any great passion until he meets Joy Gresham (Debra Winger). Joy is a feisty, abrasive New York divorcée whose sharp-edged, no-nonsense attitude takes Lewis by surprise. Bursting unexpectedly into Lewis' world, Joy shocks his associates and awakens him to deep emotions he has written about, but never experienced. Slowly he opens his heart to this woman, and their romance shatters the walls of his cloistered world. But life is made up of delicate balances, and Lewis must confront a terrible truth: that a heart awakened to great love is also opened to great pain.
• SPECIAL FEATURES:
The Garden Valley: Scoring Shadowlands
(18:26) - An exploration of George Fenton's score and his collaboration with Richard Attenborough on other films.
• RATING:
PG
for thematic elements.
• NOTES:
This is a charming love story directed by Richard Attenborough, whom you may know as John Hammond in
Jurassic Park (1993)
. Interestingly, he cast his co-star from that film, Joseph Mazzello (little Tim), as Douglas Gresham in this film. Also, the special feature was a complete shock as it is not mentioned on the case or the slipcover.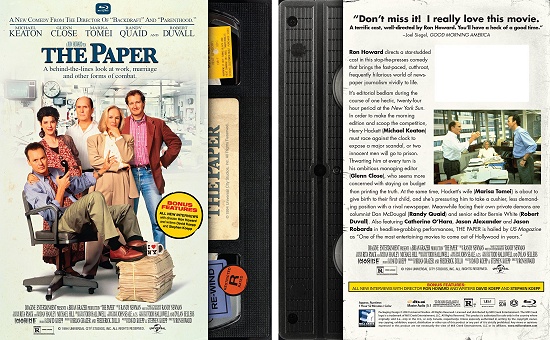 The Paper (1994)
• BUY IT:
Blu-ray
.
• VIDEOS:
Trailer
.
• SYNOPSIS:
It's editorial bedlam during one hectic, twenty-four hour period at the New York Sun. In order to make the morning edition and scoop the competition, Henry Hackett (Michael Keaton) must race against the clock to expose a major scandal, or two innocent men will go to prison. Thwarting him at every turn is his ambitious managing editor (Glenn Close), who seems more concerned with staying on budget than printing the truth. At the same time, Hackett's wife (Marisa Tomei) is about to give birth to their first child, and she's pressuring him to take a cushier, less demanding position with a rival newspaper. Meanwhile facing their own private demons are columnist Dan McDougal (Randy Quaid) and senior editor Bernie White (Robert Duvall).
• SPECIAL FEATURES:
Between the Lines: Inside The Paper
(25:26) - Director Ron Howard and writers David and Stephen Koepp reminisce on the making of the film in this newly-recorded featurette.
Shines for All: Stephen Koepp on The Paper
(8:10) - A newly-recorded interview with one of the film's co-writers.
Stop the Press: David Koepp on The Paper
(9:50) - A newly-recorded interview with one of the film's co-writers.
• RATING:
R
for strong language.
• NOTES:
Of the four titles released this month, this is the only one that my family actually owned the original VHS of, so seeing the slipcover on this Blu-ray brought back some memories. I was also thrilled to see that Mill Creek included some new special features on the disc.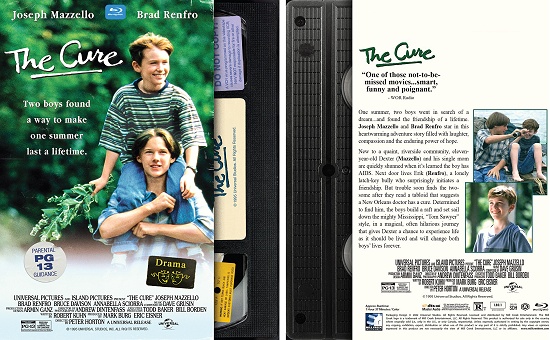 The Cure (1995)
• BUY IT:
Blu-ray
.
• VIDEOS:
Trailer
.
• SYNOPSIS:
New to a quaint, riverside community, eleven-year-old Dexter (Joseph Mazzello) and his single mom are quickly shunned when it's learned the boy has AIDS. Next door lives Erik (Brad Renfro), a lonely latch-key bully who surprisingly initiates a friendship. But trouble soon finds the two-some after they read a tabloid that suggests a New Orleans doctor has a cure. Determined to find him, the boys build a raft and set sail down the mighty Mississippi, "Tom Sawyer" style, in a magical, often hilarious journey that gives Dexter a chance to experience life as it should be lived and will change both boys' lives forever.
• SPECIAL FEATURES:
None.
• RATING:
PG-13
for emotional thematic elements, and for language.
• NOTES:
For some reason, I don't remember this film when it came out in 1995. I don't even remember seeing any TV spots for it during the commercial breaks of whatever shows I was watching at the time. At least I'm glad that I got to see it now, as it's a nice teen buddy film that I definitely would have enjoyed back in 1995.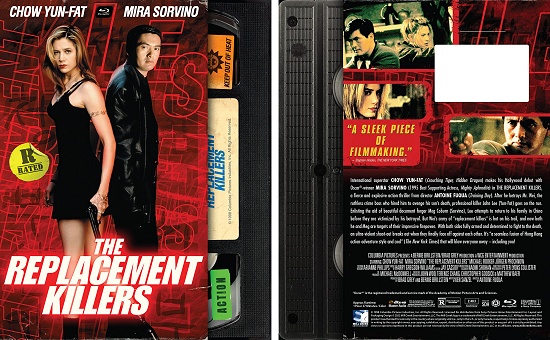 The Replacement Killers (1998)
• BUY IT:
Theatrical Cut VHS-Style Blu-ray
,
Extended Cut Blu-ray
.
• VIDEOS:
Trailer
.
• SYNOPSIS:
After he betrays Mr. Wei, the ruthless crime boss who hired him to avenge his son's death, professional killer John Lee (Chow Yun-Fat) goes on the run. Enlisting the aid of beautiful document forger Meg Coburn (Mira Sorvino), Lee attempts to return to his family in China before they are victimized by his betrayal. But Wei's army of "replacement killers" is hot on his trail, and now both he and Meg are targets of their impressive firepower. With both sides fully armed and determined to fight to the death, an ultra-violent shoot-out breaks out when they finally face off against each other.
• SPECIAL FEATURES:
None.
• RATING:
R
for strong violence and for language.
• NOTES:
This disc contains the 88-minute Theatrical Cut of the film, which was the Hollywood debut of international superstar Chow Yun-Fat and the directorial debut of Antoine Fuqua (
Training Day
). The 96-minute Extended Cut is not included (
comparison report
), but is available on a separate Blu-ray (link given above), which also includes two fluff EPK-style featurettes as special features. I have not watched both versions of the film, but from what I read, the Theatrical Cut is better as the extra footage in the Extended Cut slows down the pacing.

The "Retro VHS Style" series includes the following Blu-ray releases, which are being listed in the order they were released onto Blu-ray.

In October 2022, Mill Creek started a secondary line of VHS-style releases called "Vintage Video" DVDs. I'm really surprised that it took them so long to do a DVD line. The first five "Vintage Video" DVDs releases are
Krull (1983)
,
Crossroads (1986)
,
Renegades (1989)
,
Hudson Hawk (1991)
, and
King Ralph (1991)
. These DVDs are nearly identical to their Blu-ray counterparts, with the slipcovers containing only minor differences.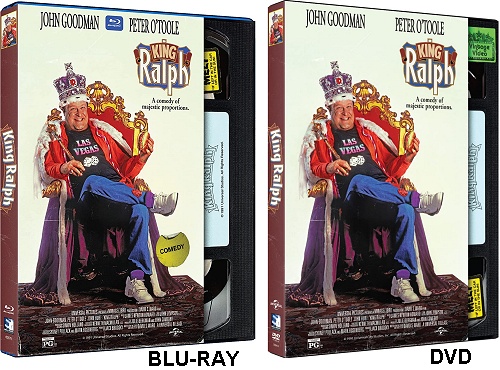 All of these items were provided by Mill Creek Entertainment for review on this site.
No feedback yet
Leave a comment