By Paul Rudoff on Oct. 14, 2022 at 11:30 PM in Personal, Public Service Articles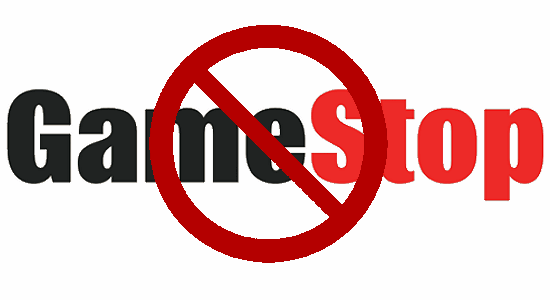 I've been a regular customer to GameStop stores for the past few decades, ever since they purchased all of the Funcoland and EB Games stores that were in the area. Although I don't go there for games anymore, I still go to check out what kind of pop culture collectibles and memorabilia they have. Usually, I have no issues on my visits, but today was the worst GameStop shopping experience I ever had. Read on to find out more...
On Friday October 14, 2022, at 4:28 PM Eastern, my sister and I visited GameStop Store #3769 (311 Merrick Road, Rockville Centre, New York). Although we go on shopping excursions together, we purchase items separately. Legally, we are separate households, though that really doesn't matter to the situation and is not something that we need to disclose to GameStop. GameStop employee/store manager Brendan Guerrin* (Associate ID: 576372) caused my sister and I extreme distress during this visit. Since he was the store manager, there was no one "above" him in the store we could talk to.
(*Although Brendan Guerrin refused to give me his last name, it can be easily found on
his public Linked In profile
, which also
tells me that
he's been the manager at the Rockville Centre GameStop store since October 2020. Prior to that, he was an assistant store manager from November 2018 to October 2020, and before that, he was a "senior game advisor" from November 2017 to November 2018. So far, Brendan has worked for GameStop for five years. If he treated other customers the way he treated my sister and I, I am really shocked that GameStop has kept him in their employ for so long.)
I was browsing through the store, gathering up an armful of pop culture collectibles that I would later write about on my websites, Spook Central and The Corner Penthouse. Brendan suggested that I put the items down on the counter because I was carrying around so much. I did that, and kept browsing throughout the store. Brendan took it upon himself to start ringing up my order, even though I did not instruct him to. I was not ready to checkout. I did not put my items on the counter for that reason. This was where Brendan started ruining the shopping experience.
As I continued browsing through the store, my sister wanted to buy her two items and be on her way. Brendan would not let my sister checkout because he was insistent that her items be included on my receipt, even though she is a different customer and has nothing to do with the items I was buying. Both my sister and I told Brendan that we were separate customers, but he absolutely REFUSED to ring us up separately. Brendan said that because we walked in together and were talking to each other, he MUST combine our orders. That makes zero sense, and is not a legitimate reason for why we couldn't purchase our items separately. Never once did Brendan provide a legitimate reason for his insistence on combining the orders of two different customers. All he kept saying was that it was something he had to do, and kept assuring me that he would split the payment. Splitting the payment isn't the issue at play here.
Brendan, literally, held my sister's order hostage because I was still browsing through the store. What kind of store employee does that? Other customers were allowed to checkout, but because my sister and I came into the store together and were talking with each other, he refused to ring her up separately. I politely asked him many times to do so, as did my sister, and he flat-out refused. That is not appropriate behavior for an employee of any store. How does GameStop benefit from Brendan's inappropriate behavior? Wouldn't the store benefit more if he had rung us up separately, as we both requested, because then the store could be seen as having TWO customers instead of just one?
My sister and I were both very tempted to leave the $75 worth of merchandise ($82 with tax) on the counter and just walk out, as we both felt utterly insulted by Brendan's inappropriate behavior. Unfortunately, I needed the items for my work writing about pop culture collectibles, and everything was on clearance sale, so I had to go through with Brendan's combined order bullshit.

(click to enlarge)
Thanks to Brendan's combined order, I was charged the wrong amount. My items came to a subtotal of $50.39, and when the New York 8.65% sales tax is added to it, it comes to a total of $54.74. Brendan charged me $55.33, which is an overage of $0.59. My sister was charged $26.00, even though her items, with New York 8.65% sales tax added, comes to a total of $26.59. I was forced to pay $0.59 from another customer's order!
I paid with cash, my sister paid with a debit card. Our finances are separate from each other because, even though we are related to each other, we are separate households. So, Brendan created a possible SECURITY RISK by including another customer's debit card information on my receipt. I can't believe GameStop would allow such a thing.
As it relates to me, the situation gets even worse. I frequently buy pop culture collectibles to write about on my websites, Spook Central and The Corner Penthouse. As these items are bought for my work, I am able to be reimbursed for them as "business expenses", as long as the receipt only contains my items. This is one of the reasons why I was insistent that Brendan ring up our items separately. I can't submit this receipt to my accountant and be reimbursed for these items thanks to Brendan. For the record, below are the pop culture collectibles I bought on this visit to GameStop, which are the types of items I have reviewed in the past on Spook Central and The Corner Penthouse. The Ghostbusters items are part of a
shopping report on the Spook Central Facebook page
.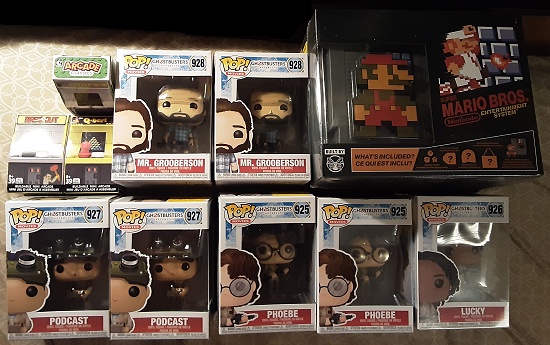 (click to enlarge)
There was no reason for Brendan to have acted like an asshole to my sister and I. He could have easily rung up our orders separately. My sister was only buying 2 measly items, and I bought a whopping 11 items. Heck, the other GameStop employee on duty could have rung up my sister's order on the other terminal in two minutes or less, as he did for other customers in the store, while Brendan held my order open on the other terminal. Instead, Brendan made her wait over 10 minutes to checkout because he was waiting for me to finish browsing through the store.
Furthermore, due to Brendan's behavior, if any items I purchased needed to be returned, the items would not be properly refunded to the proper payment method.  Anything I returned would be refunded to my sister's card, which I do not have access to, instead of the cash *I* paid.
I have already contacted the GameStop corporate office, as I told Brendan I would do, so that they can be aware of this horrible experience. I will update this consumer advocate report with GameStop's response, assuming someone from the company gets back to me. As far as I'm concerned, if GameStop wants to make this right with me, they need to send me a check for $55.33, preferably taken from Brendan's paycheck, to give me the reimbursement that Brendan's inappropriate behavior denies me from getting. I'd go so far as to say that my sister should be given a $26.00 check, also taken from Brendan's paycheck, to make up for this horrible experience that she had to go through, as well. At the very least, I hope that the GameStop corporate office contacts Brendan Guerrin at their Rockville Centre, New York store and takes severe disciplinary action against him so that he doesn't do this again to anyone else.
[UPDATE - 11/18/2022]
It's now over a month later, and the only reply I ever received from GameStop is the e-mail below, sent two weeks after my initial e-mail, which only asks if the issue was resolved. I said it wasn't, and never heard back since. Nor did I ever receive a reply to the physical letter I mailed to the GameStop corporate office (625 Westport Pkwy., Grapevine, TX, 76051) on October 15, 2022.
Date: Wed, 26 Oct 2022 22:02:50 +0000
Subject: [EXTERNAL] Serious Problem at Gamestop Store #3769 (Rockville Centre, New York)
From: GameStop Support (care@gamestop.com)

Hi there Paul,

We know it's taken much longer than usual to respond, and for that we are truly sorry. The customer service team here at GameStop is working diligently to improve our current processes so your experience will only get better in the future. Because we want to make sure we are working towards resolving all active inquiries- if your issue has already been resolved there is no action needed.

If your issue is still pending from your initial email to us, we kindly ask you respond to this message. By doing so, we will be expediting a response to you.

Thank you again so much for your patience and we look forward to gaming with you soon!

--------------------------------
This email is a service from GameStop.

[PM73PO-ZLWZM]
If anyone from GameStop actually replies to me, I'll be happy to update this article with their comments.  Otherwise, I take their lack of a reply to this serious issue to mean that GameStop corporate actually approves of Brendan Guerrin's unprofessional behavior.  As such, I can no longer support a company that condones such behavior by their employees.  My money will be given to other businesses.
[UPDATE - 5/9/2023]
Shockingly, almost SEVEN MONTHS after the incident occurred, I actually received a letter in the mail from GameStop headquarters. Interestingly, it's addressed to me with my middle initial and an apartment number that I did not give in my original letter dated October 14, 2022. Where did they get this information from; the old Pro Rewards account that I no longer use?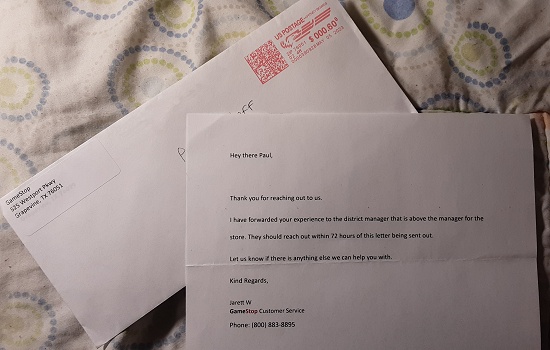 After all this time waiting for a response, it wasn't much of one.
Hey there Paul,

Thank you for reaching out to us.

I have forwarded your experience to the district manager that is above the manager for the store. They should reach out within 72 hours of this letter being sent out.

Let us know if there is anything else we can help you with.

Kind Regards,

Jarett W
GameStop Customer Service

Phone: (800) 883-8895
It awaits to be seen if I'll hear from the district manager.