By Paul Rudoff on Nov. 2, 2022 at 11:30 PM in Home Video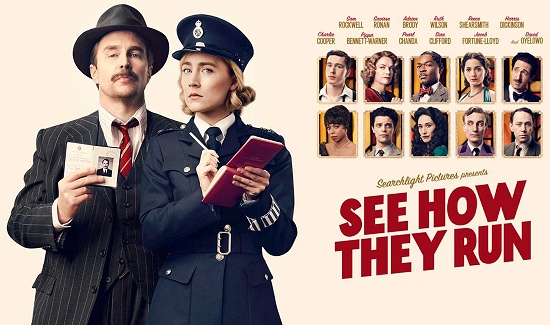 20th Century Studios/Disney recently released
See How They Run (2022) digitally
. Normally, I only review physical disc media releases, but this movie sounded interesting, so I decided to give it a watch. Read on to find out more about it...
[ SYNOPSIS ]
Welcome to the greatest murder ever staged! It is the West End of London in the 1950s, and plans for a movie version of a smash-hit play have come to an abrupt halt after a pivotal member of the crew is murdered. When world-weary Inspector Stoppard (Sam Rockwell) and his eager rookie sidekick, Constable Stalker (Saoirse Ronan), take on the case, the two find themselves thrown into a puzzling whodunit within the glamorously sordid theatre underground. The more they investigate the mysterious homicide, the more they realize that they do so at their own peril.
[ SPECIFICATIONS ]
The movie is presented in a 1.85:1 aspect ratio with a runtime of 1:38:09. The movie
has been rated
PG-13 for some violence/bloody images and a sexual reference. Audio languages include English, French, and Spanish. Subtitle languages include English SDH, French, and Spanish.
[ SPECIAL FEATURES ]
All of the content listed below can be found on
Movies Anywhere
. The special features may or may not appear on other services.
See How They Run Behind The Curtain (25:47) - Hear from the talented filmmakers and cast as they pull back the curtain on the filmmaking process which had its unique challenges and rewards. Take a look at the special access to famous locations as well as the care and detail used to recreate them.
[ NOTES ]
What a charming little meta murder mystery bolstered by a great performance from the adorable Saoirse Ronan as perky Constable Stalker. The interplay between Stalker and Sam Rockwell's Inspector Stoppard is what kept my interest from beginning to end. I would love to see the two characters return in a sequel, if not Stalker appearing in her own spin-off film.
Right now, you can buy or rent
See How They Run
(2022)
digitally on Amazon
. I can't find any pre-order listings for a Blu-ray or DVD release, but there is a
digital soundtrack album
.
I was able to find the movie's
Production Notes
document (Docx format, 6.3 Mb) on the
Disney/Getty Images press site
, which also has lots of images from the movie. Definitely worth checking out, as is the movie. You can also check out these behind the scenes featurettes:
Sam and Saoirse
,
Adrien & David
,
Spirit of Improvisation
, and
Costumes
.
This item has been provided by 20th Century Studios/Disney for review on this site.
No feedback yet
Leave a comment