By Paul Rudoff on Nov. 23, 2022 at 5:00 PM in Home Video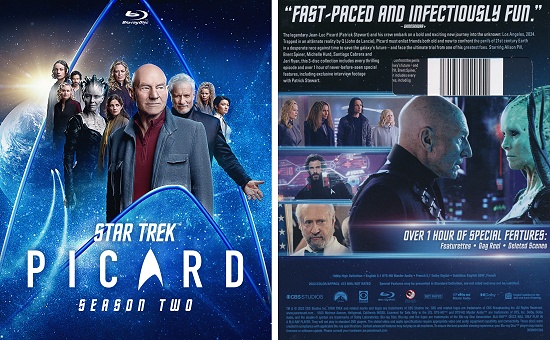 CBS Home Entertainment recently released the
Star Trek: Picard: Season 2 Blu-ray
. Read on to find out more about it...
[ SYNOPSIS ]
The legendary Jean-Luc Picard (Patrick Stewart) and his crew embark on a bold and exciting new journey into the unknown: Los Angeles, 2024. Trapped in an alternate reality by Q (John de Lancie), Picard must enlist friends both old and new to confront the perils of 21st century Earth in a desperate race against time to save the galaxy's future - and face the ultimate trial from one of his greatest foes.
[ EPISODES ]
The three-disc set includes all 10 episodes of the season that aired on the Paramount+ streaming service from March 3 through May 5, 2022.
01. "The Star Gazer" (Mar. 3, 2022) (54:13)
02. "Penance" (Mar. 10, 2022) (54:21)
03. "Assimilation" (Mar. 17, 2022) (47:20)
04. "Watcher" (Mar. 24, 2022) (45:26)
05. "Fly Me to the Moon" (Mar. 31, 2022) (41:18)
06. "Two of One" (Apr. 7, 2022) (38:52)
07. "Monsters" (Apr. 14, 2022) (46:31)
08. "Mercy" (Apr. 21, 2022) (48:22)
09. "Hide and Seek" (Apr. 28, 2022) (49:52)
10. "Farewell" (May 5, 2022) (48:07)
[ SPECIFICATIONS ]
The show is presented in a 2.39:1 aspect ratio. The show is Not Rated. Audio languages include English. Subtitle languages include English SDH.
[ SPECIAL FEATURES ]
All of the content listed below can be found on the Blu-ray discs.
The USS Stargazer (18:29) - The featurette takes a deep dive into the creation of the USS Stargazer from conception to build out and features exclusive timelapse photography alongside Production Designer Dave Blass, who brought the original TNG art department onboard, including the famed Star Trek graphic artist Michael Okuda, and design artists Doug Drexler and John Eaves to recreate the latest USS Stargazer.
The Chateau (15:24) - Led by Production Designer Dave Blass and Prop Master Jeff Lombardi, the featurette explores the transition of Picard's chateau following its redesign and conversion to the Dataverse in season one.
The Trial Is Over (12:04) - The intimate, behind-the-scenes look connects fans with John de Lancie, who reprises his role as Q, playing a significant part in the season two story arc.
Rebuilding The Borg Queen (11:11) - The featurette showcases actress Annie Wersching as she discusses stepping into the role of the Borg Queen. After 25 years, the iconic character returns through advanced design and production techniques, which are further discussed by Designer Neville Page, Prosthetics Master Vincent Van Dyke, and Make-Up Department Head James MacKinnon.
Picard Props (12:06) - Property Master Jeff Lombardi takes fans on a tour that showcases the various props created for season two.
Picard Passages (24:59) - Alongside the cast and crew, fans will follow the heroes through time and space as they encounter old and new friends and challenges in the latest season.
Gag Reel (3:55)
Deleted Scenes - For the episodes "Assimilation" (2:41), "Fly Me to the Moon" (3:18), "Monsters" (1:18), and "Farewell" (2:11).
[ ADDITIONAL INFORMATION ]
No digital copy code voucher is included inside the standard three-disc Blu-ray case. The first print run includes an embossed slipcover.
[ NOTES ]
This was a fun season, even better than the first, though the extended amount of time spent in 2024 Los Angeles made it feel less like Star Trek. It did have some Voyage Home vibes, and not just because an iconic scene from that movie was recreated with the same actor reprising his role. I also very much enjoyed the interplay between Seven of Nine (Jeri Ryan) and Raffi (Michelle Hurd) during their time on Earth, and it was nice to see Alison Pill get more screentime. Plus Whoopi Goldberg and John DeLancie reprise their classic roles, which was great, too.
Star Trek: Picard: Season 2
is available on
Blu-ray
and
DVD
. Season 1, which
I reviewed in 2020
, is available on
Blu-ray
,
Steelbook Blu-ray
, and
DVD
.
Picard's original series,
Star Trek: The Next Generation - The Complete Series
, is available on
Blu-ray
and
DVD
. All of the Next Generation theatrical films are available on
Blu-ray
,
Blu-ray Box Set
, and
DVD
.
This item has been provided by CBS Home Entertainment for review on this site.
No feedback yet
Leave a comment