By Paul Rudoff on Nov. 30, 2022 at 5:00 PM in Public Service Articles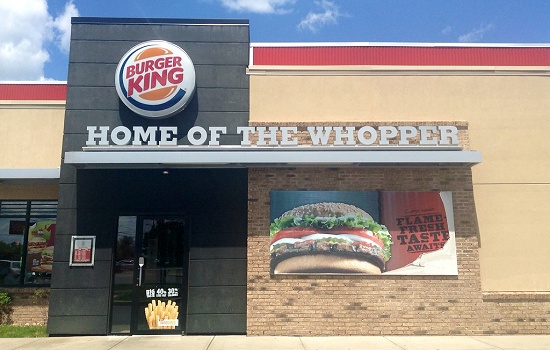 When you are a low-income family, you tend to eat at fast food restaurants because your budget doesn't allow you to regularly dine at healthier eating establishments. (Burger King and McDonald's use to offer salads, but both took them off their menus during the pandemic.) That the Burger King restaurant here in Valley Stream, New York is centrally located to all of the places where I normally run errands to, makes it a convenient place to get a cheap, quick bite. Lately, Burger King has been doing things that are giving me the desire to go out of my way to eat elsewhere. Read on to find out more...
The first issue is that the Burger King "Your Way" meal is not permanent, nor is there any indication of when it will go away or come back. I had the "Your Way" meal on Monday, November 14th at the Valley Stream restaurant. I went to have it again on Thursday November 17th, and the "Your Way" meal was no longer available. It was gone in JUST 3 DAYS!!!
In the past, I've noticed that the "Your Way" meal would be available for a month or two, then it would disappear for a few months, only to reappear without notice, but containing different burger items. The "Your Way" meal needs to be permanently on the menu, and with a consistent selection of burger(s). Burger King customers need the reliability of knowing that they can get it anytime. The competition, McDonald's and Wendy's, have both kept their value meals on their menus. Yes, they raised the prices on them, but they are still there. I can still go to McDonald's and get the double cheeseburger & small fries bundle ($3.99) and then add a *large* soft drink ($1) for $4.99 total. Wendy's still has their "Four-For-$4" deal, which is still $4.00 at some restaurants, and $4.99 at others (such as those in shopping malls - which tend to overcharge). Wendy's also has a "Biggie Bag" value meal for $5, which contains many of the burger options that used to be in the "Four-For-$4" deal. Neither McDonald's nor Wendy's are playing games with the availability of their value meals.
Furthermore, the pricing on the "Your Way" meal has been complete false advertising. On television, Burger King's commercials state that it is $5, but *every* Burger King restaurant that I've been to here on Long Island, New York always charged $6 for it, no matter when the deal was available and no matter which burgers were a part of it. That is a clear case of false advertising, which is illegal. Burger King is able to get away with it through the small print in the commercial that says "price & participation vary". Ummm, you are giving the price quite clearly and boldly, yet the price varies?!? The photo below is of the TV commercial that aired on November 13, 2022 at 9:40 pm Eastern on the AMC channel (click it for a readable enlargement). This is the exact same "Your Way" meal that I paid $6 for the very next day, and which was no longer available four days later.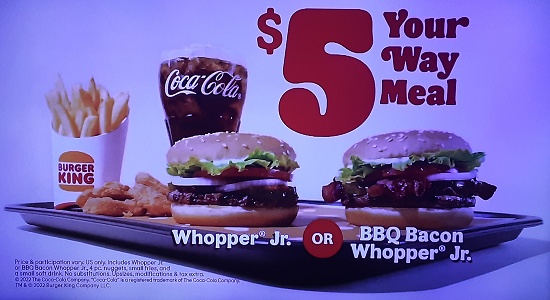 Since Burger King no longer has a value meal, I guess I will only go into Burger King when I have the coupons that I get in the mailings that come to my house - though those have been negatively changed, too. The coupons used to offer small fries and sodas with the sandwiches, and most of the meals would be $5 or less. Now, the coupons only offer meals with medium or large fries and drinks for $5 or higher. I'd like to be able to pay no more than $5 for a meal, especially if I don't want a medium or large fries and drink. The coupons should go back to being for meals with small fries and drinks. It should be up to *me* to decide if I want to upgrade the meal and pay a little bit extra to get a medium or large fries and drink. I should have the option to do that myself, and not be forced into it. Below is the sheet of coupons I got in the mail on November 26, 2022 (exp. 1/29/2023), followed by
a sheet from February 2022 (exp. 4/10/2022)
for comparison. This shows how Burger King changed things within the
same year
! The sheet from early 2022 shows the same meals (pretty much), but with the prices for the small size that should still be available. (click each for a readable enlargement)
This isn't the first time that Burger King has played around with their coupons. Back in November 2020,
I wrote about
how Burger King was charging the same prices for small and "value" sizes of the same meals.
For the past few years, I have been going to the Burger King restaurant here in Valley Stream, New York on a regular basis. Now, with the higher-priced coupons, and the lack of a consistently-available value meal, I'd rather walk to the other side of town and go to McDonald's. At least at McDonald's I know that I can always get what I want. So much for Burger King's claim of letting me have it my way.
I've made Burger King aware of these gripes
via an e-mail
on November 17, 2022 and a physical letter mailed to their corporate office (Restaurant Brands International [Burger King], 5707 Blue Lagoon Drive, Miami, FL 33126) on November 18, 2022. I have yet to receive a reply to either correspondence. If I hear back, I will update this article with their comments to these gripes.
[UPDATE - 12/3/2022]
Two weeks after I e-mailed Burger King Support, I received this reply:
Date: Fri, 02 Dec 2022 18:08:42 +0000
Subject: [Restaurant Brands International] Re: Thank you for contacting Burger King
From: Burger King (support@burgerking.zendesk.com)

##- Please type your reply above this line -##

Your request (7100105) has been updated. To add additional comments, reply to this email.
----------------------------------------------

Shawna D., Dec 2, 2022, 1:08 PM EST

Hi Paul,

Thank you so much for reaching out. We appreciate you taking the time to share this feedback with us. We will be sure to take this into consideration in the future.

Our team handles any issues related to online ordering and the use of our apps and websites, so please let us know if we can provide you with any support on those platforms.

Warm regards,
Shawna
That's really just an acknowledgment of my feedback. Nothing more, nothing less. I hope Shawna passed along my comments to someone higher up in the company, but I wouldn't be surprised if the buck stopped there. Let's see if I get a reply from the physical letter I mailed to the corporate office in Florida.
[UPDATE - 12/14/2022]
Although I have yet to hear back from the physical letter I sent to Restaurant Brands International's corporate office (if I do, I will post the response here), I did get some more Burger King coupons in the mail today. The price on the "2 Whopper Jr. Sandwiches & 2 Medium French Fries" coupon has gone up from $5.49 to $5.99. This is the same deal that was $3.99 at the beginning of the year when it came with the small-sized fries, which was much better for those of us on a budget.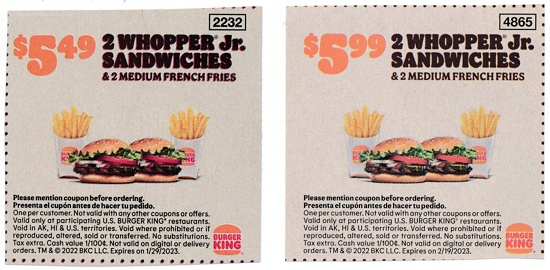 (exp. 1/29/2023 on left, exp. 2/19/2023 on right)
The deal still does not come with a beverage, which makes it undesirable to those of us who eat there alone.
[UPDATE - 1/9/2023]
Still no response to the letter I sent to Restaurant Brands International's corporate office. I doubt that I ever will hear from them. In other news, they're still continuing their shady advertising. The commercial below for the (returning) "$5 Your Way Meal" has been airing constantly on TV.
Insultingly, the commercial makes it a point to reiterate that the price is five Dollars: "...all for five bucks. Wait! That can't be right. Just confirmed that that's the real price." No, that's NOT the real price. As expected, the Burger King in Valley Stream, New York is still charging $6 for this "$5 Meal". I would be surprised if any Burger King here on Long Island is charging $5 for this meal deal. I never found one in the past.
[UPDATE - 1/19/2023]
Yesterday, January 18th, I received some Burger King coupons with the usual weekly supermarket circulars that come in the mail every Wednesday. This was printed on the back of the coupon sheet: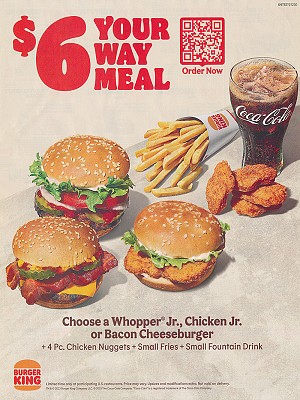 This is the first time I've ever seen the "Your Way Meal" advertised with a $6.00 price tag, outside of an actual Burger King restaurant, that is. Meanwhile, the commercial embedded above is still airing on television promoting it as a $5.00 deal, and even going so far as to proclaim that $5.00 is "the real price". Someone should file a class action false advertising lawsuit against Restaurant Brands International.
[UPDATE - 4/18/2023]
And the false advertising continues... The "Your Way Meal" now swaps out the drink for Chicken Fries, and ups the price to $6.00, as stated in this TV commercial that has been airing constantly.
However, as expected, actual Burger King restaurants aren't honoring that price.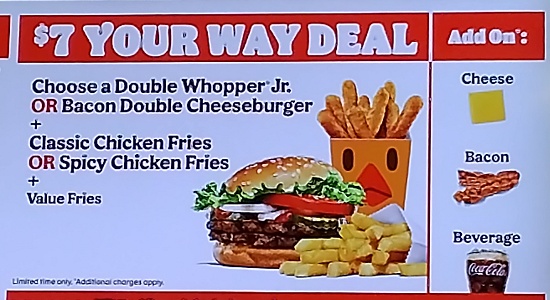 (Valley Stream in-store menu on April 18, 2023)
The meal that is being promoted on TV right now at $6.00, will cost you $7.00 in the actual Burger King restaurant. How can Restaurant Brands International get away with this?
No feedback yet
Leave a comment