By Paul Rudoff on Dec. 1, 2022 at 9:30 PM in Public Service Articles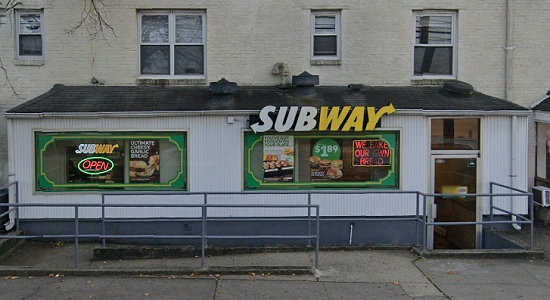 I am not a big fan of Subway restaurants. While they offer many wonderful sandwich options, the customer service I've experienced over the years has usually been anything but wonderful. After giving them second, third, and fourth chances, I am no longer going to give them anymore chances and have decided to stop visiting any Subway restaurants. Read on to find out why...
Here in Valley Stream, New York, there used to be three Subway restaurants. One used to be located inside the In-N-Out Convenience & Smoke Shop at 50 Sunrise Highway, but it went in and out of business a few years ago. Another is located inside the Walmart at Green Acres Mall, but I rarely remember that that one even exists. The third Subway is located at
204 West Merrick Road
(Store #16171), which is the one seen atop this article (photograph from 2019 by Google Maps). The employees at both non-Walmart Subway restaurants were "Coupon Nazis", arbitrarily making up their own rules about coupon usage, despite the Subway corporate office's clearly stated fine print on said coupons.
I distinctly remember wanting to use two 6" sub coupons at the now-defunct Sunrise Highway location a few years ago, and the Indian or Pakistani employee would not allow me to use them to get two of the same type of sub. He had no problem allowing me to use two coupons at the same time, but he had a major issue with them both being for the same exact thing. It didn't matter that the subs were for two different people. It didn't matter than the coupons didn't state any such limitation. He chose to make up his own rules. After that experience, I never visited that restaurant ever again, and a few months later, it was out of business. Good riddance.
I have a low tolerance for bullshit, especially from minimum wage employees who
unnecessarily act like bullies
because they want to make themselves feel bigger by lording what little power they have over the customers they are supposed to be beholden to. If I am abiding by the rules of the coupon (or sale or whatever), and the store's computer system allows the sale to take place, then allow me to make the purchase I want to make, and let me be on my way in peace. There is no need for an employee to give me grief over such minor things that don't affect them or their paycheck.
For the next few years, I would throw out all of the Subway coupons I would get in the mail every few months. The previous Subway coupon experience, and others that I've forgotten about, left such as bad taste in my mouth that I had no interest in ever visiting another Subway restaurant.
In late-July 2022, I received the usual Subway coupons in the mail, and for whatever reason, I decided to give Subway another chance. By this point, the Merrick Road location was the only one left in town, so I went there. I had absolutely no issues using six or seven coupons over a two week period. I had Cold Cut Combo subs, Meatball subs, Roast Beef subs, a Tuna sub, and even one of their new "Subway Series" subs (either the "All-American Club" or "The Boss"). It was the best experiences I ever had at Subway, and the store got more money from me over those two weeks than any Subway had over the past several years.
With me now having a more positive outlook on Subway, when more coupons arrived at the end of August 2022, I did not hesitate to return to the Merrick Road store. This time, however, the experience would be far different. After I told the elderly male Indian or Pakistani employee (I don't know his name because he didn't wear a nametag) that I wanted a Roast Beef sub, he immediately told me that I couldn't get it with a coupon. I did not have a coupon in my hand, I didn't mention one, nor did I give any indication that I was going to use one. He just took one look at me and assumed I was going to use one. That's the very definition of profiling. I doubt that Subway trains their employees to profile their customers. I wonder if me being a different skin color than him has anything to do with it. I'd like to think that it doesn't, but this isn't the first time I've been treated "differently" by an Indian or Pakistani employee of a store. (There was an incident over 10 years ago at the Walmart that used to be in Sunrise Mall in Massapequa, New York where both a male and female employee of Indian or Pakistani ethnicity kept tracking my parents and I as we shopped in the electronics section, and would not let us out of that section to shop elsewhere in the store, until we paid for our stuff, because they looked at us and thought we were gonna steal. I take such pleasure in knowing that that store is out of business.)
I told the Subway employee that the coupon does not forbid the purchase of a Roast Beef sub, not to mention that I had no problem buying them with the same coupons the month prior, but he wasn't hearing any of it. Seeing that I was not going to get through to him, I left in disgust and later ripped up all of the Subway coupons I had in my pocket. When I got home, I sent
an e-mail to Subway
to let them know what happened. I received a reply a few days later from Zahid Qureshi, the store manager, apologizing for the incident. (As I thought that would be the end of it, I did not save a copy of my message to Subway, or the one I received from Zahid. I wish that I did, so that this article could be more complete.)
For the past three months, I stopped going to Subway. Despite the apologetic reply from the store manager, I did not feel comfortable going back there. More coupons arrived in the mail on November 30th, but I wasn't sure if I should just throw them out or if I should give Subway yet another chance. I wanted to believe that after receiving my e-mail, the store manager talked to the employee, and that things would be different this time. I wouldn't know if that would be the case unless I paid another visit to the restaurant, so on December 1, 2022 at 1:40pm, I went back to the Merrick Road store.
This time my order was taken by a young female employee named Janvi, who is likely of Indian ethnicity, as her name is Hindi. I told her that I wanted a 6" Roast Beef sub. She asked me if I was using a coupon. While it's nice that she didn't make the assumption that I was using one, like the elderly male employee (who was standing nearby) back in August, I still have to wonder why she asked when (1) I didn't have a coupon in my hand or mention that I was going to use one, and (2) I did not witness her asking any of the other customers if they had coupons. What is it about me that would have prompted her to ask? I never saw her before, so it could not even be reasonable assumed that she remembered me from using the coupons in July. Not to mention the fact that that was four months ago, and lots of other customers have come and gone in that time.
I told her that, yes, I was going to use a coupon. Specifically, I was going to use the "Get A 6" Meal for $5.99" coupon. Having a feeling that the Subway employees would give me trouble, I was smart enough to snap a pic of the coupon (and the others I clipped) before I left the house. You can click it for a readable enlargement.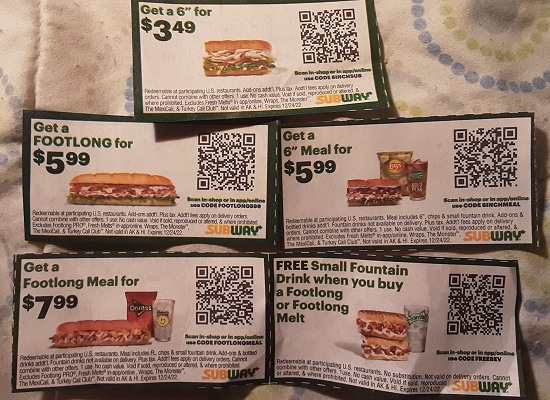 Janvi said that I could not get the Roast Beef sub with the coupon. I pointed out that the coupon, which you can read in the enlarged photo above,
only
"excludes Fresh Melts, Wraps, The Monster, The MexiCali, & Turkey Cali Club". It does NOT exclude the Roast Beef sub. She looked at the elderly male employee, who joined in on the LIE that the Roast Beef sub was not allowed on the coupon. I took the coupon out of my pocket and showed it to both of them, to point out what it specifically excluded, and what it didn't. He said that the coupon only allowed "regular subs". I pointed to the in-store menus, which showed the Roast Beef sub listed on the white-backed menu on the right side wall, which also listed the Cold Cut Combo and other basic subs. The Roast Beef sub was NOT listed on one of the green-backed menus which listed the
12 new "Subway Series" subs
- of which, I'd like to point out, only the "The Monster", "The MexiCali", and the "Turkey Cali Club" are specifically excluded. That means, technically, the other 9 "Subway Series" subs are allowable on the coupon. (The stock photo below will show you what the Subway in-store menus look like, though at the Valley Stream location, "Cheesesteaks" is on the left wall, the other three green-backed screens are on the back wall, and one white-backed screen is on the right wall.)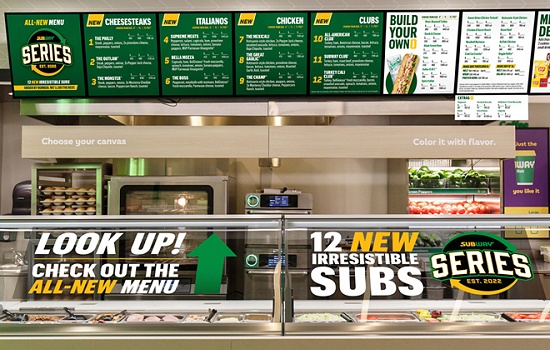 After I refused to accept their lies, the elderly male employee relented and said that he will "accept it this time", as if he was doing me a favor when the coupon specially allows me to get any sub except for the ones specifically stated to be excluded. The fact that the register's computer system accepted the coupon for the Roast Beef sub, just as it did for every sub I bought with coupons back in July, proves that it's the individual store management that is purposely limiting the use of these coupons, not the coupon itself or the Subway corporate office who created the coupons.
This "regular sub" bullshit is just the store management's way of saying, despite the coupon stating otherwise, "we only want you to get the cheapest subs we have so that we have to give up the least amount of money from the use of the coupon." Even a sub, like Roast Beef, that is only $1 or so more than a Cold Cut Combo isn't allowed because the management doesn't want to give up that extra Dollar. For the record, the Subway website lists the following 17 subs as
"Classic Sandwiches"
: Black Forest Ham, Buffalo Chicken, B.L.T., Chicken & Bacon Ranch, Cold Cut Combo, Grilled Chicken, Italian B.M.T., Meatball Marinara, Oven Roasted Turkey, Oven Roasted Turkey & Ham, Roast Beef, Rotisserie-Style Chicken, Spicy Italian, Steak & Cheese, Sweet Onion Chicken Teriyaki, Tuna, and Veggie Delite. If we believe the "only regular subs are allowed on the coupon" lie, then every one of these 17 subs would be allowed - even Roast Beef!
Since the employees and management of the Subway at 204 West Merrick Road in Valley Stream, New York continue to be Coupon Nazis, making up their own rules, which go against what the coupon specifically states, gives me the reason to never go there again. I've given Subway several chances to do things the right way. Instead, they continue to want to do things
their
way, so today was their last chance. There is a
Burger King
, Popeyes, two Mom & Pop pizzerias, and other restaurants in the immediate vicinity of this Subway location. All of them will get my money from now on.
[UPDATE - 12/3/2022]
I used the
Subway Guest Care contact form
to send a message to Subway on December 1, 2022 at 10:24 pm Eastern. At 11:43 pm, a mere 1 hour 20 minutes later, I received this e-mail from Zahid Qureshi, the manager of Store #16171:
Date: Thu, 1 Dec 2022 20:43:29 -0800 (PST)
Subject: Your recent Subway® Experience
From: Zahid Qureshi (Subway-Listens@app.medallia.com)

Dear Paul Rudoff,

I want to take a moment to thank you for contacting me and to extend my apologies for the less than ideal experience that you had in my restaurant.

I understand that my staff's behavior during your visit did not meet your expectations. I know that we have let you down, and for that, my team at this Subway® restaurant is sorry. We are dedicated to handcrafting our meals in a welcoming environment.

It seems ultimately the coupon was accepted. I've explained the situation to the employee.

I am always looking for ways to improve the restaurant experience for my customers, so I shared your feedback with my team to prevent this from happening in the future.

Thank you for choosing Subway® and we look forward to seeing you soon.

Zahid Qureshi
This is, pretty much, the same message I received from Zahid back in late August. In fact, I bet if I had kept a copy of that August reply, I would find it to be
exactly
the same, or damn close to it, right down to the phrasing. I can tell that the message is comprised of pre-written text, as the wording is quite generic and "corporate", and humans don't include the "registered trademark" symbol when they write to each other.
I find it hard to believe that Zahid "explained the situation to the employee" given the fact that the store was already closed (at 9:00 pm) by the time I sent my message to Subway (at 10:24 pm), and Zahid's message was received LESS THAN 90 MINUTES LATER; at 17 MINUTES UNTIL MIDNIGHT! Had Zahid waited even a day to reply, his statement would have a bit more believably to it, and even then, I'm sure he said the
exact
same thing to me in the reply from August (also comprised of pre-written text)...and clearly no one at the store changed their behavior.
No feedback yet
Leave a comment