By Paul Rudoff on Dec. 4, 2022 at 5:00 PM in Public Service Articles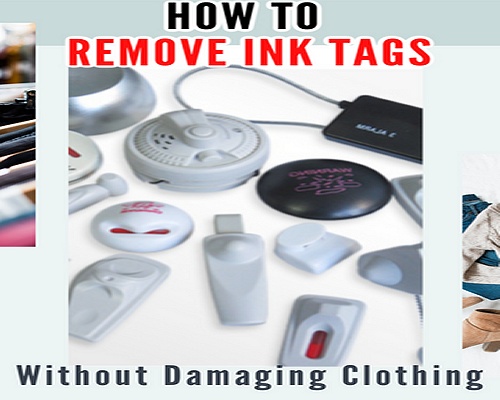 Retail stores use hard security tags on clothes, purses, and some other supposedly "expensive" items to prevent the items from being stolen. That is all well and good - except for the ones Walmart and Target put around DVD box sets that cut indentations in the boxes - but what happens when you take the item home and notice that the store employee forgot to remove the tag? Read on to find out...
My original intention was to write an article covering the various tags and the easiest and cheapest ways to remove them. Then I found that the folks at Big Brand Wholesale
already did that back in May of 2020
. Since that article already covers the topic better than I ever could, I'm just going to write a short "addendum" to it stating what I, personally, have done for the tags I've come across. I highly suggest that you read the Big Brand Wholesale article first, as I won't be as detailed as it is.
1. MAGNET-REMOVAL TAG
- This is the first tag I had to remove, which was on a pair of Star Wars lounge pants purchased at Spencer's Gifts. It is the type with ink capsules in the tag, which looks like this (design may vary):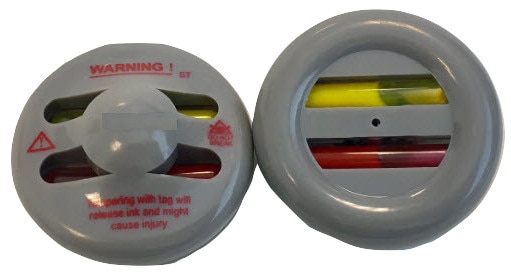 At first, I tried various YouTube hacks involving cutting into the tag and burning/melting it. That was a waste of time, and thankfully, did not cause any harm to me or the garment. Then I read that the tag could easily be removed with a powerful magnet. After a few minutes of thought, I remembered that I had an old Radio Shack/Realistic High-Power Video/Audio Tape Eraser (Cat. No. 44-233A) sitting in the attic: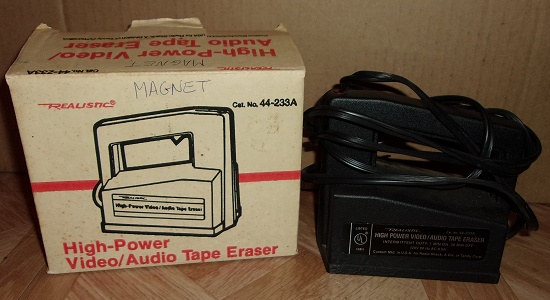 (click to enlarge)
That device is actually a powered magnet. It plugs into a wall outlet, and when the trigger is pressed, the magnet activates. I put it up against the magnet side of the tag, pressed the trigger, and in two seconds, the tag fell off. No muss, no fuss. That said, the device has an unusual quirk: It will only work for 1-minute at a time, after which it requires a 30-minute rest period before it will work again.
Since Radio Shack is out of business, you can only buy the
High-Power Video/Audio Tape Eraser used on Amazon
and other sites, and it may not be very cheap. A cheaper, and non-powered option, is the
DIYMAG 40x40x20mm Super Strong Neodymium Block Magnet
or the slightly higher-priced
15000GS Golf Tag Magnet
, both of which the folks at Big Brand Wholesale recommend.
2. SLIDE-REMOVAL TAG (HOOK TOOL)
- This tag was found on a purse that my sister bought at a thrift store. I tried the magnet on it, but it did nothing. That's when I learned that there is more than one type of security tag. This tag isn't secured with a magnet. Instead, this "Garvey Tag" has a slide-lock that can only be accessed through a hole on the side of the tag.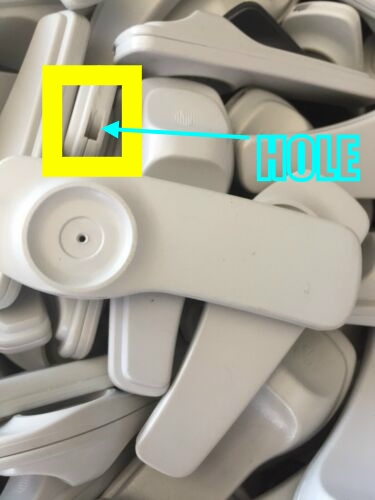 There is a special tag detacher for this, but it is not cheap. Big Brand Wholesale says that you'll find a cheap one for $24 that will break in 2 days, but that a good quality one will cost anywhere $40-$125. Amazon has one that is
intentionally mislabeled as a "Handheld Quilt Fixer Kit"
, so as to prevent Amazon from removing the listing. It seems that the loss prevention industry has made Amazon and eBay remove listings for security tag removers, as they are not as easy to find and plentiful as I would expect them to be.
Since I am not looking to spend a lot of money on something that will be rarely used - as I just need a tag remover for those rare instances when an item that I legitimately purchased still has the tag on it - I have zero interest in even spending $24 on this, much less $40-$125. That's when I found that there is also a "hook tool" that, supposedly, will remove slide tags. It looks like this:
Although the Big Brand Wholesale article says that they are garbage, I was willing to take a chance on it since I had no desire to spend much money on this. I found none on eBay; as I said, it seems that eBay and Amazon frown upon the sales of tag removers. There are
some on Amazon
, the cheapest of which is
intentionally mislabeled as a "Coat Hook"
. It cost me a total of $9.64 ($8.87 + free shipping + $0.77 tax). An interesting, and at first worrisome, quirk of Amazon's site is that the listing page will show the proper item, but your order page will show a legitimate coat hook. Thankfully, the item you will receive will match the listing image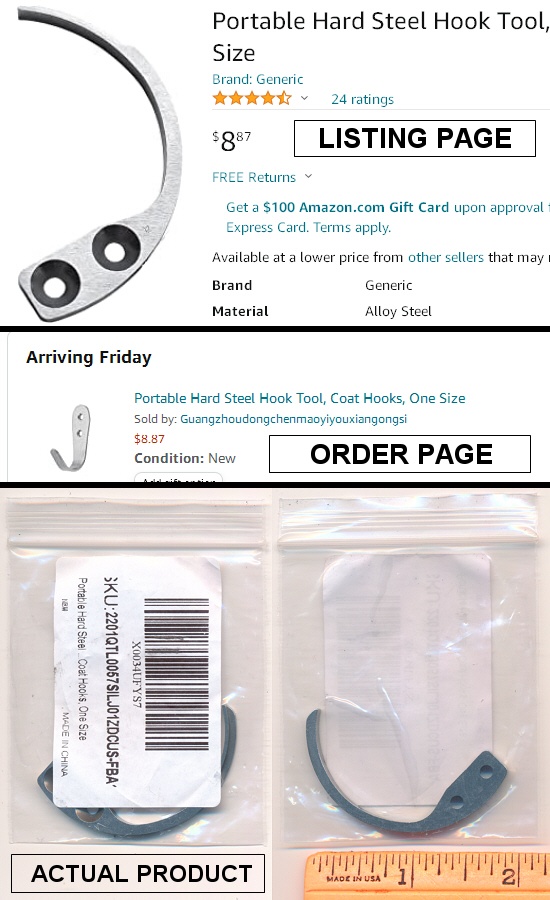 Unfortunately, my sister no longer has the tag on the purse - in her impatience, she broke it off with a fork, damaging the purse in the process - so I am unable to test out this hook tool. The Big Brand Wholesale article says that "these are super cheap metal, do NOT work and usually break before they even take off a single tag." The one in my possession doesn't seem like cheap metal at all. I can't tell you whether it would break before getting a single tag off, but I really don't think it would.
The one thing you can't tell from the online stock photos is how TINY the hook tool is. As you can see in my photo, it is only a mere 2-inches in size! That does make me think that the Big Brand Wholesale crew is right about it being "hard to hold and even harder to maneuver". I can't say, for sure, as I no longer have a tag to try it on.
3. GATOR CLAMP-REMOVAL TAG
- This is the only type of the three tags that I have not come across yet, so I can't really say much here. This tag looks like this:

There is a gadget specially built to remove these tags called a "Gator Tag Remover", which the Big Brand Wholesale gang said could be bought for $20 on eBay back in May 2020. There are none listed now, which is more evidence that eBay is not allowing security tag removers to be sold there. They say that you can pry apart the Gator tag using either
this three-pack of mini pry bars
, or by using the "beak" end of
this really large pry bar
. The article doesn't show, or specify, how you would use these pry bars to break apart a Gator tag. Should I ever get an item with a Gator tag stuck on it, I'll let you know.
That's all I really have to say about this topic based on personal experience. Like I said, the
Big Brand Wholesale article
goes over this way better than I ever could.
No feedback yet
Leave a comment