By Paul Rudoff on Jan. 17, 2023 at 9:20 PM in Home Video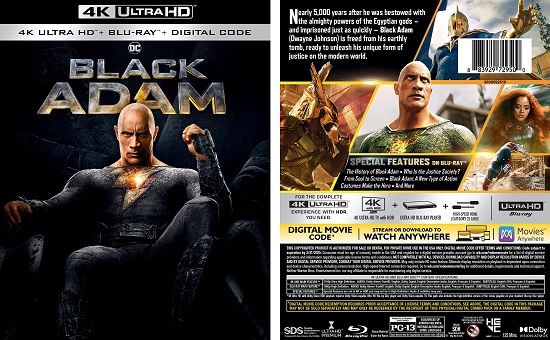 Warner Brothers recently released the
Black Adam (2022) 4K UHD
. Read on to find out more about it...
[ SYNOPSIS ]
Nearly 5,000 years after he was bestowed with the almighty powers of the ancient gods - and imprisoned just as quickly - Black Adam (Dwayne Johnson) is freed from his earthly tomb, ready to unleash his unique form of justice on the modern world.
[ SPECIFICATIONS ]
The movie is presented in a 2.39:1 aspect ratio with a runtime of 2:04:52. The movie
has been rated
PG-13 for sequences of strong violence, intense action, and some language. Audio languages include English, Spanish, French, Italian, and German. Subtitle languages include English SDH, French, German SDH, Italian SDH, Spanish, Danish, Finnish, Norwegian, and Swedish.
[ SPECIAL FEATURES ]
All of the content listed below can be found on the Blu-ray disc. There are no special features on the 4K UHD disc.
The History of Black Adam (10:08) - Sarah Shah, who is aided by DC head archivist Benjamin Leclear, overviews the title character's history in comics.
Who is the Justice Society? (14:16) - Aldis Hodge overviews the Justice Society's history in comics.
From Soul to Screen (6:09) - Producer Hiram Garcia, Dwayne Johnson, and other contributors talk about bringing the character to film.
A Flawed Hero (5:09) - The cast and crew discuss the title character's strengths and weaknesses.
New Tech in an Old World (4:49) - Hiram Garcia, set decorator Larry Dias, production designer Tom Meyer, and others talk about the film's scope, locations, and overall design.
Taking Flight (3:32) - Members of the cast and crew talk about the flight special effects.
Kahndaq: Designing a Nation (6:27) - A discussion of the main city, including its construction and importance to the story.
The Rock of Eternity (5:42) - The Rock's - no, not the star of the film - place in the character's comic history and its brief appearance in the film.
Costumes Make the Hero (8:25) - A look at the film's costume designs.
A New Type of Action (6:38) - Cast and crew members provide an overview of the massive action scenes.
[ ADDITIONAL INFORMATION ]
A digital copy code voucher is included inside the standard two-disc black UHD case. The first print run includes a shiny slipcover.
[ NOTES ]
Black Adam (2022)
is available on
4K UHD
,
Blu-ray
, and
DVD
.
This item has been provided by Warner Brothers for review on this site.
No feedback yet
Leave a comment