By Paul Rudoff on Jan. 16, 2023 at 7:00 PM in Home Video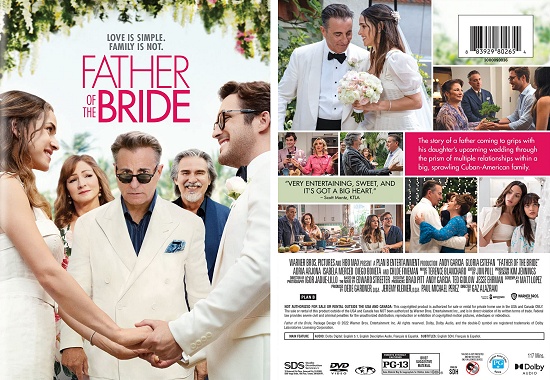 Warner Brothers recently released the
Father of the Bride (2022) DVD
. Read on to find out more about it...
[ SYNOPSIS ]
Billy (Andy Garcia) and Ingrid (Gloria Estefan) are surprised when their eldest daughter Sofia (Adria Arjona) announces a new fiance, Adan (Diego Boneta), and plans for a quick wedding. The news keeps Billy and Ingrid from announcing that they're planning to divorce... but they hold off for the benefit of the family. Billy's initial opposition to wedding cools, so long as his opinions carry the most weight. Soon, Adan's headstrong father (Pedro Damian) arrives with his own traditions and family pride in tow. With the fathers vying to control the festivities, it becomes a game of one-upmanship—cultures clash, generations take sides and competing traditions collide. All relationships are tested as the roller coaster ride of wedding planning races toward the altar.
[ SPECIFICATIONS ]
The movie is presented in a 2.39:1 aspect ratio with a runtime of 1:57:30. The movie
has been rated
PG-13 for brief suggestive material. Audio languages include English, English Descriptive, French, and Spanish. Subtitle languages include English SDH, French, and Spanish.
[ SPECIAL FEATURES ]
There are no special features on the DVD disc.
[ ADDITIONAL INFORMATION ]
No digital copy code voucher is included inside the standard one-disc black DVD case, nor is there a slipcover.
[ NOTES ]
Father of the Bride (2022)
is only available on
DVD
. The film premiered on HBO Max on June 16, 2022, and I suspect that Warner Brothers wants the HD copy of the movie to remain as a streaming exclusive, which is why it's only getting a DVD disc release. Yes, there is NO BLU-RAY RELEASE!
If the film's title sounds familiar, that's because this is the fourth film based on the
1949 novel "Father of the Bride" by Edward Streeter
. The 1950 movie starring Spencer Tracy is available on
Blu-ray
and
DVD
. The 1991 film starring Steve Martin, and its 1995 sequel, are in a "2-Movie Collection" that is available on
Blu-ray
and
DVD
.
This item has been provided by Warner Brothers for review on this site.
No feedback yet
Leave a comment