By Paul Rudoff on Jan. 15, 2023 at 7:00 PM in Home Video, Horror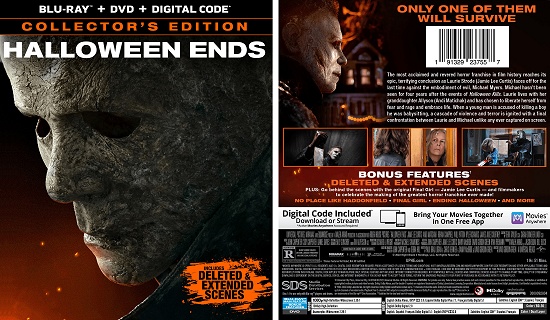 Universal Pictures Home Entertainment recently released the
Halloween Ends (2022) Blu-ray
. Read on to find out more about it...
[ SYNOPSIS ]
Four years after her last encounter with masked killer Michael Myers (James Jude Courtney), Laurie Strode (Jamie Leigh Curtis) is living with her granddaughter Allyson (Andi Matichak) and trying to finish her memoir. Myers hasn't been seen since, and Laurie finally decides to liberate herself from rage and fear and embrace life. However, when a young man stands accused of murdering a boy that he was babysitting, it ignites a cascade of violence and terror that forces Laurie to confront the evil she can't control.
[ SPECIFICATIONS ]
The movie is presented in a 2.39:1 aspect ratio with a runtime of 1:50:41. The movie
has been rated
R for bloody horror violence and gore, language throughout and some sexual references. Audio languages include English, Spanish, and French. Subtitle languages include English, Spanish, and French.
[ SPECIAL FEATURES ]
All of the content listed below can be found on the Blu-ray disc.
Audio Commentary - with co-writer/director David Gordon Green, actors Andi Matichak and Rohan Campbell, co-producer/first assistant director Atilla Salih Yucer, and production assistant Hugo Garza.
Deleted and Extended Scenes (7:06) - Includes "Michael Shakes Things Up", "Joan's Bunny Slam", "Corey Reflects Upon Himself", "Ronald's Stuck at Work", "Margo Gets the Boot", and "Joan's Recipe for Disaster".
Final Girl (4:40) - The iconic Jamie Lee Curtis discusses the legacy of Laurie Strode and what playing the character has meant to her.
No Place Like Haddonfield (7:49) - Filmmakers and cast reveal some of the secret ingredients that make Halloween productions so special and their personal feelings on being a part of such a classic franchise.
Gag Reel (2:45).
Ending Halloween (8:26) - Halloween could never truly end without a decisive showdown between Laurie and Michael. Explore the creative team's approach to crafting the film's final sequence.
A Different Threat (5:43) - As Haddonfield evolves to a new era, we examine how the evil within has also evolved.
The Visions of Terror (5:47) - See how various production departments came together to achieve the film's unique visual style.
Twisted Deaths (5:02) - An up-close look at some of the gruesome death scenes.
[ ADDITIONAL INFORMATION ]
A digital copy code voucher is included inside the standard two-disc blue Blu-ray case. The first print run includes an embossed slipcover.
[ NOTES ]
Well, that was something different. A
Halloween
film which has Michael Myers in it, but isn't about Michael Myers. This is the third film in a recent trilogy, with the first two being
Halloween
(2018) and
Halloween Kills
. I have not seen either of those films, and I could not procure a copy of the trilogy set by press time, so I don't know if the new protagonist Corey Cunningham (Rohan Campbell) is the main character in those films, as well, or if he's introduced here.
Ends
is not a bad film overall, but it might be the worst
Halloween
film of the dozen or so films that bear that title.
Halloween Ends (2022)
is available on
4K UHD
,
Blu-ray
, and
DVD
. It is the third film in the recent trilogy, which is available as a three-disc set on
4K UHD
and
Blu-ray
.
This item has been provided by Universal Pictures Home Entertainment for review on this site.
No feedback yet
Leave a comment