By Paul Rudoff on Jan. 14, 2023 at 7:00 PM in Home Video, Animation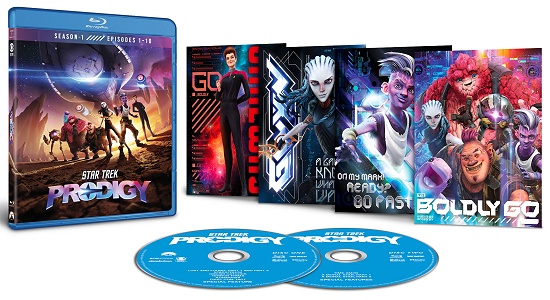 CBS Home Entertainment recently released the
Star Trek: Prodigy: Season 1, Volume 1 Blu-ray
. Read on to find out more about it...
[ SYNOPSIS ]
Star Trek: Prodigy follows a motley crew of young aliens who must figure out how to work together while navigating a greater galaxy, in search of a better future. These six young outcasts know nothing about the ship they have commandeered a first in the history of the Star Trek franchise but over the course of their adventures together, they will each be introduced to Starfleet and the ideals it represents.
[ EPISODES ]
The two-disc set includes the first 10 episodes of the season that aired on the Paramount+ streaming service. The second half of Season 1, which is NOT included here, aired from October 26, 2022 to December 21, 2022.
1&2. "Lost and Found" (Parts 1 & 2) (October 28, 2021) (46:03)
03. "Starstruck" (November 4, 2021) (24:20)
04. "Dreamcatcher" (November 11, 2021) (24:11)
05. "Terror Firma" (November 18, 2021) (23:25)
06. "Kobayashi" (January 6, 2022) (24:00)
07. "First Con-tact" (January 13, 2022) (23:55)
08. "Time Amok" (January 20, 2022) (24:01)
09. "A Moral Star, Part 1" (January 27, 2022) (23:59)
10. "A Moral Star, Part 2" (February 3, 2022) (23:40)
[ SPECIFICATIONS ]
The show is presented in a 2.39:1 aspect ratio. The show is Not Rated. Audio languages include English, German, French, and Spanish. Subtitle languages include English, English SDH, French, and Spanish.
[ SPECIAL FEATURES ]
All of the content listed below can be found on the Blu-ray discs.
The Kobayashi Maru (4:04) - A look at the history of the captain's test.
"Trek" Tradition (11:06) - Explores the characters, "Trek" lore, underlying and overarching themes, and more.
The Prime Directive (3:15) - Prop Designer Jack Rossi discusses the Prime Directive.
The "Protostar" Pack (28:33) - A look at specific character design, which includes "Creating Character", "Dal R'el", "Gwyndala", "Jankom Pog", "Rok-Tahk", "Murf", "Zero", and "Hologram Janeway".
The Protostar (13:37) - A look at ship design and presentation, which includes "The USS Prostar", "Bridge", "Transporter Room", "Cargo Bay/Hangar", "Crew Quarters", "Engineering/Warp Core", "Holodeck", and "Nacelles".
Gadgets & Gear (17:22) - A look at the design and purpose of various bits and bobs, which includes "Trek Gadgets & Gear", "The Runaway", "Gwyn's Heirloom", "Tricorders & Phasers", "Hologram", "Vehicle Replicator", "Food Replicator", and "Cloaking Device".
[ ADDITIONAL INFORMATION ]
No digital copy code voucher is included inside the standard two-disc Blu-ray case. The first print run includes a slipcover and 4 character cards.
[ NOTES ]
This show reminds me of
Jurassic Park: Camp Cretacious
. I was expecting for
Prodigy
to be a stupid "kidified" version of
Star Trek
, but it's actually really good. I found myself enjoying it far more than I thought I would. It's a good show for both kids and adults.
Star Trek: Prodigy: Season 1, Volume 1
is available on
Blu-ray
and
DVD
. The remaining 10 episodes of the season were released in late 2022, so expect for Season 1, Volume 2 to be released later this year.
This item has been provided by CBS Home Entertainment for review on this site.
No feedback yet
Leave a comment