By Paul Rudoff on Jan. 13, 2023 at 7:00 PM in Home Video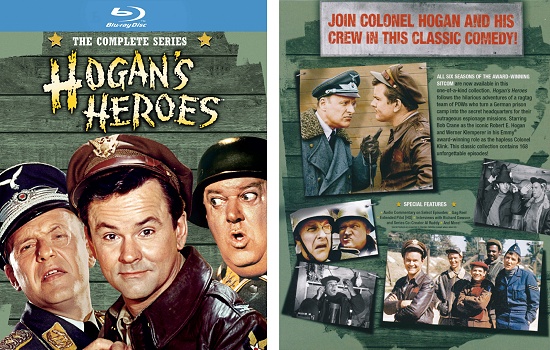 CBS Home Entertainment recently released the
Hogan's Heroes: The Complete Series Blu-ray
. Read on to find out more about it...
[ SYNOPSIS ]
Join Colonel Hogan and his crew in this classic comedy! All six seasons of the award-winning sitcom are now available in this one-of-a-kind collection. Hogan's Heroes follows the hilarious adventures of a ragtag team of POWs who turn a German prison camp into the secret headquarters for their outrageous espionage missions. Starring Bob Crane as the iconic Robert E. Hogan and Werner Klemperer in his Emmy award-winning role as the hapless Colonel Klink. This classic collection contains 168 unforgettable episodes!
[ SPECIFICATIONS ]
The 22-disc set includes all 168 episodes from the show's six seasons, presented in a 1.33:1 aspect ratio, and is Not Rated. Audio languages include English. Subtitle languages include English SDH.
[ SPECIAL FEATURES ]
All of the content listed below can be found on the Blu-ray discs.
Audio Commentary on "Hogan Gives a Birthday Party" - by Patricia Crane (aka Sigrid Valdis).
Audio Commentary on "Art for Hogan's Sake" - by Robert Clary.
Gag Reel, Edited by Bob Crane (5:26).
Patricia and Bob Crane Wedding Film (7:17) - Home video footage of the wedding performed on a soundstage next to the Hogan's Heroes set, with audio commentary by Patricia Crane (aka Sigrid Valdis).
Bob's 8mm Home Movies on Hogan Set (5:58) - Life on the set, with audio commentary by Patricia Crane (aka Sigrid Valdis).
CBS Promo 1 (0:22).
CBS Promo 2 (1:28).
The Lucy Show - "Lucy & Bob Crane" 1966 (2:37) - A segment from the show featuring Bob Crane.
Air Force Now Hogan's Cast Segments (1:27) - Shorts featuring the stars of the show.
Bob Crane US Air Force Recruitment Spot 1 (1:06) - Crane pitches a career in the Air Force.
Bob Crane US Air Force Recruitment Spot 2 (1:01) - Crane pitches nursing careers in the Air Force.
1965 Richard Dawson and Chad Everett on KNX (16:16) - A radio segment from "The Bob Crane Show" which aired after the Hogan pilot was filmed.
1967 Armed Forces Radio Christmas Show - Bob Crane speaks with these actors: Werner Klemperer (2:54), Richard Dawson/Larry Hovis (2:05), Robert Clary (1:30), and Sigrid Valdis (1:43).
Werner Klemperer on The Pat Sajak Show (6:23) - The actor chats about the show.
"The Informer" Extended Pilot with Introduction (33:22) - Various CBS TV stars appear before the pilot episode.
Promo #1 (0:33).
Promo #2 (0:30).
Clip from CBS' Fall Preview Show Seven Wonderful Nights (1965) (5:35) - A piece looking forward to Hogan's Heroes.
Richard Dawson Remembers... - The actor remembers his time on the show in four segments: "The Early Days" (15:13), "The Cast" (16:26), "Fond Memories" (13:04), and "Inspiration for Newkirk" (1:53).
Photo Montage with Hogan's Heroes Theme Song Performed by Bob Crane and His Band (2:38) - A cover version of the theme song is set to rare photos from the show.
A Conversation with Albert S. Ruddy, Co-Creator of Hogan's Heroes (11:58) - Ruddy talks about his involvement with the show.
[ NOTES ]
I'm highly impressed by the way CBS put this set together. Instead of putting all 22 Blu-ray discs inside one ugly thick case with the discs stacked on top of each other, as they have done with other sets, they actually put each individual season in its own 3-disc or 4-disc plastic Amaray case, with all situated inside a form-fitting outer slipbox. This is the same way they assembled the
Frasier Blu-ray set
(see
my review for a photo
), and I hope CBS continues to do their Complete Series sets this way.
Hogan's Heroes: The Complete Series
is available on
Blu-ray
and
DVD
.
This item has been provided by CBS Home Entertainment for review on this site.
No feedback yet
Leave a comment