By Paul Rudoff on Dec. 31, 2022 at 7:10 PM in Home Video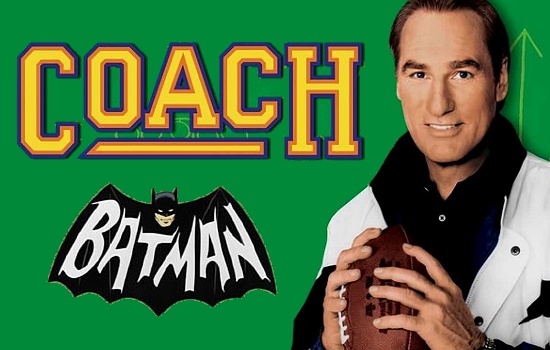 I have been watching the
Complete Series DVD set of Coach
, the 1989-1997 series starring Craig T. Nelson, and paying attention to the college exterior establishing shots that were filmed for the show. I'm sure they're in Universal's stock footage library now. It's interesting to notice that various bits of footage combine with each other featuring the same student extras walking out of the building. However, I've noticed something very interesting in these seemingly innocent shots. Read on to find out more...
What I'm about to discuss is something I first noticed in the Season 3 episode "Leonard Kraleman: All-American" starring a young Rob Schneider as the titular character. However, the footage has been used in all of the following episodes, usually right after first commercial break:
Season 3: "Leonard Kraleman, All-American"
Season 5: "Father of the Year"
Season 6: "Something Old, Something New"
Season 7: "The Day I Met Frank Gifford"
Season 8: "Is It Hot in Here, or Is It Me? - Part 1" (at the very start)
The footage might appear in other episodes, but these are the ones I know for sure.
What is so special about this footage, you might be wondering. Well, here's a clip from the Season 5 episode "Father of the Year", which uses the longest piece of it out of the episodes listed above. See if you can find the special appearance.

Yes, that appears to be an extra dressed as the 1966 Batman jumping out of a window on the left side of the shot!
We never get a really clear look at him, but he does appear to be cosplaying as the Adam West Batman.
The big question is whether this was planned by the
Coach
second unit crew, or if some student at the University of Iowa, where these exterior shots were supposedly filmed, decided to pull a prank on the film crew and none of them noticed.
No feedback yet
Leave a comment