By Paul Rudoff on Dec. 20, 2022 at 5:30 PM in Public Service Articles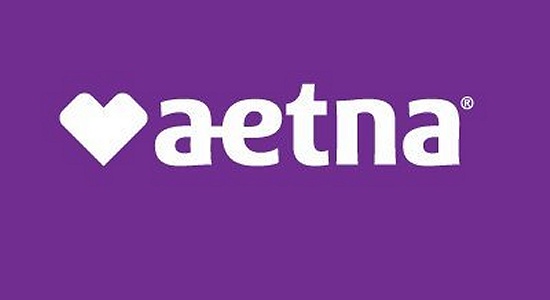 Back in September, I enrolled in an
Aetna health plan
because I was hoping that it would help me find a dentist in my area that offered the Nitrous Oxide gas. I won't get into the issues that Aetna is causing with that. Instead, I want to focus on something else. The Aetna plan comes with some extra benefits, including the
Aetna Rewards program
which rewards members with gift cards for completing activities, such as getting a yearly physical or getting vaccinated. You know, stuff I normally do. However, there is a MAJOR PROBLEM with the program: The gift card e-mails that are sent out are formatted like spam, and I am having a hard time getting Aetna to re-send a $100 Best Buy gift card that was deleted with the 100+ spam message I get each day. Read on to find out more...
A few weeks after I started being an Aetna member, I found the Aetna Rewards section on their website and noticed that I had already completed the three activities being offered. (The image below show all activities completed as of this writing, totaling $175.00.)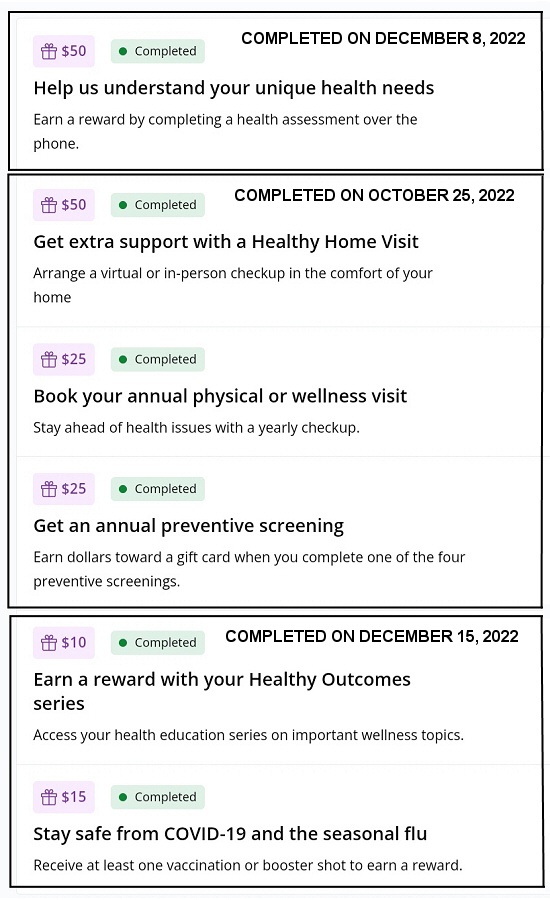 All filling out the forms giving the information for the activities I had already completed, I went through the process of cashing out my $100 rewards balance for a $100 Best Buy gift card. Best Buy is one of four retailers I could get gift cards for. The other three are CVS, Home Depot, and Kohls; all stores that I don't shop in.

The process for cashing out ("ordering a gift card") is pretty simple. While I did not do screenshots of my October 25th cash out, I did document every step of cashing out for a $25 gift card on December 15th. The first step is selecting one of the four retailers shown in the previous screenshot. You are then given the option to receive an electronic gift card via e-mail or a physical gift card via snail mail.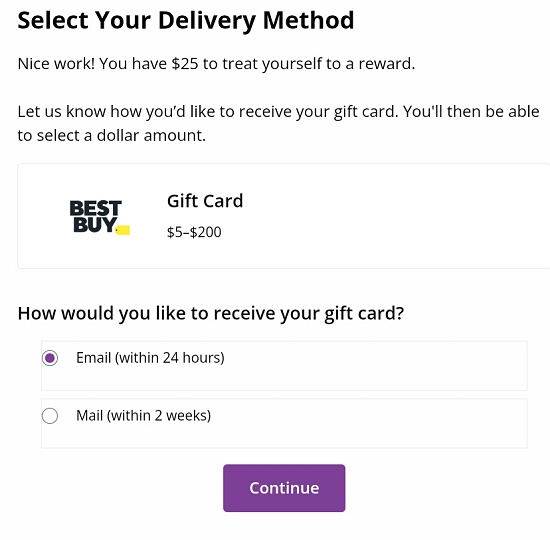 The next step is to choose the amount of the gift card. You can get the card for the entire amount of your balance, or a smaller amount.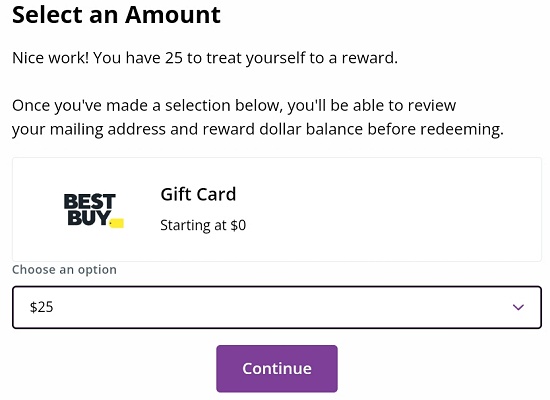 Then you'll verify your e-mail address.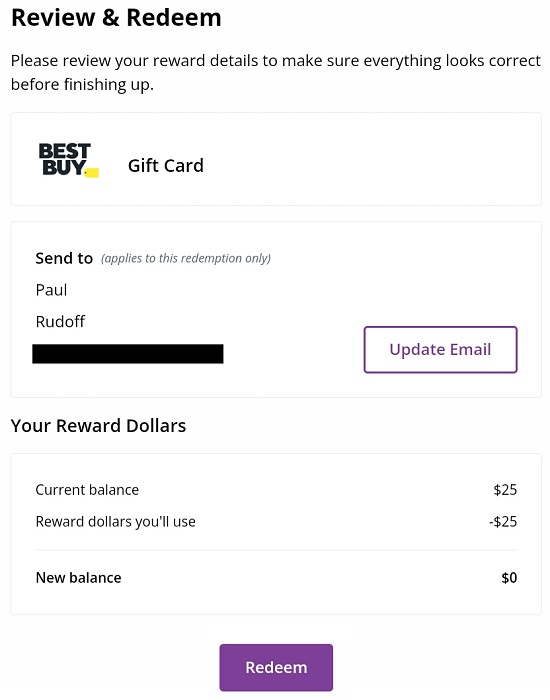 Success!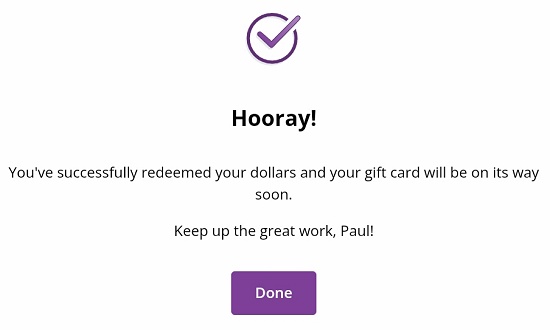 After going through this process, I expected for it to take a few weeks to get this $100 Best Buy gift card since it was the first card I ordered. Several weeks went by and I never got the $100 Best Buy gift card. Honestly, I figured that they weren't going to send it, so I never gave it another thought.
Six weeks later, on December 7th, an Aetna representative called me to conduct a Health Assessment survey. At the end of the survey, the rep told me that I would be getting a $50 gift card for completing this survey. I chose a $50 Best Buy gift card. The rep told me that the card would be coming from
@vcdelivery.com
and that it would likely go into my spam folder. Sure enough, 24 hours later I found this in my spam folder: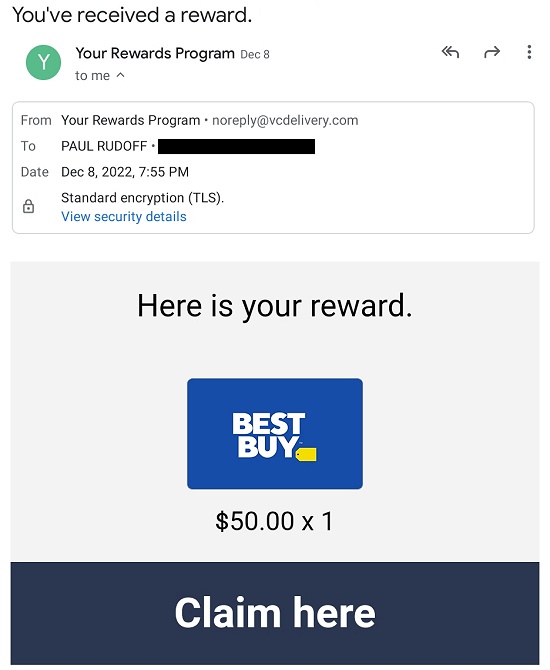 That message looks EXACTLY like spam! I get over 100 spam messages a day, and most of them are false claims that I won various "rewards". Even Gmail looked at that message and deemed it "spam". Had I not already deleted most of my spam that day, I wouldn't have noticed this spam-like e-mail sitting amongst all of the others in my spam folder. If the Aetna rep didn't mention "vcdelivery.com", I wouldn't have thought that this "You've Received A Reward" message was anything special.
You will also notice that the gift card e-mail makes no mention of Aetna at all. It would be very easy to think that this email was
not
related to the Aetna Rewards program.
A week later, on December 15th, I decided to cash out the $25 balance I had for completing a few more activities. About 20 minutes after I "ordered" the gift card, I received it in my inbox. (At this point, I set up a Gmail filter to ensure that all messages from @vcdelivery.com would
never
be sent to spam.)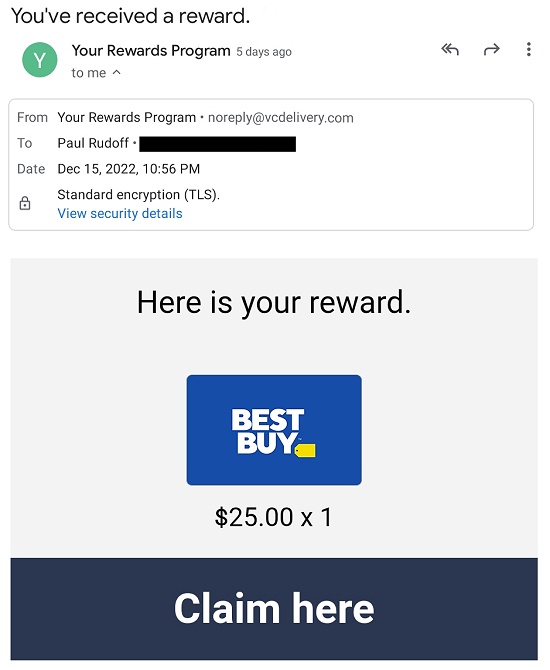 It was now that I realized that the $100 Best Buy gift card was sent directly to my spam folder on October 25th, where it was deleted with the 100+ other spam messages sitting in there. The Aetna website, as you can see in all of the screenshots above, NEVER mentioned that it would be coming from @vcdelivery.com and NEVER mentioned that it would look like spam. I was fully expecting for the gift card to come from an @aetna.com address and to, you know, NOT look like spam.
I figured that it should be really easy for
Aetna
and/or
Incomm
(the company that runs VCDelivery) to re-send the same $100 Best Buy gift card that was sent to me on October 25th. By sending the same exact card, both companies would know that I'm not trying to scam them out of an extra $100 card, because had I used it already, re-sending the
same
card would not benefit me at all. You would think that re-sending an e-mail would be a real simple thing to do.
I started first by calling up Aetna at 1-866-409-1221 and 1-855-335-1407. Here's a bullet point list of the three calls I made over a week and a half period, and the names of the low-level representatives I spoke to.
12/10/2022 @ 2:20pm - spoke to Kinesha - She told me that she will submit a Status Check, which could take a week. I should get the $100 Best Buy gift card via e-mail, which will be the same one originally sent on October 25th. After waiting a week and not getting the gift card, I called Aetna again.


12/18/2022 @ 12:30pm - spoke to Angela - She put me on hold several times while she "waited for assistance". She sees that the $100 card was sent out on October 25th. She put in a "request" with the escalation team. I will get a response in 7 business days. Since I wanted to use this gift card to buy holiday presents for my family, and it should be really easy for Aetna to look through my records and re-send the e-mail, I called again two days later.


12/20/2022 @ 2:25pm - spoke to Vernesha - After being on hold for five minutes, she said that all she can do is put in another "request". As my last two calls proved, a "request" is useless, and I told her that. I asked if she could re-send the gift card e-mail, but low-level reps can't do a simple thing like that. She said that they always tell members to check their spam folders for the gift card e-mails, and I told her that the Aetna website I used on October 25th never said any such thing. It should, but it doesn't. Since the folks at Aetna know that the gift card e-mails are formatted like spam, I asked her why they use a company (InComm's VCDelivery) that creates messages that they KNOW will be detected as "spam". She couldn't provide an answer. She said that their system shows the $100 gift card e-mail as "delivered", and as such, they won't re-send it. Well, that's a horrible attitude to have when this whole problem is all their fault!
Unfortunately, when I call Aetna, I'm stuck speaking to low-level representatives who are, seemingly, looking at the same Aetna website I can access myself and can't do much beyond the basics. They refuse to transfer me to someone higher up, which doesn't help.
Since I wanted to use this $100 Best Buy gift card to buy holiday gifts for my family, I needed it immediately. In an effort to get it now, I even reached out to InComm. I sent e-mails to NetworkEngTeam@incomm.com and support@vcdelivery.com, the latter of which created a "Service Inquiry" from giftcard.support@vcdelivery.com. I even sent e-mails to all contacts on
InComm's Contact Us form
. I have yet to receive a reply from any of these e-mails.
I really don't understand why re-sending an e-mail is such a difficult thing to do. I'm sure the original gift card e-mail is in Aetna's and Incomm's records. I'm not asking for a new one, just the SAME one that was sent directly to my spam folder on October 25th. This whole situation is all Aetna's fault. There is ZERO notice on the Aetna website that the gift cards will come from @vcdelivery.com (and not an @aetna.com address) and that the gift card e-mails will go to the spam folder because they are formatted like spam messages. Aetna should make things right. If they do, I will update this article.
[UPDATE - 12/21/2022]
Since I didn't get anywhere talking to the low-level representatives, I decided to take the matter to the corporate office. I'm taking a two-prong approach to that. First, I sent a physical letter to the Aetna corporate headquarters (151 Farmington Ave., Hartford, CT 06156). I also called the Aetna Corporate Contact Center (1-800-872-3862). I spoke to an employee named Wendy, who transferred me to a representative Supervisor named Jojo. She saw all of the notes from my previous calls to the reps. She sent an "escalation e-mail" to the escalation team - something I thought one of the previous reps already did - and said that it could take five business days to get a response. At this point, I know that I won't get that gift card re-sent to me
before
December 25th, which is a bummer, but I hope that all of this effort will get that $100 Best Buy gift card re-sent to me, period. I also hope that by making this problem public, and bringing it to the attention of the corporate office, will help institute changes that will prevent this from happening to other Aetna members in the future.
[UPDATE - 12/28/2022]
At 7:21 PM, I received a surprise e-mail from noreply@vcdelivery.com with the subject "A Gift from" and a sender name of "Best Buy". Although the e-mail still didn't mention Aetna or Aetna Rewards, I had a feeling that this was the re-sent $100 gift card from October 25th that I have been trying to get re-sent for the past few weeks. I opened it up and, yes indeed, that's what it was.
I clicked the link and retrieved my $100 Best Buy gift card, which I used immediately to buy some belated holiday gifts for my family.
I am so happy to finally have a positive resolution to this matter. I don't know if it was the multiple phone calls or the physical letter that got the job done, but I'm glad that something got it done. It would have been nice if I didn't have to make such a concerted effort, but Aetna and InComm/VCDelivery made things right, and that's all that matters in the end. 2022 ends on a good note. Thanks Aetna and InComm.
[UPDATE - 1/28/2023]
The Rewards program has undergone a big change for 2023. No longer are you limited to just four retailers when cashing out. In addition to Best Buy, CVS, and Home Depot (Kohls is no longer an option), you can now also get a gift card for Macy's, TJ Maxx, Starbucks, Subway, Darden, and Kroger. I had to look up Darden to find out that it's
the parent company
of the following restaurant chains: Olive Garden, LongHorn Steakhouse, Cheddar's Scratch Kitchen, Yardhouse, The Capital Grille, Seasons 52, Bahama Breeze Island Grille, and Eddie V's Prime Seafood. (I only heard of the first two restaurants.) Kroger is a supermarket that
doesn't have stores
here on Long Island, New York. (They're also one of the few supermarkets that
Aetna's Food/OTC Benefit Card
works in.)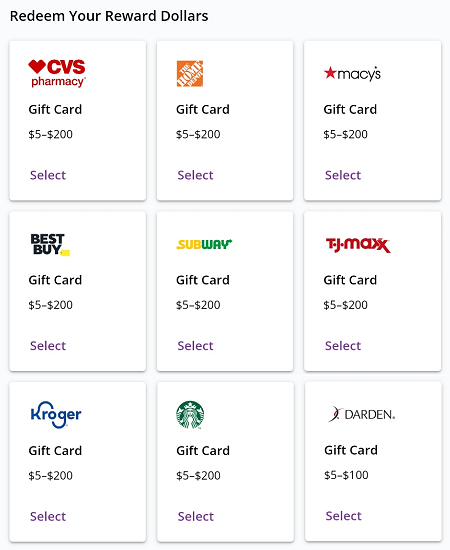 Interestingly, there were a few quirks of the cashing out process that I did not experience last year. When I was selecting how I would like to receive my gift card, the "Email" option now said "(up to 1 week)" next to it instead of "(within 24 hours)". The e-mail with the gift card still came in 20-25 minutes like last year.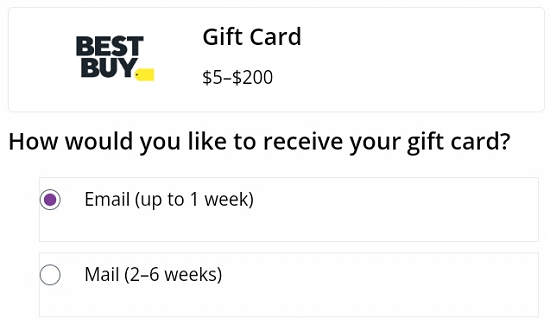 Actually, I should say e-mail
s
, as the system would not let me use my $100 rewards balance on a $100 Best Buy gift card. The drop-down list maxed out at $95.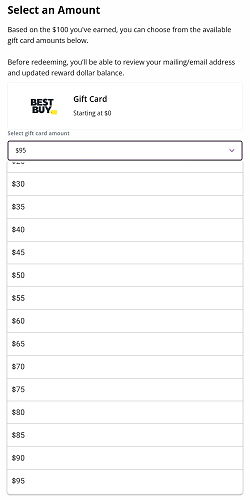 (click to enlarge)
I had to cash out for two cards in the amounts of $95 and $5 in order to get the full $100 gift card. Thankfully, BestBuy.com has no problem applying multiple gift cards to a single order.
No feedback yet
Leave a comment