By Paul Rudoff on Jan. 23, 2023 at 11:50 PM in Public Service Articles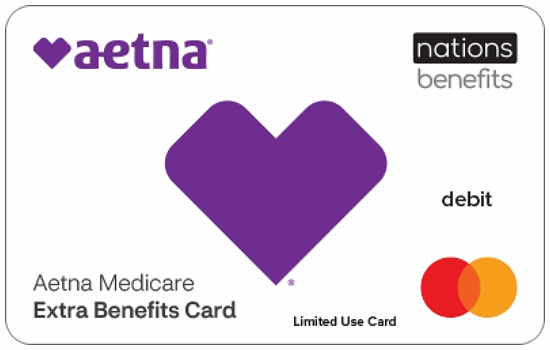 I have been an Aetna health insurance member since October 2022. A benefit of my plan is that it comes with an allowance for Over-the-Counter (OTC) and Healthy Food items. As of January 1, 2023, this benefit is being provided by
NationsBenefits, LLC
. In the two weeks that I've had this card - I received it in the mail on January 7th - I've learned a lot about it. I think it would be beneficial to share that knowledge with others who are stuck with the NationsBenefits card, whether they have it through Aetna or another insurance company. Read on to find out more...
I'd be remiss if I didn't first tell you a little about the way the benefit worked for the three months I had it in 2022. Instead of being provided through one company, the benefit was split. The Over-the-Counter (OTC) allowance of $300 per quarter (three month period) was handled by CVS, the parent company of Aetna. If I wanted to use it in a physical store, I had to go out of town to
very select CVS locations
- neither of the two stores in Valley Stream, New York accepted it - and show them my Aetna ID card. As that was not ideal for me, I used the entire $300 on two orders via the
CVS OTC website
. The first order arrived without an issue, but the second order was
delivered by UPS with a HUGE GAPING HOLE in the bottom
and nearly all of the contents missing. This is because the folks at the CVS OTC warehouse in Florida just tossed everything in a box and didn't even try to do anything even resembling "packaging" it properly. I called them up and spoke to someone that was, likely, in a call center in India, and they replaced almost all of the missing items; though even that package arrived with an item damaged because they don't believe in properly packaging stuff.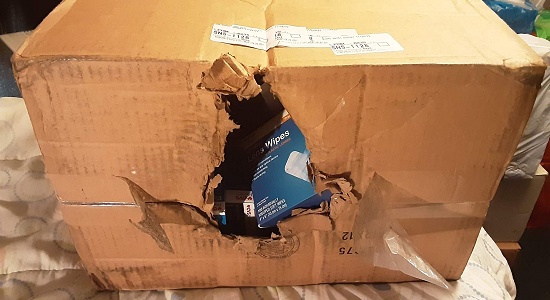 (Packaged delivered by UPS on November 28, 2022)
The
2022 Healthy Food benefit
was handled by
Solutran, Inc.
, operating as
Healthy Benefits+
, who provided me with a "Healthy Foods Card" that contained a barcode on the back. I used this card in Rite Aid and Stop & Shop, but it should have also worked in CVS, Walgreens, Walmart, Western Beef, and
many others stores not in my area
. Solutran also created a
Healthy Benefits+ app
(also
for Apple
) that I could use to check my balance, as well as scan the UPCs on products in the store to see if they would be allowed by the benefit. This was great because I could avoid the embarrassment of having items be denied at checkout.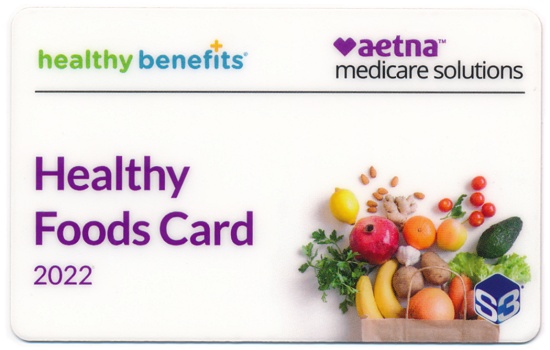 What was even better was that the barcode on the card had an unintended benefit that was of GREAT use to me. When going to pay for food, the barcode worked like a coupon. When I would do my regular shopping at
Stop & Shop
, and bought over $25 worth of acceptable food products with taxable items on the same order, the $25 that the Healthy Foods Card would take off would be applied to the taxable items! Then I would use my SNAP (aka Food Stamps) benefits to purchase the food, and all I would have to pay in cash is just the 8.65% New York State and County tax. I could get $25 worth of taxable items for just $2.16 cash. This was a great way for me to buy soap, shampoo, laundry pods, and other taxable necessities. Such a shame that I only got to use the 2022 Healthy Benefits Card for a mere 3 months. (I received the card on October 22, 2022, so I actually got to use it for less than 3 months.) By the time I realized how to best use it, they replaced it with the NationsBenefits card, which I have to go out of my way to use.
NationsBenefits, LLC took over the 2023 OTC & Healthy Food benefit as of January 1, 2023. It provides the same quarterly $300.00 OTC allowance I got last year, but the Healthy Food allowance is now $210.00 per quarter (equal to $75 per month) instead of $25 per month. The benefits renew on January 1st, April 1st, July 1st, and October 1st; and whatever is left from the period before is lost, as benefits don't rollover to the next quarter. The new card (seen atop this article) handles the OTC benefits that the Aetna ID card was used for last year, as well as the Healthy Food benefit that the Healthy Benefits+ card was used for last year. In
July 2019
, NationsHearing became NationsBenefits when it added over-the-counter benefit management services to its offerings. InComm, who runs the VCDelivery service that I wrote about in
my Aetna Rewards Gift Cards article
, provides the retail option for the card, which operates on the MasterCard Network.
I didn't have as much of a problem setting up an account for this new card as other people did - I read the reviews on the Google Play store for the app - but it wasn't
entirely
problem-free. I did it through the website on my tablet, and at one point, you have the option to get a confirmation code via e-mail or text message. I selected e-mail and gave the site my Gmail address, but I did not receive any e-mails with the code in them, and after three attempts to resend the code, the site said that I reached my limit. So, I had to give my cell phone number (which I didn't want to give them), and I got a text message in 10-20 seconds. The e-mails didn't come through until hours later, at which point they were no longer needed.
On the OTC side of things, it's a better card. I'll give NationsBenefits credit for that. Of course, that's not saying much given how poorly done the OTC benefit was in 2022. The new NationsBenefits card is a swipe card, which works in more than just a select few CVS stores.
•
PHYSICAL STORES THAT ACCEPT THE NATIONSBENEFITS CARD:
Rite Aid
,
CVS
,
Walgreens
,
Walmart
, and the
Walmart Neighborhood Market supermarket
in Levittown, New York have all been personally confirmed by me. The
"Store Locator"
also lists
Giant Eagle
,
Schnucks
,
Kroger
, and
Albertsons Companies
- but none of those stores exist in the Long Island, New York area, so I can't confirm them. (Despite being called a "Store Locator", that page on the Aetna NationsBenefits website doesn't actually let you locate a store close to you. So, I have linked each name here to a store locator on the retailer's website. You're welcome.)
•
PHYSICAL STORES THAT DO NOT ACCEPT THE NATIONSBENEFITS CARD:
Target, Stop & Shop, King Kullen, Dollar Tree, Food World, C-Town, 99 Ranch Market, Western Beef.
You would think that you could use the Healthy Foods benefit in the same stores that accept SNAP/Food Stamps, but you'd be wrong. You would think that by operating on the MasterCard Network, you could use the NationsBenefits card anywhere that MasterCard is accepted, but you'd be wrong. Thankfully, there is
A SIMPLE WAY TO KNOW IF THE CARD WILL WORK OR NOT:
If you are asked to input a PIN, the store does NOT accept the card. Press "Cancel" and use another payment method. If you press "Accept" at Target, YOUR CARD WILL BE "PFRAUD"-LOCKED!!! You'll then have to go through the ordeal of calling 1-877-204-1817 (for Aetna) and speaking to the useless low-level reps, which will definitely eat up 30-60 minutes (or more) of your life, and then they still may not be able to take care of the matter right away. The first time it happened to me (on January 9th), after a 45 minute wait just to speak to a rep, she put me on hold for 20 minutes while she took care of the matter with a supervisor (the person *I* should have been speaking to) and the card was unlocked. The second time it happened (the next day), the low-level rep left a message for a supervisor to take care of it and call me back. One never did, even after I made two more calls(!), but two days later, the card was unlocked. (Note: All "denied" transactions will still show up in
your transaction history
.)
At all four of the stores in my area that accept the card - Rite Aid, CVS, Walgreens, and Walmart - the card was processed without prompting me for a PIN. (If the purchase is over $10 or $20, you will be asked to sign the PIN Pad;it says something about "signing a waiver".) Of course, the first three are pharmacies that don't sell a wide variety of food products, which doesn't make them ideal for food shopping. I really don't care for Walmart, especially the one here in Valley Stream, New York, where an employee was
trampled to death on Black Friday in 2008
. I find Walmart stores to be crowded, with excessively-long checkout lines, and a real dearth of items. Unfortunately, the card doesn't work in Target, which would be my preference between the two major big box stores. (Stop & Shop is the store I
really
wish it worked in, like the 2022 benefit card.)
•
ONLINE STORES THAT ACCEPT THE NATIONSBENEFITS CARD:
Aetna NationsBenefits website
and
MyBenefits Portal app
(also
for Apple
).
Yeah, you won't be able to order food through Walmart.com or Amazon.com. I can personally confirm that. As stated atop the Aetna NationsBenefits website, "This Portal is the exclusive way to order products online with your benefit dollars." My personal advice is DO NOT BOTHER ORDERING ANY OTC OR FOOD ITEMS THROUGH THE AETNA NATIONSBENEFITS WEBSITE/APP! I placed a small food order for seven items totaling $25.50 on January 12th. (Items on the site are overpriced because they include the shipping costs.) As of January 23rd, that order still has not shipped out.
I never even received an e-mail confirmation for the order, though it shows up in
my order history
, so I know it was placed. (Yes, in my
Contact Preferences
, I have a checkmark next to "I would like to receive updates about my order through Email.") There is no one at NationsBenefits that I can contact about it. My e-mails to the app support (
appsupport@nationsbenefits.com
and
apphelp@nationsbenefits.com
) have gone unanswered. The main
NationsBenefits website
provides the following phone numbers:
Member Services
877-439-2665 (TTY: 711)
24 hours per day, 7 days per
week, 365 days per year

Corporate Support
877-439-2665 (TTY: 711)
9:00 a.m. to 6:00 p.m. ET,
Monday to Friday.

Health Plans
877-439-1564
9:00 a.m. to 6:00 p.m. ET,
Monday to Friday.
Retailers
877-200-3234
9:00 a.m. to 6:00 p.m. ET,
Monday to Friday

Providers
800-921-4559
8:00 a.m. to 9:00 p.m. ET,
Monday to Friday.
You'll notice that the "Member Services" and "Corporate Support" numbers are the same. I called it, and the automated message flat-out said that if you're a member, call the number on the back of your card. So much for this number being "Member Services". (To reach a corporate contact, you'll need to know their extension.) I really have zero interest in calling the number on the back of my card again (1-877-204-1817 for Aetna). I don't want to waste 30-60 minutes of my life waiting on hold just to speak to a low-level rep who will either put me on hold for 20 minutes while she takes care of the matter with the supervisor that I
should
be speaking to instead, or she'd just send an e-mail to a supervisor who will never call me back and may or may not take care of the matter in a few days.
Instead, I opted to just go onto the website and cancel the order, which I assumed would credit the $25.50 back to my food balance. It probably would,
IF
I were able to actually cancel the order.
The only option available to me for the order is "Cancel Order". Yeah, there is no option to "Inquire About This Order". So, with "Cancel Order" being the only thing I could do, I clicked on it, and it asked for a reason. I gave them a bit of an earful, in all caps, and after I submitted my cancellation request, I was shown this for a split-second:
("Unable to update your order. Please contact 877-204-1817 for assistance.")
Is it any surprise that the ONE option given to me for controlling the order doesn't work?!? NationsBenefits
really
wants me to waste more of my life waiting on hold to speak to a nearly-useless low-level rep. Sure, I could do that, but after wasting HOURS of my time on FOUR previous calls to that number, I'd prefer never to call it again. At this point, I think I'd rather leave that order open, if only to see just how long it takes NationsBenefits to actually fulfill it. That would provide me with something to later update this article about.
In my experience, between the website and the app, the website is the better of the two. The app is quite the piece of shit, and was not ready for primetime. For a company that has been in business (under its current name) since 2019, you'd think that NationsBenefits would have a fully-working app by now. On my cell phone, my browser can save my login information for the website. The NationsBenefits app can't do that, though plenty of other apps can. To make matters even worse, the website has one login screen, while the app forces you to login TWICE! Good luck remembering your 12-digit Member ID number every time.
(click to enlarge)
The website and the app have the same "site design", so there really isn't any benefit to using the app over the website. There might be a benefit if the app had a barcode scanner, like the Healthy Benefits+ app had last year, but it doesn't. A week or two ago, there was an icon in the app for one, but when you clicked on it, you'd get a message saying that that feature isn't available yet. Why have an icon for a feature that doesn't exist? In preparation for writing this article, I went back to the app to screenshot this useless icon, but it wasn't there anymore (as of v1.10.10 for Android). It's nice that someone at NationsBenefits was smart enough to remove it, but it would have been better to just add the barcode scanner like last year's benefits provider had in their app.
The website and app both have a
"Check Product Eligibility" page
, but it is broken. Even if it did work, it would be rather annoying to keep typing in product names or UPC numbers, but NationsBenefits had to make it even more annoying than that! You can't just type in a product name or UPC number. You have to select a Retailer, of which your options are "Walmart" and "All Other Retailers". Why is this even necessary? UPC numbers are fairly unique per product, and not tied to a specific retailer. You won't find the same UPC on two different products at Rite Aid and Walmart. In addition to entering the UPC Code, you also have to select which Wallet the product is for. Again, why? It's not like there will be a food product and an OTC product that will share the same UPC number. Of course, neither the website nor the app has a working "Wallets" field. It should have options for "OTC" and "Food", but instead has no options at all!
(click to enlarge)
Without a barcode scanner or a working "Check Product Eligibility" page, your only option is to take products up to the store's checkout and hope that they are acceptable on the card. Have an alternate payment method (cash, SNAP/food stamps, etc.) on hand because you're almost guaranteed that
something
will not be covered. There is a way that you can lessen the chance of that happening. While the website and app are generally useless, they are not entirely useless. Taking a look at what OTC and food products are listed on the site will give you a good idea as to what products in the store will, likely, be covered.
•
OTC ITEMS THAT YOU CAN BUY WITH THE NATIONSBENEFITS CARD:
There are WAY too many individual items for me to list here, so I will just list a few items that I have personally confirmed, as well as all of the OTC categories on the Aetna NationsBenefits site.
Head & Shoulders Classic Clean Anti-Dandruff Shampoo, 13.5 fl. oz. (personally confirmed)
Selsun Blue Moisturizing Anti-Dandruff Shampoo, 11 fl. oz. (personally confirmed)
Sensodyne Pronamel Toothpaste (personally confirmed)
Anti-Diarrheal Loperamide HCI Tablets 2mg (personally confirmed)
Bandages (personally confirmed)
Cotton Swabs (personally confirmed)
Anticandidal (Yeast)
Baby Care
Cold & Allergy
Cold, Flu & Allergy
Compression & Supportive Items
Compression Support
Cosmetics
Dental & Denture Care
Diabetes Care
Digestive Health
Eye & Ear Care
Feminine Care
First Aid
First Aid & Medical Supplies
Foot Care
Hair Care
Health Supports
Hemorrhoidal Preparations
Home Diagnostic & Patient Aids
Home Diagnostic & Patient Aids for Daily Living
Home Health Care
Incontinence
Incontinence Supplies
Oral Care
Pain Relief
Patient Skin Care
Pediculicide (Lice Treatment)
Physical Fitness & Exercise Equipment
Seasonal Products
Skin Care
Sleep Aids
Smoking Cessation
Smoking Deterrents
Sun Care
Supports & Braces
Vitamins & Dietary Supplements
•
OTC ITEMS THAT YOU CAN NOT BUY WITH THE NATIONSBENEFITS CARD:
I'm not going to test every item in the store, but here are a few items that I couldn't get.
Head & Shoulders Coconut Anti-Dandruff Shampoo (personally confirmed)
Bar Soap (personally confirmed)
Liquid Hand Soap (personally confirmed)
Regular Non-Medicated Shampoo (personally confirmed)
As for food, this is where things get a little more annoying for me. I'm sure I said it already, but it bears repeating: I do my grocery shopping at the Stop & Shop supermarket. The 2022 food benefit worked there, the 2023 NationsBenefits food benefit does not. The closest store where I can use this card is Rite Aid, and that is more of a pharmacy than a grocery store. I don't recall ever seeing fresh fruit & vegetables or butcher-cut meat there, so the fact that I can buy them with this card means nothing. Add in the fact that many items that I can buy with SNAP/Food Stamps (diet soda, chips, candy, baked goods, and more) can't be purchased with this card, and my grocery options at Rite Aid (or CVS or Walgreens) becomes
extremely
limited.
The Aetna NationsBenefits website makes things even more confusing, as there are two options for food products. There is
a "Food" category
listed among the OTC categories, but if you select it, you will only see 60 of the 120 products available. To see all 120 products, you have to click on the "Healthy Groceries" option in the upper left corner above all of the categories.
•
FOOD ITEMS THAT YOU CAN BUY WITH THE NATIONSBENEFITS CARD:
The 120 items on the site, plus the general categories listed in the
paperwork that came with the benefit card
, gives us a good idea of what food items we can buy with this card. You can scroll the food list below, though the scrollbar may not be visible on mobile devices. For your convenience, I also have the list available as a
printable PDF file
. (Just a FYI: Arizona Iced Tea and Sparkling Ice Flavored Sparkling Water are both covered, though the 5-cent bottle deposit on the latter is not covered.)
Fresh Fruit (personally confirmed)
Eggs (personally confirmed)
Cheese (personally confirmed)
Heinz Ketchup (personally confirmed)
Fresh Vegetables
Canned Fruits & Vegetables
Frozen Produce & Meals
Fresh Salad Kits
Dairy Products
Meat & Seafood
Beans & Legumes - Peas, Lentils, Black-Eyed Peas, etc.
Pantry Staples - Flour, Spices, Seasonings, etc.
Healthy Grains - Cereals, Pastas, etc.
Nutritional Shakes & Bars
Soups
Water/Vitamin Water
All Spice, 1 oz.
Almond Butter Smooth, 10 oz.
Almond Milk, 32 oz.
Almonds, 5 oz.
Apricots, 15 oz.
Avocado Oil, 16 oz.
Baby Corn, 15 oz.
Baked Beans, 16 oz.
Baking Powder, 7 oz.
Baking Soda, 16 oz.
Balsamic Vinegar, 8 oz.
Bamboo Shoots, 8 oz.
Bean Sprouts, 14 oz.
Beef Stew, 15 oz.
Beefaroni, 7 oz.
Beets, Sliced, 14.5 oz.
Black Beans, 15 oz.
Blackeye Peas, 15 oz.
Bread Crumbs, 15 oz.
Canola Oil, 16 oz.
Carrots, 14.5 oz.
Cayenne Pepper, 1.5 oz.
Cheerios, 8.9 oz.
Chewy Granola Bars, 8.4 oz.
Chia Seed, 1.5 oz.
Chicken Breast Chunk, 10 oz.
Chicken Noodle Soup, 10 oz.
Chicken Stuffing, 6 oz.
Chili Powder, 2 oz.
Chili, 15 oz.
Chow Mein Noodles, 5 oz.
Chunk Light Tuna in Water, 5 oz.
Chunky Vegetable Soup, 18 oz.
Cinnamon, Ground, 2 oz.
Clam Chowder, 18 oz.
Coconut Water, 16 oz.
Coffee Creamer, 16 oz.
Coffee, 11 oz.
Coffee, Decaf Instant, 8 oz.
Coffee, Decaf, 12 oz.
Coffee, Instant, 8 oz.
Condensed Milk, 14 oz.
Corn Flakes, 18 oz.
Corn Muffin Mix, 8 oz.
Corn Oil, 16 oz.
Corn, 14 oz.
Corned Beef, 12 oz.
Cranberry Sauce, Jellied, 14 oz.
Cream of Chicken Soup, 10 oz.
Cream of Mushroom Soup, 10 oz.
Cream of Potato Soup, 10 oz.
Cream of Wheat, 12 oz.
Dried Apples, 3 oz.
Dried Apricots, 6 oz.
Dried Bananas, 4 oz.
Dried Mangos, 3 oz.
Ensure Chocolate Shake, 8 oz.
Ensure Vanilla Shake, 8 oz.
Extra Virgin Olive Oil, 8 oz.
Flour, All Purpose, 32 oz.
Fruit & Nut Mix, 6 oz.
Fruit Cocktail, 14.5 oz.
Garbanzo Beans, 15 oz.
Garlic Powder, 3 oz.
Gelatin, Cherry, 1.4 oz.
Gelatin, Orange, 1.4 oz.
Gelatin, Strawberry, 1.4 oz.
Glucerna Chocolate Shake, 8 oz.
Glucerna Vanilla Shake, 8 oz.
Granola, 11 oz.
Great Northern Beans, 15 oz.
Green Beans, 14 oz.
Green Chiles, 4 oz.
Grits, 16 oz.
Ham, Cooked, 16 oz.
Hominy, 15 oz.
Honey, 12 oz.
Hot Sauce, 3 oz.
Instant Mashed Potatoes, 13.75 oz.
Jelly, Grape, 20 oz.
Jelly, Strawberry, 20 oz.
Ketchup, 20 oz.
Lentils, 15 oz.
Lima Beans, 15 oz.
Mayonnaise, 12 oz.
Microwave Popcorn
Milk, Shelf Stable 2%, 32 oz.
Mixed Nuts, 5 oz.
Mixed Vegetables, 15 oz.
Muffin Mix, Blueberry, 7 oz.
Mushrooms, 4.5 oz.
Nature Valley Granola Bars
Nutella, 7 oz.
Oatmeal, Instant Packets
Oats, Old Fashioned, 42 oz.
Oats, Steel Cut, 24 oz.
Olive Oil Cooking Spray, 5 oz.
Olives, 6 oz.
Onion Powder, 2.75 oz.
Oregano, 1 oz.
Out of Stock
Out of Stock
Out of Stock
Pancake Mix, 16 oz.
Pancake Syrup, 12 oz.
Paprika, 2 oz.
Parmesan Cheese, 8 oz.
Pasta, Spaghetti, 16 oz.
Pasta, Spaghetti, Gluten Free, 12 oz.
Pasta, Ziti, 16 oz.
Peaches, Sliced, 8.5 oz.
Peanut Butter, Creamy, 16 oz.
Peanut Butter, Crunchy, 16 oz.
Pear Halves, 15 oz.
Peas, 8.5 oz.
Pineapple, Sliced, 8 oz.
Pinto Beans, 16 oz.
Potatoes, Diced, 15 oz.
Prunes, 10 oz.
Pumpkin, Canned, 15 oz.
Quinoa, 12 oz.
Raisin Bran, 16 oz.
Raisins, 9 oz.
Ramen Noodle Soup, 3 oz.
Red Kidney Beans, 15 oz.
Rice Krispies, 12 oz.
Rice, Brown, 28 oz.
Rice, White, 28 oz.
Rice, Yellow, 16 oz.
Rosemary, 1 oz.
Salad Dressing, French, 16 oz.
Salad Dressing, Italian, 16 oz.
Salad Dressing, Ranch, 16 oz.
Salmon, Canned, 14.75 oz.
Salt & Pepper
Salt Substitute, 3 oz.
Sandwich Crackers, Cheddar
Sardines, 4.4 oz.
Seasoning Blend, Salt-Free, 2.5 oz.
Soda Crackers, 8 oz.
Soup Bouillon, Beef
Soup Bouillon, Chicken
Soy Sauce, 10 oz.
Spaghetti Sauce, 24 oz.
Spam, 12 oz.
Special K Cereal, 18 oz.
Spinach, 13 oz.
Splenda, 1.75 oz.
Steak & Vegetable Soup, 18.8 oz.
Steak Sauce, 5 oz.
Stevia In The Raw, 3.5 oz.
Tea Bags
Tea Bags, Decaf
Tomato Paste, 12 oz.
Tomatoes, Crushed, 15 oz.
Tomatoes, Diced, 14.5 oz.
Trail Mix, 16 oz.
Vegetable Oil, 16 oz.
Vienna Sausage, 4.6 oz.
Water Chestnuts, 8 oz.
Water Crackers, 10.5 oz.
Wheat Crackers, 9 oz.
Yams, 29 oz.
Yellow Mustard, 8 oz.
•
FOOD ITEMS THAT YOU CAN NOT BUY WITH THE NATIONSBENEFITS CARD:
This is going to be a much shorter list. As stated in the paperwork that came with the card: "You cannot use your card to pay for non-food and pet items, alcohol, baby formula, candy, chips, coffee shop items, desserts, fresh baked goods, soda, and tobacco." At Rite Aid, the Big Win Simply Salted Popcorn (4.5 oz. bag) is NOT covered. Apparently, unhealthy very salty microwave popcorn is covered (it's available to buy on the Aetna NationsBenefits site), but pre-popped popcorn with low salt is not covered.
Do be aware that if you buy approved food items and unapproved food items in the same order, and you use SNAP/Food Stamps to pay for the unapproved food items, you may be forced to pay for the tax on the unapproved food items using cash (or other payment method). I had this happen at CVS. I purchased a pack of Kraft Cheese and some cheap candy, just to see what would happen. The NationsBenefits card paid for the cheese, and as expected, did not pay for the candy. SNAP/Food Stamps covered the candy, but I was forced to pay the $0.16 tax on it. Had SNAP/Food Stamps been used first, it would have removed the tax from the order and I wouldn't have had to pay even one cent of it. I suspect that since SNAP/Food Stamps was not used first, it didn't "know" to take the tax off.
In conclusion (for now), the 2023 NationsBenefits card is well-intended, but is more of an annoyance to use than it should be. The 2022 benefit card worked in the
Stop & Shop supermarket
where I regularly do my grocery shopping, but the NationsBenefit card does not. That is a real problem for me. I can't really make proper use of the NationsBenefits card without going out of my way to stores that are either not ideal for food shopping or that I don't normally shop at. I suppose Aetna and the other insurance companies like how much of a pain in the ass NationsBenefits makes using this card, because the less you use the benefit, the less they have to pay out to NationsBenefits.
[UPDATE - 1/24/2023]
What a difference a day makes. Out of curiosity, I decided to check the Aetna NationsBenefits site today (Tuesday January 24, 2023) at 2:45 p.m. Eastern. I noticed on my order history page that my order was moved from the "Active Orders" section to the "Past Orders" section.
Clicking on the order page gave me the FedEx tracking number. This is how I found out that my order had been shipped out! Despite having a checkmark next to "I would like to receive updates about my order through Email." on the
Contact Preferences
page, I never received
any
e-mails about this order.
Okay, it took them 12 days (8 business days) to ship out this order. As this is my first order, I don't know whether that's normal or not. I suspect that it's not. I have to wonder if the long delay in shipping out the order, and the excessively-long wait times on the phone is due to NationsBenefits being ill-prepared for the large influx of members that got their benefit cards the first week of January. Still, I can't cut them much slack because they've been in business for several years. They should have had their shit together by now.
Anyway, the package is scheduled to arrive in two days. Hopefully everything will be inside and intact.
[UPDATE - 1/29/2023]
The package arrived today, Sunday January 29, 2023 - two and a half weeks after I placed the order, and five days after being shipped from Pennsylvania to New York. The 12"x10"x8" box was shipped from "NationsBenefits Pittsburgh" (2291 Sweeney Drive, A1, Clinton, PA 15026), though
that address
is actually the
FedEx SmartPost office
. Five days isn't bad, but the paperwork that came with the card promised that "all orders placed through NationsBenefits are shipped with two-day delivery".
(click to enlarge)
I don't see how NationsBenefits could promise two-day delivery when they ship via
FedEx Ground Economy
(formerly called FedEx SmartPost). FedEx describes the service as "a cost-efficient shipping option for small and medium businesses. It's ideal for outbound residential deliveries and returns that are low-weight, low-value, and nonurgent. Typically, delivery takes 2 to 7 business days, depending on the distance from the package's origin to its destination."
Okay, there's been enough talk, it's time to open up the 12"x10"x8" box.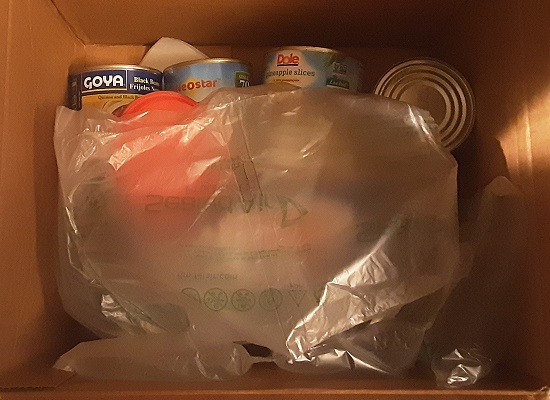 (click to enlarge)
Inside are some nearly-deflated air packets and the seven items I ordered...I think. I don't remember ordering a can of Black Beans. Let's
check my order
:
Peaches, Sliced, 8.5 oz.
Beefaroni, 7 oz.
Pear Halves, 15 oz.
Pineapple, Sliced, 8 oz.
Pasta, Spaghetti, Gluten Free, 12 oz.
Milk, Shelf Stable 2%, 32 oz.
Fruit Cocktail, 14.5 oz.
Maybe the can of Black Beans is a bonus item. Taking everything out, I find that these are the contents of the box.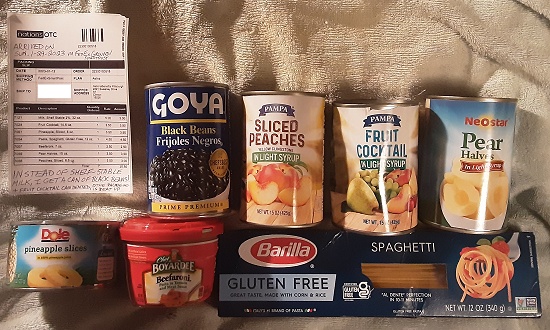 (click to enlarge)
Apparently, someone at NationsBenefits thought a can of Black Beans was a carton of Shelf Stable Milk. It should also be noted that the cans of Sliced Peaches and Fruit Cocktail are different than the ones displayed on the Aetna NationsBenefits site.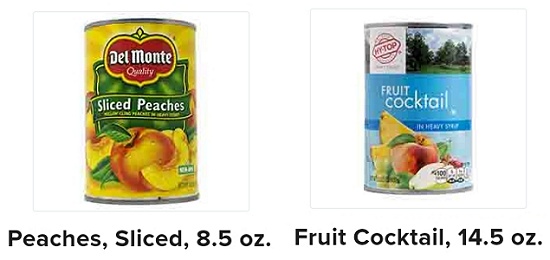 That's fine. I was actually expecting for that to happen, as most of the items on the site are listed with generic names. Only a few have brand names in their product titles. What I wasn't expecting was for some of the items to arrive damaged. The fruit cocktail can is quite dented, and some of the other packaging is beat up, but it's still in usable condition, thankfully.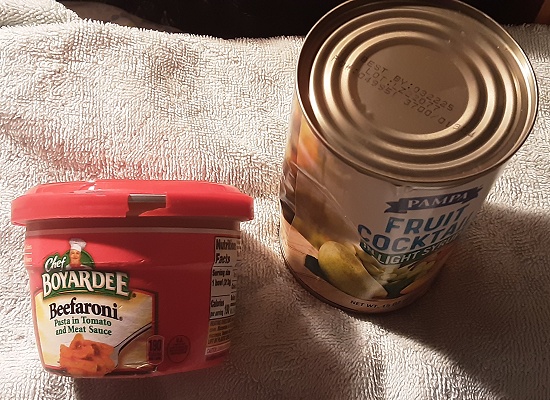 (click to enlarge)
Since I can't drink the can of black beans, I had to call 1-877-204-1817 (for Aetna) regarding the missing carton of milk. I did not enjoy the 30-to-45 minute wait times I had to endure three weeks ago on the four calls I had to make to that number. I am happy to report that I only had a wait 1-to-2 minutes for a low-level Aetna rep to pick up. Unfortunately, she put me on hold for 15 minutes while she spoke to the person higher-up that I should have been speaking to. A request was made for a replacement order, but it has to be reviewed by a different department before it can be sent out. I checked the website a few hours after making the call, and the replacement order was there in my Active Orders section.
[UPDATE - 2/6/2023]
The replacement package was shipped out on January 31st, which was just two days after the order was placed. This is a HUGE improvement over the original order. However, it was still shipped via FedEx Ground from the NationsBenefits corporate office in California (at
1540 Scenic Ave., Suite 150, Costa Mesa, CA 926262
) to New York, so there is no way it would have arrived in the two days that the paperwork that came with the card promised. I received the package today, February 6th, so it took six days to travel across the country. Since items are still just thrown in a box with a few air packets as "protection", and one of the items was a carton of milk, it should come as no surprise that there was some leakage in the box. Thankfully, very little of the milk spilled out. Nothing to cry about.
I received a one-quart carton of Dairy Pure 2% Reduced Fat Milk and a can of Libby's Fruit Cocktail in Heavy Syrup. This brand of Fruit Cocktail is different from the dented can I received in the original package, and the website showed Natrel-brand milk. Like I said, there is no guarantee that you will receive the brand pictured on the site, unless the brand name is part of the item name.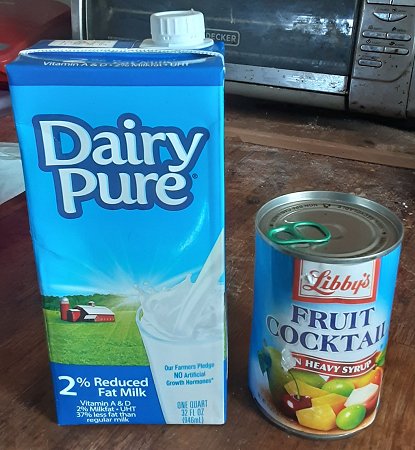 (click to enlarge)
Truth be told, I don't think I'll be placing any future orders on the Aetna NationsBenefits website/app. Since the prices include shipping, they match with the overpriced items I can find at Rite Aid (and CVS and Walgreens), where I can get them right away and in undamaged condition. Of course, it would be ideal if I could use these benefits at Stop & Shop (or
any
supermarket on Long Island) where food prices tend to be cheaper, and selection is infinitely better, than at a chain pharmacy.
[UPDATE - 3/11/2023]
My sister's insurance company, Partners Health Plan (PHP), has been suckered into contracting NationsBenefits into handling the OTC & Healthy Food benefits for their members, too. Wanna guess how well it's been going for her? First, she never received her benefit card in January, so they had to send out a new card in February and double-up on her February benefits, since she was unable to use what she was given in January. PHP gives their members a monthly benefit of $150 in a combined OTC + Healthy Groceries wallet. It is not split into two wallets, like my benefit from Aetna.  Her benefits expire at the end of every month, not every three months (like mine), which makes the limited retail use of them even
more
of an annoyance.
She used as much of the $300 as she could in Walmart and Rite Aid, but she was still left with $126 by the end of February. Not wanting to lose that money, she wanted to place a food order through the
PHP NationsBenefits website
. The site is designed 100% the same as the Aetna-branded site, but it does contain something the Aetna site doesn't: Fresh Food! Not only could she have a box of (supposedly) fresh fruit delivered to her door in a few days (
All Fruit Box
, Item #10007, Category: Pantry Boxes, $45.00), she could also order Meal Bundles through the
NationsMarket category
. (Perhaps these fresh food items are only for people who have OTC + Healthy Groceries in one wallet.)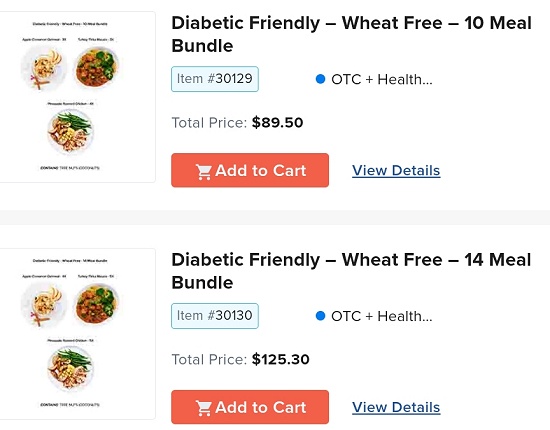 (click to enlarge)
She opted for the
Diabetic-Friendly Wheat-Free 14-Meal Bundle
(Item #30130) at a cost of $125.30, just enough to use up the remaining benefit for the month. She went to place the order, and after going through several screens to confirm her details, she went to place the order and was shown this error message:
All it says is that "There has been an issue and your order could not be placed. Please contact 833-689-3378 (TTY:681) for assistance." It doesn't specify exactly
what
the problem is. With my help, my sister called that number on February 25th and February 28th and spoke to two different low-level reps. I've already detailed how useless the low-level reps were for me, but maybe the ones for PHP would be better. (Spoiler Alert: They're worse!)
Both reps tried to use the site to place an order, and both got the same error message.  The second rep even read us back the number listed in the error message and told us that we should call it. We had to inform her that THE NUMBER GIVEN IN THE ERROR MESSAGE IS THE NUMBER WE CALLED TO SPEAK TO HER!!! Words fail me to be able to describe that level of stupidity.
We were told by both reps that they would put in a ticket to have a supervisor place the order manually. None ever did, nor did any reps or supervisors ever called my sister back. To this day, two weeks later, no order has ever appeared in her account. She lost that remaining $126 when it expired on February 28th. It was not carried over to March. NationsBenefits should give it back to her since it is their fault that it is lost.
As it stands, she can only use her
monthly
benefit in four physical retail stores (Walmart, Rite Aid, CVS, Walgreens); three of which, I remind you, are pharmacies that have a very limited supply of food. She can't use her benefits on the PHP NationsBenefits site, as no matter what is ordered, it gives that error message. (The only positive with her PHP-branded benefit is that she may be able to use the card on
anything
in these four stores, whether
all
types of food, OTC products, or any other general merchandise. We're still running tests to see what it will allow her to buy, though she certainly doesn't have the food limitations that I do as she purchased diet soda without issue.)
I really hope that all of the insurance companies wake up and see what kind of scam NationsBenefits has pulled on them, and that NONE of them renew their contracts with NationsBenefits in 2024.
[UPDATE - 5/6/2023]
Just when I thought that NationsBenefits couldn't be more of a fuck-up... I received this letter in the mail today stating that on January 30, 2023, "a vendor [NationsBenefits] used to exchange files with Aetna was [...] the victim of a cybersecurity attack, which impacted some of [my] personal information." NationsBenefits "notified Aetna of this incident on February 9, 2023", but waited THREE MONTHS to tell me!
According to the letter, "NationsBenefits used software provided by a third-party vendor, Fortra, LLC ("Fortra"), to securely exchange files with your health plan. On or around January 30, 2023, Fortra experienced a data security incident in which a malicious actor(s) accessed or acquired the data of multiple organizations, including NationsBenefits. When we learned of this incident on February 7, 2023, we immediately took steps to secure our systems and launched an investigation, which was conducted by an experienced outside law firm and a leading cybersecurity firm. As part of our investigation, NationsBenefits analyzed the impacted data to determine whether any individual's personal information was subject to unauthorized access or acquisition. On February 23, 2023, NationsBenefits confirmed that, unfortunately, some of your personal information was affected by the incident."
As for what information of mine was accessed, the letter says that "the personal information involved included your First Name; Middle Initial; Last Name; Gender; Health Plan Subscriber Identification Number; Address; Phone Number; Date of Birth; Medicare Number."
Let's summarize: NationsBenefits starts running things on January 1, 2023. On January 30, 2023, a company (Fortra) they used to exchange files with Aetna was the victim of a cybersecurity attack. Jesus, NationsBenefits isn't even running things for a full
month
and there's a data breach! I said it before, and it bears repeating: I REALLY HOPE THAT ALL OF THE INSURANCE COMPANIES _DON'T_ RENEW THEIR CONTRACTS WITH NATIONSBENEFITS IN 2024.
[UPDATE - 9/1/2023]
I thought I would check to see if NationsBenefits fixed the
MyBenefits Portal app
for Android. When I originally wrote this article, I tested v1.10 (Jan 8, 2023) of the app. The current version is v1.27.27, though
APKPure's update history
only states the latest version is v1.25 from June 16, 2023. As previously stated in this article, v1.10 was a piece of crap with a double-login procedure and a broken barcode reader preventing one to look up the eligibility of products.
The double-login problem has been fixed. You are no longer required to enter your member ID twice. You just need to enter your member ID once, and then your password. Unfortunately, it still does not remember your member ID (and password), so you have to enter both
every time
. This is annoying and makes the app far less usable to me than the website, where my browser can remember the information so I don't have to keep entering it. Unfortunately, the code scanner button on the website does not actually work. It points to
aetna.nationsbenefits.com/scanner
, but that just redirects you back to the main page.
The app now has a working barcode scanner to look up product eligibility, though it can be a little temperamental in actually getting it to scan a barcode. You still have to select whether the retailer whose product you're looking up is from Walmart or Other, though you no longer need to select which Wallet the product belongs to.
Here's what you get when you look up a 120-count bottle of CVS Melatonin Gummies (5 mg).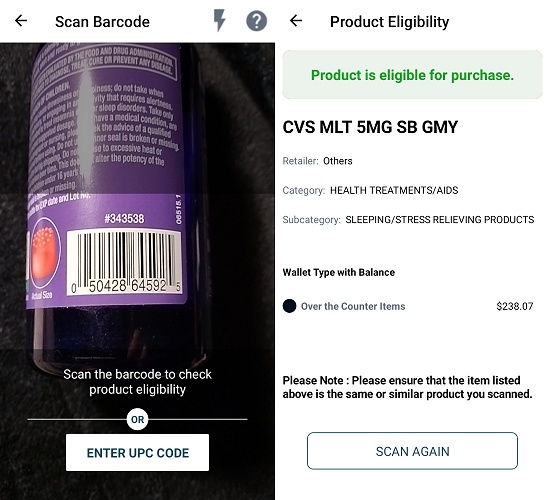 So, there's been some improvements in the app, but it is still not ideal.
[UPDATE - 9/21/2023]
My sister has not done extensive testing, but it seems like the NationsBenefits benefit given by Partners Health Plan (PHP) differs even more from the one given by Aetna even more than originally thought. As a refresher, Aetna is $300 for OTC + $210 for Food quarterly (two separate "wallets"), while PHP is $150 for OTC/Food monthly (one joint "wallet"). It would seem that the PHP benefit lacks the strict restrictions that the Aetna benefit has. The PHP benefit pays for ALL food items, not just a limited selection of "healthy food" items. Furthermore, in Rite Aid, the PHP benefit even paid for a greeting card! This makes me think that the PHP benefit will pay for ANYTHING in one of the approved stores; maybe even ANY store. Further testing needs to be done, but so far, the PHP benefit is definitely better than the Aetna benefit.
No feedback yet
Leave a comment