By Paul Rudoff on Apr. 15, 2023 at 12:00 PM in Home Video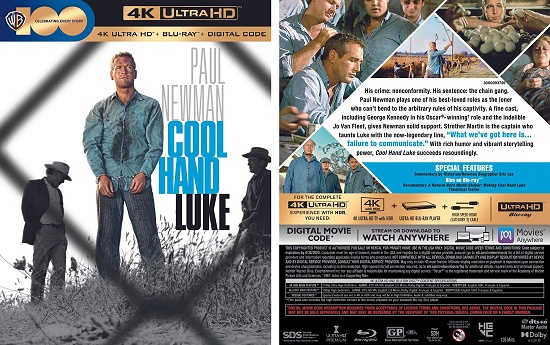 Warner Brothers recently released the
Cool Hand Luke (1967) 4K UHD
. Read on to find out more about it...
[ SYNOPSIS ]
When Luke Jackson (Paul Newman) is sentenced to a Southern prison for a minor infraction, his intelligence, calm under pressure and inability to accept defeat soon gain him the respect of his fellow inmates on the chain gang -- and the nickname Cool Hand Luke. But they also earn Luke the enmity of the warden (Strother Martin), who cannot allow any inmate to challenge his authority. When Luke's mother (Jo Van Fleet) dies, he decides to escape... and he will not allow anyone to stop him.
[ SPECIFICATIONS ]
The movie is presented in a 2.35:1 aspect ratio with a runtime of 2:06:33. The movie
has been rated
GP in 1970. Audio languages include English, Spanish, and French. Subtitle languages include English SDH, French, German, Italian, Spanish, Czech, Danish, Dutch, Finnish, Norwegian, and Swedish.
[ SPECIAL FEATURES ]
All of the content listed below can be found on BOTH discs. However, the featurette and trailer are in 1920x1080 HD on the 4K disc, and in 720x480 SD on the Blu-ray disc, which dates back to 2008. Furthermore, the trailer is in 16:9 widescreen on the 4K disc, and in 4:3 Letterbox on the Blu-ray disc. Warner should have authored a new Blu-ray disc using the new 4K master and HD extras instead of including this 15-year-old disc that is very "DVD-like".
Audio Commentary - by Paul Newman biographer Eric Lax.
A Natural-Born World-Shaker: Making Cool Hand Luke (28:47) - This 2008 featurette is a fairly unfocused montage of interviews. The anecdotes from the crew and cast - nearly everyone appears except Paul Newman - often contradict each other. All those interviewed do agree that Paul Newman was enjoyable to work with.
Theatrical Trailer (2:48)
[ ADDITIONAL INFORMATION ]
A digital copy code voucher is included inside the standard two-disc black UHD case. The first print run includes a slipcover.
[ NOTES ]
Cool Hand Luke (1967)
is available on
4K UHD
,
Blu-ray
, and
Deluxe Edition DVD
. Donn Pearce's 1965 novel of the same name is also available as a
Paperback
(
Alt Cover
).
This item has been provided by Warner Brothers for review on this site.
No feedback yet
Leave a comment