By Paul Rudoff on Apr. 16, 2023 at 12:00 PM in Home Video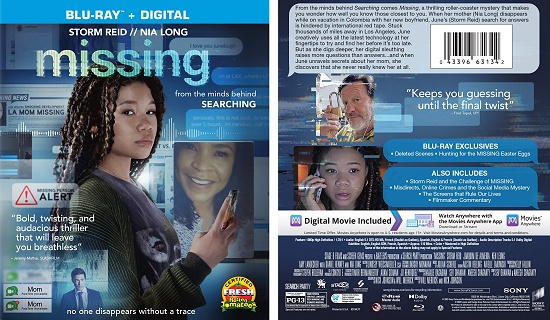 Sony Pictures Home Entertainment recently released the
Missing (2023) Blu-ray
. Read on to find out more about it...
[ SYNOPSIS ]
When her mother (Nia Long) disappears while on vacation in Colombia with her new boyfriend, June's (Storm Reid) search for answers is hindered by international red tape. Stuck thousands of miles away in Los Angeles, June creatively uses all the latest technology at her fingertips to try and find her before it's too late. But as she digs deeper, her digital sleuthing raises more questions than answers…and when June unravels secrets about her mom, she discovers that she never really knew her at all.
[ SPECIFICATIONS ]
The movie is presented in a 1.78:1 aspect ratio with a runtime of 1:50:22. The movie
has been rated
PG-13 for some strong violence, language, teen drinking and thematic material. Audio languages include English, French, Spanish, English Audio Descriptive, and French Audio Descriptive. Subtitle languages include English, English SDH, French, and Spanish.
[ SPECIAL FEATURES ]
All of the content listed below can be found on the Blu-ray disc.
Audio Commentary - with producer Natalie Qasabian and writers/directors Will Merrick and Nick Johnson.
Storm Reid and the Challenge of Missing (5:34) - A look at the qualities and characteristics that Reid brought to the role.
The Screens that Rule Our Lives (5:10) - How they made a "cinematic" movie out of nothing but computer desktop windows.
Hunting for the Missing Easter Eggs (8:28) - Some of the hidden content lurking in the movie is pointed out.
Misdirects, Online Crimes and the Social Media Mystery of Missing (6:53) - How the filmmakers used classic genre motifs in a social media world, and the differences between this film and Searching.
Making a Frame Timelapse (0:48) - Putting together the complexities of a computer screen for the film.
Deleted Scenes (9:07) - Included are "Alternate Character Intro, June"; "Down the Rabbit Hole of Crime"; "Piecing Together the Mystery"; and "Alternate Villain Demise Animatic".
[ ADDITIONAL INFORMATION ]
A digital copy code voucher is included inside the standard one-disc blue Blu-ray case. The first print run includes a slipcover.
[ NOTES ]
Missing (2023)
is available on
Blu-ray
and
DVD
. There is no 4K UHD release. The movie is set in the same universe as Searching (2018), which is available on
Blu-ray
and
DVD
. Both films are highly effective thrillers that take place through a series of webcams, computer screens, and other non-traditional "footage". However,
Searching
is the better of the two, as
Missing
is highly implausible and devolves into a bad Lifetime TV movie. (If you watch them both, it is highly suggested that you watch
Searching
first, as
Missing
opens with the lead character looking at a dramatic recreation of the events from the first film.) Both films are reminiscent of the earlier Horror films
Unfriended (2014)
and
Unfriended: Dark Web (2018)
.
Searching
is
Definitely Recommended
;
Missing
is
Rent It
.
This item has been provided by Sony Pictures Home Entertainment for review on this site.
No feedback yet
Leave a comment