By Paul Rudoff on Apr. 17, 2023 at 12:00 PM in Home Video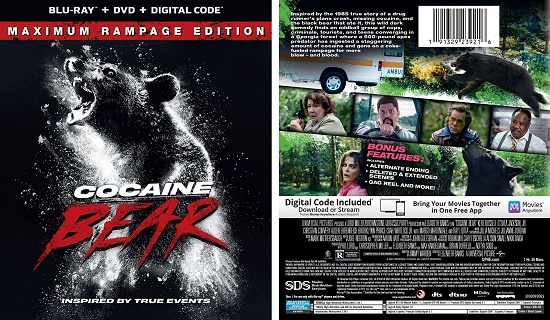 Universal Home Entertainment recently released the
Cocaine Bear (2023) Blu-ray
. Read on to find out more about it...
[ SYNOPSIS ]
Inspired by the 1985 true story of a drug runner's plane crash, missing cocaine, and the black bear that ate it, this wild dark comedy finds an oddball group of cops, criminals, tourists and teens converging in a Georgia forest where a 500-pound apex predator has ingested a staggering amount of cocaine and gone on a coke-fueled rampage for more blow - and blood.
[ SPECIFICATIONS ]
The movie is presented in a 2.39:1 aspect ratio with a runtime of 1:35:29. The movie
has been rated
R for bloody violence and gore, drug content and language throughout. Audio languages include English, French, and Spanish. Subtitle languages include English SDH, French, and Spanish.
[ SPECIAL FEATURES ]
All of the content listed below can be found on both the Blu-ray and DVD discs.
Audio Commentary - with Director/Producer Elizabeth Banks and Producer Max Handelman.
Alternate Ending (0:48)
Gag Reel (1:54)
Deleted & Extended Scenes (4:33)
All Roads Lead to Cokey: The Making of Cocaine Bear (9:14) - Meet the hilarious ensemble brought together to bring the movie of what is soon to be the world's most famous bear to life.
UnBEARable Bloodbath: Dissecting the Kills (8:16) - From rigging to special effects makeup, to some of the actors doing their own stunts, we'll get a bears-eye view into some of the hilarious and gory kill scenes.
Doing Lines (4:00) - Cast and filmmakers read lines from the script, which was a work of art unto itself.
[ ADDITIONAL INFORMATION ]
A digital copy code voucher is included inside the standard two-disc blue Blu-ray case. The first print run includes an embossed slipcover.
[ NOTES ]
Cocaine Bear (2023)
is available on
Blu-ray
and
DVD
. There is no 4K UHD release. I really can't recommend this one as a blind buy as the movie didn't live up to the promise of
its trailer
. I think it may have been a matter of trying to do too much and losing its focus. There are too many characters, which breaks things up a little too much, and the humor didn't always work for me. Sometimes it was darkly humorous, but it fell flat a little too often. The premise has potential, but it doesn't go far enough. The overuse of CGI for the bear and the kills ruined it for me. It's set in 1985, so as with films of that era, they should have gone with practical effects (dummy bodies, fake blood, etc.), and used a real bear, an animatronic bear, or a guy in a bear suit. Only a minimal use of CGI for what couldn't be accomplished "for real". It should have felt like a cross between
Jaws
and
Friday the 13th
, but with a bear as the killer. Also, it's set in 1985, but there isn't a single
Ghostbusters
reference - for shame! Overall, it just left me with a 'meh' taste in my mouth.
I would really suggest that you
watch Cocaine Bear streaming for free on Peacock
if you're a Premium subscriber first to see if you'll like it before you buy the disc. While you're on Peacock, check out
Cocaine Bear: The True Story
to learn what
really
happened. TLDR: "Pablo EskoBear", the bear that ate the cocaine, died of heart failure. It did
not
go on a murderous rampage. Its carcass was stuffed and is
on display at a museum
in Kentucky.
This item has been provided by Universal Home Entertainment for review on this site.
No feedback yet
Leave a comment