By Paul Rudoff on Apr. 28, 2023 at 10:30 PM in Home Video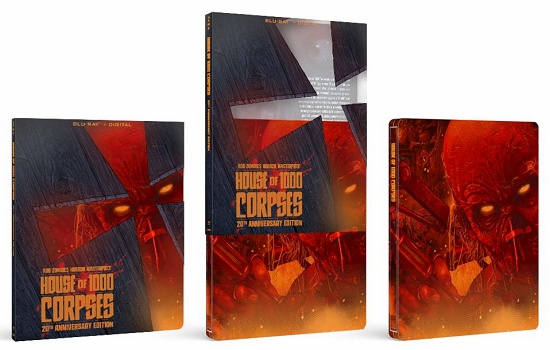 Lionsgate Home Entertainment recently released the
House of 1000 Corpses (2002) 20th Anniversary Edition Steelbook Blu-ray
. Read on to find out more about it...
[ SYNOPSIS ]
When Rob Zombie's
House of 1000 Corpses
slashed its way into theaters 20 years ago, 1970s-style horror – and camp – returned with bone-snapping, scream-inducing vengeance. Zombie's directorial debut, this first film of a trilogy introduces the Firefly family, backwoods sadists who plunge two young couples into a nightmare world of torture, satanic ritual, and cannibalism. With a killer cast including horror legends Sheri Moon Zombie, Bill Moseley, Sid Haig, and Karen Black,
House of 1000 Corpses
is both a homage to a golden era and a scary good time from an innovative, unrivaled shock-master.
[ SPECIFICATIONS ]
The movie is presented in a 1.78:1 aspect ratio with a runtime of 1:28:57. The movie
has been rated
R for strong sadistic violence/gore, sexuality and language. Audio languages include English only. Subtitle languages include English and Spanish.
[ SPECIAL FEATURES ]
All of the content listed below can be found on the specified Blu-ray discs. It should be noted that Disc 1 is the same disc that was originally released in 2007. Disc 2 is entirely new, but it's all vintage EPK material, looking like it was sourced from VHS and with a timestamp at the bottom. The Isolated Score, Photo Gallery (60 stills), Teaser (without timestamp), Trailer, Radio Spot, and three Easter Eggs from the original DVD release have NOT been revived here. That is a real shame, as this 20th Anniversary Edition gave Lionsgate the perfect opportunity to correct that 16-year-old wrong.
DISC 1: Audio Commentary - with director Rob Zombie.
DISC 1: Zombietron - A set-top box Java game where you control a lawman and attempt to avoid zombies as you rescue people tied to chairs.
DISC 1: Making Of Featurette (4:15)
DISC 1: Behind the Scenes (2:35)
DISC 1: Tiny Fucked a Stump (3:08)
DISC 1: Casting Footage (2:07)
DISC 1: Rehearsal Footage (3:44)
DISC 1: Cast & Crew Interviews - Includes Bill Mosely (4:30), Sid Haig (5:43), Sheri Moon (1:33), and Wayne Toth (3:33)
DISC 2: Cast and Director Interviews - Includes Rob Zombie (4:27), Sid Haig (9:20), Bill Moseley (10:33), Sheri Moon (11:53), Karen Black (11:10), Robert Mukes (13:51), Rainn Wilson (8:49), Chris Hardwick (8:53), Erin Daniels (13:02), Irwin Keyes (7:04), Jennifer Jostyn (6:17), and Wayne Toth (10:19).
DISC 2: Behind the Scenes - Includes BTS 1 (17:02), BTS 2 (20:14), BTS 3 (8:22), BTS 4 (21:44), and BTS 5 (22:37).
DISC 2: Dr. Satan Test (1:31)
DISC 2: Professor Test (2:24)
DISC 2: Electronic Press Kit (4:21) - Same as the "Making Of Featurette" on Disc 1, only with a timestamp on the bottom of the screen.
DISC 2: Teaser Trailer (1:09)
[ ADDITIONAL INFORMATION ]
A digital copy code voucher is included inside the two-disc Steelbook Blu-ray case, which features new artwork by Vance Kelly, with a vinyl slipcover over it. See the image atop this review for a look at the very red-and-orange-heavy artwork. It's really well done.
[ NOTES ]
House of 1000 Corpses
(2003) is the first film in the Firefly Family trilogy, which also includes
The Devil's Rejects
(2005) and
3 From Hell
(2019); the latter of which I reviewed
on Blu-ray in 2019
and
on 4K UHD in 2021
. If you're looking to upgrade your old DVDs to Blu-ray for all three films, and you DON'T want to lose out on any of the DVD special features, Lionsgate has put you in quite the predicament.
House of 1000 Corpses
- The new 20th Anniversary 2-Disc Blu-ray is available in
Best Buy-exclusive Steelbook packaging
, as well as in a
big box set from Amazon
with six art cards, a 60-page photo book, and a collectible poster. While either of those releases will get you the same two discs, as mentioned in the Special Features section above, they won't get you the isolated score and other extras from the
original DVD release
. So, if you're a completist, you will want to hold onto your DVD (or buy a copy) so you can have a more complete package. Alternatively, you can buy the
"Rob Zombie 3-Disc Collector's Set" 3-Disc DVD Set
, which includes the first two films and the feature-length "30 Days in Hell" documentary that chronicles the making of
The Devil's Rejects
.
The Devil's Rejects
- Don't even bother with the U.S. Blu-ray from Lionsgate (I'm not going to even give a link for it), as it only ports over the deleted scenes and commentaries from the original DVD. You would lose the blooper reel, Morris Green Show, two faux commercials, the Otis Home Movie, a music video, a make-up test, a Matthew McGrory Tribute, two theatrical trailers, two TV spots, a still gallery, and the feature-length "30 Days In Hell" documentary. Thankfully, Momentum Pictures released a
Special Edition Unrated Director's Cut Blu-ray
in the UK which is region-free, and contains nearly everything from the original DVD. It is only missing the still gallery, but that's a much more acceptable loss than everything missing from the Lionsgate Blu-ray. Of course, if you buy the aforementioned "Rob Zombie 3-Disc Collector's Set" 3-Disc DVD Set for the first movie's missing special features, you'll get a
DVD of the second film
with that gallery on it.
3 From Hell
- Being the only film of the three to have been originally released after the advent of Blu-ray technology, this is the only one where things aren't so screwy. Lionsgate has produced three discs, which are available in three configurations:
4K+Blu-ray
,
Blu-ray+DVD
, and
DVD by itself
. The 4K and Blu-ray discs only contain the Unrated cut of the film, along with an audio commentary and the "To Hell and Back" feature-length making of documentary. The DVD disc only contains the Theatrical Cut, the audio commentary, and (bizarrely) the first 30-minutes of the documentary. If you have the 4K+Blu-ray release, and you really feel the need to own the Theatrical Cut, again, you'll want to have a copy of the DVD along with the ultra high-definition copy. The Blu-ray+DVD release, of course, gives you both cuts, with each disc containing one or the other.
This item has been provided by Lionsgate Home Entertainment for review on this site.
No feedback yet
Leave a comment